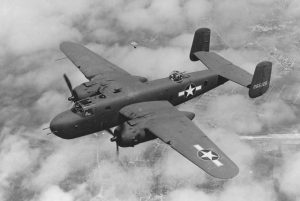 New Delhi. 19 August 2020. It was eighty years ago when the B-25 Bomber flew for the first time. The North American B-25 Mitchell is a medium bomber that was introduced in 1941 and named in honor of Major General William "Billy" Mitchell, a pioneer of U.S. military aviation. Used by many Allied air forces, the B-25 served in every theater of World War II, and after the war ended, many remained in service, operating across four decades. Produced in numerous variants, nearly 10,000 B-25s were built.These included a few limited models such as the F-10 reconnaissance aircraft, the AT-24 crew trainers, and the United States Marine Corps' PBJ-1 patrol bomber.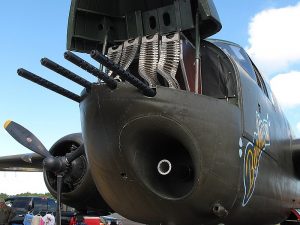 It required 8,500 original drawings and 195,000 engineering man-hours to produce the first one, but nearly 10,000 were produced from late 1939, when the contract was awarded to North American Aviation, through 1945. Named for famed airpower pioneer Brigadier General William "Billy" Mitchell, it was a twin-tail, mid-wing land monoplane powered by two 1,700-horsepower Wright Cyclone engines.
Normal bomb capacity was 5,000 pounds (2268 kilograms). Some versions carried 75 mm cannon, machine guns and added firepower of 13 .50-caliber guns in the conventional bombardier's compartment. One version carried eight .50-caliber guns in the nose in an arrangement that provided 14 forward-firing guns.
In 1947, legislation created an independent United States Air Force and by that time, the B-25 inventory numbered only a few hundred. Some B-25s continued in service into the 1950s in a variety of training, reconnaissance, and support roles. The principal use during this period was undergraduate training of multiengine aircraft pilots slated for reciprocating engine or turboprop cargo, aerial refueling, or reconnaissance aircraft. Others were assigned to units of the Air National Guard in training roles in support of Northrop F-89 Scorpion and Lockheed F-94 Starfire operations.[citation needed]
In its USAF tenure, many B-25s received the so-called "Hayes modification" and as a result, surviving B-25s often have exhaust systems with a semicollector ring that splits emissions into two different systems. The upper seven cylinders are collected by a ring, while the other cylinders remain directed to individual ports.
TB-25J-25-NC Mitchell, 44-30854, the last B-25 in the USAF inventory, assigned at March AFB, California, as of March 1960, was flown to Eglin AFB, Florida, from Turner Air Force Base, Georgia, on 21 May 1960, the last flight by a USAF B-25, and presented by Brigadier General A. J. Russell, Commander of SAC's 822d Air Division at Turner AFB, to the Air Proving Ground Center Commander, Brigadier General Robert H. Warren, who in turn presented the bomber to Valparaiso, Florida, Mayor Randall Roberts on behalf of the Niceville-Valparaiso Chamber of Commerce. Four of the original Tokyo Raiders were present for the ceremony, Colonel (later Major General) David Jones, Colonel Jack Simms, Lieutenant Colonel Joseph Manske, and retired Master Sergeant Edwin W. Horton. It was donated back to the Air Force Armament Museum c. 1974 and marked as Doolittle's 40-2344.
Info courtesy Boeing & History of Aviation