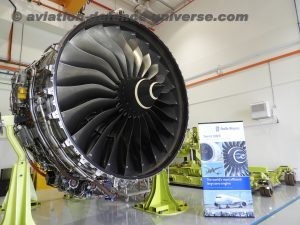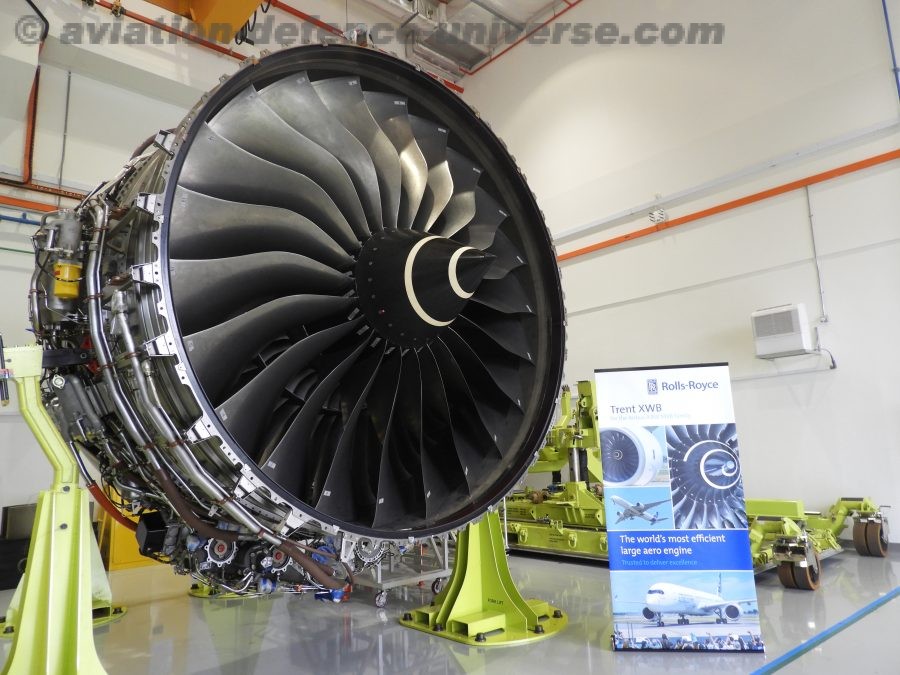 By Sangeeta Saxena
Singapore. 05 February 2018. Aircraft engines just got intelligent. As the aviation fraternity was landing to be a part of the biggest air show of the region, engine maker Rolls Royce gave them an interesting reason to arrive a day in advance. The British giant today unveiled its Intelligent Engine vision on the eve of the show.
Designing services around products and products around services with digital technology is the idea explained by Richard Goodhead, Senior Vice-President – Marketing. He stated , "in addition to designing, testing, and maintaining engines in the digital realm, the Intelligent Engine vision sets out a future where an engine will be increasingly connected, contextually aware and comprehending, helping to deliver greater reliability and efficiency. These are the 3Cs of creating intelligent engines."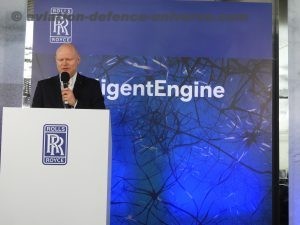 The Intelligent Engine vision is based on a belief that the worlds of product and service have become so closely connected that they are now inseparable. Connected means connectivity with other engines, its support ecosystem, and with its customer, allowing for regular, two-way flow of information between many parties, contextually aware is the concept of knowing its operating context, constraints and the needs of the customer and allowing it to respond to the environment around it without human intervention and comprehending is understanding its behaviour and achieving best performance by learning from its own experiences and from its network of peers to adjust to.
Dominic Horwood, Rolls-Royce director, customer and services–civil aerospace, said, "in the nearer term, it will focus us on developing the skills, tools and technology we need to deliver an engine that is connected, contextually aware and comprehending. In the longer term, our ambition is unbounded; we could be looking at engines that understand their own condition and can heal themselves, or even engines with interchangeable cores."
The Intelligent Engine vision enables Rolls-Royce to find new ways of pioneering power, whether that is through its engines installed today, through its future UltraFan® engine design, or even through the hybrid-electric concepts of the future.
Rolls-Royce's R2 Data Labs, an acceleration hub for data innovation launched in December 2017, will play a key role in achieving the aims of the IntelligentEngine. Using advanced data analytics, industrial Artificial Intelligence and machine learning techniques, R2 Data Labs develops data applications that unlock design, manufacturing and operational efficiencies within Rolls-Royce, and creates new service propositions for customers.
It may be recalled that Richard Goodhead at the last Farnborough Air Show had announced the digital services collaboration between Rolls-Royce, Microsoft and Singapore Airlines. As the rapidly increasing volume of data coming from many different types of aircraft equipment overtakes the airlines' ability to analyze and gain insight from it, Rolls-Royce is using the Microsoft Azure platform to fundamentally transform how it uses data to better serve its customers.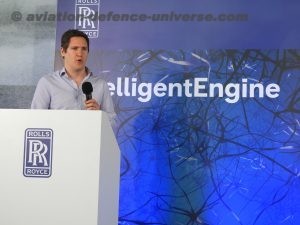 Worldwide, flight delays and disruptions cost the airline industry millions of dollars every year. Even a small reduction in "aircraft on ground" (AOG) time can translate into significant amount of money, so airlines are always looking for ways to improve the efficiency of maintenance activities. The same applies to fuel costs. Fuel generally accounts for a whopping 40 percent of airlines' operating expenses. Even a 1 percent optimization of fuel consumption can save an airline millions of dollars annually. A lot of factors affect how much fuel is consumed on a flight, including the flight path selected, weather, engine efficiency, and operational choices such as how much fuel to carry on each flight. The heavier the fuel load, the more fuel the aircraft will burn. A clean engine burns less fuel, but washing engines is time consuming and expensive. Determining when the optimum time is for each of the engines in a fleet to get washed requires the analysis of a lot of data.
Using Microsoft Cortana Intelligence Suite, Rolls-Royce will be able to analyze a rich set of data and perform data modelling at scale to accurately detect operational anomalies and help customers plan relevant actions. These capabilities are helping Rolls Royce filter the signal from the noise across large data sets so that focus is on finding the real value in the data. Rolls-Royce and Microsoft have added jet engines to the 'internet of things'.
So tomorrow when the aviation world descends on the Changi Exhibition Centre, Rolls Royce will be there telling the prospective customers that their engines will identify and fix issue much before the man behind the machine can even think of. The engine making industry surely seems to have come of age.