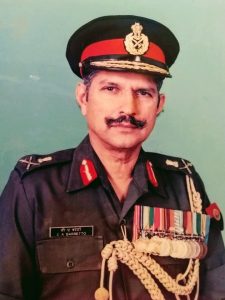 By Brig Vijay Atray (Retd)
New Delhi . 01 February 2021. There is a saying 'soldiers never die ,they fade away' ; but I feel that some of them leave their footprints on the sands of time .Lt Gen Christopher Anthony Barretto belonged to this category. He left us bereaved at the dawn of 30th January 2021 , the day when the nation was celebrating the Martyr's Day of Mahatma Gandhi. One wonders as to why the God chose to snatch him from us on this day ! Well in this article I shall dwell on his connection with Bapu. A die hard Madras Sapper who was virtually worshipped by the Thambis for his humane qualities. When the news was broken by Col Shashi Vaid on the social media the tributes were galore ; mentioning a few here ; Maj Gen Satti Puri who was his subaltern during '65 war stamped him as a large hearted ,broad minded officer who was 'Bright Bobby' for his course mates, Lt Gen Prakash Suri who was instructor with him when he was CI Tac in CME calls him a gentleman to the core ,unforgettable personality who never scolded any of his subordinates, Maj Gen Brijesh Kumar coined him as a gem & jewel, while Brig Vijay Manchanda grieved by stating that a legend passed away& the Madras sappers are poorer by his passing away, Col MR Thareja remembered him as a thorough gentleman in true spirit. Col Shashi Vaid who was his GSO 1 (SD) in CME called him a legend & felt that it was awesome experience to work under him & learn a lot from the great personality that General was. Lt Gen Endley who was very close to him & long association mentioned 'one who was very sensitive to personal relations & would never utter a word which would hurt the opponent. I knew him as a soft spoken thorough -bread gentleman with no aberrations. He was all the time for his daughter Lianne & was always correct to the form with her '. They spoke to each other regularly & every time Bobby would discuss the affairs of Madras Sappers with a vision in mind. At one time Col Girish Chandra had rightly said that the numerous accomplishments of his idyllic life could best be summed up in the words of Lewis J Bates;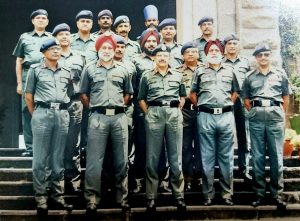 " Speak gently; it is better to rule by love than fear. Speak gently; let no harsh words mar the good we might do here".
Bobby had the perfect start. Born at Nagpur on 25 August 1933, youngest of five brothers and one sister, he was sired by a person who had the ' distinction of pulling out even Mahatma Gandhi teeth. The teeth that Dr Barretto extracted and the dentures he made for the father of the nation were presented by the Barretto family to the Mahatma Gandhi museum in Delhi and are preserved there. This is the connection Bobby had with Bapu! Inevitably, four of the brothers gravitated to the defence forces — one each to Artillery, Engineers, Signals and Air Force. A pious but a strict mother had a profound influence on them all. General Barretto had early schooling at Nagpur and the distinction of passing out as the lone first divisional from his batch. Dandi Balsara, currently one of the richest NRIs was one of his class mates. After the first year in college, he joined the 3rd JSW Course. Bobby was the recipient of the Silver medal for passing out second in the order of merit on commissioning from the IMA in 1953. At the academy, he won a boxing blue excelled in athletics, hockey, cricket and displayed a keen dramatic talent. Bobby also pursued photography and philately but as the years passed by, he had to give these up owing to the burden of work and responsibilities. The General fondly remembers his civilian teachers at the JSW who enjoyed a national repute, were great motivators and guided cadets in all fields with dedicated zeal.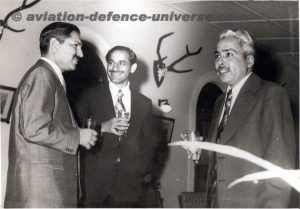 Post Commission — a posting to the Madras Engineer Group, Bangalore followed 11 YOs course at the CME. Later, he attended No 9 Degree Engineering Course at the CME from Jan 56 to Jul 58 and was the recipient of the coveted Gold medal. Then he did a stint with 65 Fd Company in J&K and Yol. Maj Sampangi Raj who was Bobby's DS at the academy was also his first Company Commander. Once on being questioned about the Officers who influenced him most, Gen Baretto immediately thought of Maj Sampangi Raj and Maj Gen TV Jegannathan. Maj Sampangi Raj was a perfectionist and yet allowed youngsters their fun. Gen TV Jegannathan was Bobby's first CO in the Centre. Success was Gen Jegannathan's middle name. To modify a well known phrase — he was Midas with an excellent touch. The general was also greatly influenced by the life and writings of Field Marshal Montgomery.
A graduate of the Defence Services Staff College. Higher Command from the College of Combat and the prestigious National Defence College, General Barretto has had a rich and varied career. In Apr 1962, he was posted a Staff Officer at Headquarters of the Indian Contingent of UNEF in Gaza. Later, during the same year, he served as an observer with the United Nations Executive Authority in West Irian (erstwhile West New Guinea). On the request of ADU he shared his experiences on a UN Mission in West Irian which we published on 28 th April 2020,perhaps his last article ! Its link is given at the bottom of this article. He successfully commanded a field Company in 1965 operations. After a short tenure as BM of a Mountain Brigade in NEFA. be went on to command an engineer regiment. In Aug 1971, he was posted as GSO I, MO Directorate and was actively involved in the planning and conduct of 1971 Indo Pak Conflict. His immediate superior was the legendary task master, Maj Gen M C Gupta; then a Brig. Later, Bobby was the Chief Instructor, Tactics Wing at the CME.
On promotion to Colonel, he took over the coveted appointment of Commandant, Madras Engineer Group & Centre in Sep 77. In May 79, on promotion he moved over as Chief Engineer Northern Zone, Lucknow. The new Cantt at Gopalpur on-sea was planned and construction commenced during this period. Later, he had the privilege of being the Chief Engineer of a strike Corps.
Gen Barretto has the unique distinction of being elected the Colonel Commandant Madras Sappers as a Brigadier in 1984, despite some Generals also being in the fray and held the mantle for seven long years. This happened due to his love and compassion for the Thambis & endearing qualities of head and heart. As Colonel Commandant, he effectively contributed towards planning and development of the Madras Sappers museum at Bangalore, writing of the 'History of Madras Sappers' and organising the Colour Presentation and the Reunion. From Nov 83 to Dec 85 as DDG Perspective Planning at Army HQ he formulated the next 25 years' plan for weapons and equipment of all categories including the integrated guided missile programme, the assignment enjoyed by the general most. As Chief Engineer, Southern Command from Jan 86 to Dec 87, he was privileged to be associated with planning, provision and direction o f engineer support for Operation Pawan in Sri Lanka. Under his guidance, the Sappers quickly adjusted to the new operational realities of a low intensity conflict and tackling of Improvised Explosive Devices ( lEDs) used by the LTTE. A record was created by rehabilitating shattered air, sea and railway services and restoring electric supply to the Jaffna peninsula before he left Southern Command in Dec 87 to take over as Additional Director General, Operational Logistics in Quarter Master General's Branch at the Army Headquarters. On promotion as Lt Gen in Jul 88. he took over as Director General (Discipline, Ceremonials and Welfare). Army Headquarters.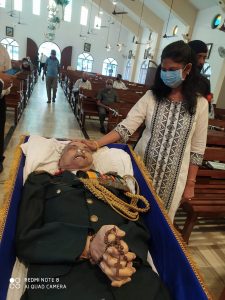 The General believed in being correct to the form in letter and spirit. The famous Adjutant General's Branch letter on 'Norm s for Official and Social Functions' ( perhaps drafted by him) would normally be found handy with him. In Mar 90, he took over as the Commandant of 'Alma Mater' of the Sappers — a crowning glory indeed! With him at the helm., the CME excelled in all its affairs. He conducted a national level seminar on 'Deploym ent of Non Conventional Energy Sources in the Defence Services' — a subject on which he had prepared a dissertation while at the National Defence College. Besides numerous important training events, the National rowing team was coached at the CME. The team earned the country laurels at the Beijing Asiad by winning four Bronze medals.In recognition of his outstanding and distinguished services of the most exceptional order, he was awarded the highest peacetime service award of PVSM by the President in Jan '91.A man of few words, the general believed in destiny. He would counsel that " one should face the world as it comes and the rewards would follow ; do not be too bothered about the ACR , bother about what the men think of you and not your Commanders" , used to be his advice.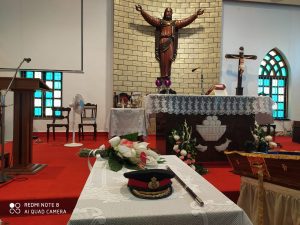 In September 1991, a sage-soldier left the portals of this august institution with his charming daughter Lianne, and settled down in his nest at Porvorim, Goa. A dynamic leader brimming with sangfroid, he was a commander who created a tension free ambience wherever he was. His winsome smile won the wholehearted devotion and loyalty of staff. His second inning was more fulfilling than the first. He devoted full time to alleviate the problems of the residents of his Society, solved the problems of widows of all the three services , advised ECHS Goa to improve the facilities and last but not the least took care of his elder & ailing brother who is 98 years old.
Mass was held at Holy Family Church, Porvorim at 10 AM on Monday the 01 February 2021 and cremation at Britona Crematorium at 11.30 AM . MEG & Centre & 11 Engr Regt gave a fitting farewell to him by making all the arrangements including the tall Buglers . Col Uday Nain Singh of 12 Engr Regt laid the wreath on behalf of the Commandant MEG & Centre & Maj Vikas Tiwary on behalf of 11 Engr Regt , which the General Commanded.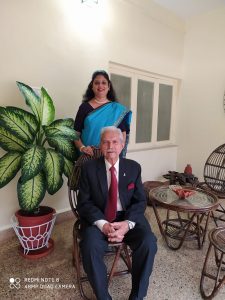 Maj Gen CE Fernandez in his eulogy today mentioned that approx 4 months ago after a MRI revealed that Gen Barretto had an incurable tumour in his brain he came and met my wife Anita and I at our home. He brought along a piece of paper which read like a Battle Order. In that he listed the actions required to be taken by him prior to his demise and also those which were to be taken after his demise. His primary concern was for is daughter Lianne. I daresay that within a month he had completed every relevant point listed, be it settling his estate or transferring the gas and electricity to his daughters name. Since he entrusted the overseeing of these matters to me I went through the paperwork with some detail. The bottom line is that he has left no loose ends hanging for someone else to resolve.I for one am humbled by the soldier in him and I can only salute this great man who has always been the most perfect Soldier and Gentleman in or out of uniform.
In a touching Eulogy daughter Lianne poured her heart thus "He was much admired by his colleagues, and the men who served under him always remained in contact and looked upto him. In fact my father always considered 11Engineer Regiment and the MADRAS Sappers as his second family. My Father was an incredible person. He was not only the best role model, but he believed in giving back to the world by serving his country and helping others in need. He was always willing to give of himself and never turned away anyone who needed help. Growing up he always taught me to stand up for myself and let people know what I think. He raised me to be strong, confident and to believe in myself. Besides being my father he was my companion and we were very good friends. He was a Man of few words and did not believe in idle gossip. Inspite of his great achievements, he preferred to remain in the background.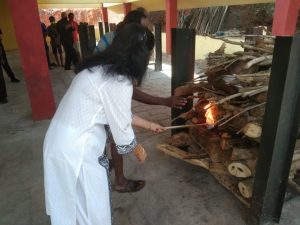 I cherish the memories I have with my father and I know he is smiling down on us from heaven." Thereafter she thanked all those who were there in her grief & looked after her father. She concluded 'I feel so grateful to have had as much time with my Father as I did. I miss him so much already and I will forever thank God for my most Amazing Dad."
Now I sign off with a poem composed by one of his admirers which resonates in my mind.
Another Star, another Night ,
When the guns fall silent ,
A loneliness grows in the bereaved heart !
Death knows no bounds,
Has nothing to complete ,
But leaves an after taste;
Bob, to all who know him close,
Now remains in peaceful sleep,
After valiant flights with vile little souls;
Small in frame , yet brave in heart,
Chose the day to be eternally silent , while
All that he wanted were complete or not —–.
Let it be —–.
Let him sleep,
For now labour of the day,
Belongs to her with empty hands
Whose heart in tears walks silently
To the hearth to consume ,
Mortal body in smiles.
This is the story Lt. Gen CA Barretto (Retd.) wrote for the Reflections of a Soldier section of Aviation & Defence Universe. https://www.aviation-defence-universe.com/unpkf-a-major-journey-of-a-young-indian-army-captain/