Indian Army's officer in the United Nations Peace Keeping Mission of 1962
By Lt Gen C A Barretto PVSM (Retd.)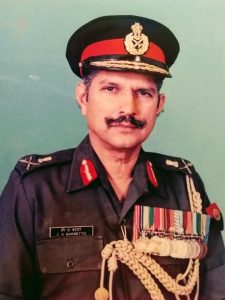 Panaji, Goa. 28 April 2020. In 1962 I was serving as a Captain in the office of the Chief Engineer in HQ Western Command, which was then located in Simla. On the basis of an Op Immediate telephonic direction received from Army HQ at 0900 hours on 27 April 1962, I had to report on 28 April to SD Directorate to resolve formalities like issue of passport, medical report/tests, collect foreign exchange, railway warrant etc before moving by train the same evening to Bombay in order to board an Anchor Line passenger ship before 0800 hours on 1 May, which was sailing from Australia en-route to UK via Port Said! The ship had only first class cabins with 5 Star facilities. After boarding, I met a Lt from the ASC and 18 OR with a JCO, as this apparently was an annual mid-term turnover of personnel to replace their counterparts in the United Nations Emergency Force (UNEF). Being the senior- most, I had to assume charge and attend to their requirements during the voyage. On reaching Karachi, all passengers were allowed to disembark and visit the city. I took the initiative and banned our personnel from leaving the ship in view of the risks involved on entering Pakistan should they be identified.
We reached Port Said on 12 May 1962 and thereafter I took over the appointment of Supply, Transport, Postal and Land Claims Officer in HQ UNEF, functioning under the Chief Logistics Officer who was a Lt Col from the Canadian Army. Later, the UNEF was assigned the task of equipping and provisioning the newly formed UN Mission in Yemen and I was in addition also required to coordinate most aspects of the logistics support to this Mission. In August 1962, the Indian Contingent was required to send five officers to West Irian as observers on a temporary United Nations assignment. I was detailed along with others by the Indian Contingent Commander to serve in West Irian. Although the Chief Logistics Officer was reluctant to relieve me, I prevailed on him to allow me to proceed, on the plea that it was for a short duration and I would definitely return.
The UNEF was established in 1956 to secure an end to the Suez crisis by deploying military forces on the Egyptian/Palestinian side of the borders with Israel, for purposes of observation. Eleven countries contributed to this force, namely, Brazil, Canada, Columbia, Denmark, Finland, India, Indonesia, Norway  Sweden and Yugoslavia. The Indian Contingent was based on an infantry battalion with elements from Provost, Signals and ASC in their specialized roles. Lt Gen PS Gyani from India happened to be the UNEF Force Commander from December 1959 to January 1964 with his Headquarters located in Gaza City. HQ UNEF was staffed by officers and subordinates from all the above countries. Besides a Lt Col and three Majors from India in various departments, a Captain was authorized in the Logistics Department.
The observer team from UNEF reached West Irian and reported to the office of the UNTEA, in Hollandia (which was the capital) on 24 August 1962. We were received by a Mr SY Wong from the UN and accommodated in Hollandia's one and only hotel which was small and provided Indonesian type food. Hollandia was not so well developed and had a few shops with limited facilities. The next morning the observers were detailed in two's and sent in different directions to scan the island for Indonesian paratroopers. I was accompanied by an Irish officer who had come from Congo and guided by a map supplied to us we trekked through densely forested foot tracks and reached a tribal village by afternoon with no inhabitants visible. The wooden houses in the village were constructed on stilts well above the ground level. Moving ahead, we reached the swampy coastal area as tasked and could see a few dilapidated ships, which were remnants of World War II, lying in the water ahead. On our return we passed a line of tribal villagers emanating from the forest carrying whatever consumables they could gather from the vegetation while returning to their village in the evening. Throughout our reconnaissance we saw no Indonesian nor found any trace which could have led to them, based on which we submitted a written report. Apparently they were hiding in the jungles to avoid detection.
Brig Indar Jit Rikhye (later Maj Gen), an Indian Army Officer, had seconded to the UN as Military Advisor to the Secretary General (from 1957 to 1967), and was sent by the latter on a special assignment to West Irian. On his arrival, I was detailed to function as his staff officer. He was also supported by three lady secretaries from the UN who arrived separately and accommodated in the same hotel. Brig Rikhye was allotted a bungalow some distance away, which had presumably been hurriedly vacated by its earlier occupants leaving it fully equipped. This served both as his residence and office. There was no local personal staff except for an old maid who came at her own discretion. I was given a car which I drove to commute with the Secretaries between the hotel and office besides other requirements. Brig Rikhye would dictate his lengthy messages to the secretaries, who in turn would record it in shorthand and after typing, show him the draft. On approval, these messages then had to be encoded and transmitted by them to the General Secretary in the UN.  This process was time consuming, exerting continuous daily pressure and stress on the secretaries who were kept fully occupied from 8 am with a break only for lunch and dinner, followed by another two or three hours thereafter at night. 
I accompanied Brig Rikhye to Jakarta on a US Air Force C-130 aircraft, as his interaction with the authorities there facilitated contact with the Indonesian troops in the jungles. By 21 September the Indonesian forces were all located and 500 political detainees also repatriated. In anticipation of his role nearing closure, Brig Rikhye decided to host a reception on 20 September 1962 at his residence as a farewell gesture to the hierarchy of the Dutch forces and local authorities who he had interacted with, the execution of which was entirely left to my discretion. I had the invitation cards printed and arranged for eats and drinks from local sources. With the help of the secretaries, we managed the function successfully.
West Irian (later known as Irian Jaya and now as West Papua) is the western half of the island of New Guinea located 200 kms north of Australia. The land comprises large tropical mountainous interior with perpetual snow on some peaks, forested lowlands and large areas of coastal mangrove swamps.  It was home to over 250 diverse tribes and the majority still lived traditional life styles with some elements then reportedly still cannibalistic.                                                                                                                                                                                                                                                               
This territory was in the possession of the Dutch since 1828. When Indonesia gained independence in 1949 from the Netherlands, the status of West Irian remained unresolved and a decision postponed. The Netherlands maintained that the Papuans were not Indonesians and should decide their own future. With sharpening of tensions between the two nations, Indonesia landed troops in West Irian in 1962 to counter the Dutch force holding it. With the intervention of the United Nations, a preliminary agreement was reached on 31 July 1962 for the administration of West Irian to be transferred to a United Nations Temporary Executive Authority (UNTEA) to administer the territory till it was transferred to Indonesia. The agreement stipulated that a United Nations Security Force would be provided to assist the UNTEA to observe the implementation of the ceasefire.  With the Netherlands formally proclaiming a ceasefire on 18 August 1962, a military observer team to supervise the cease fire before arrival of the Security Force, was drawn from the UNEF (as mentioned in Paragraph 3 above) and  the United Nations Operation in Congo.
The United Nations Security Force, was based on a brigade from the Pakistan Army which was required to commence duties from 1 October 1962 after the withdrawal of the military observer team. However, the Pakistani Brigade Commander along with his staff officer arrived a few days in advance to familiarize with the area and  future role.  He called on Brig Rikhye and after their interaction it emerged that the Pakistani Brigadier had an IMA background and moved to Pakistan in 1947. Brig Rikhye decided to invite him and his staff officer for lunch at his residence the next day, which I had to plan and handle. I ordered the eatables from our hotel and with the secretaries involved in the kitchen; there was no other option but to handle the food to be placed on the table myself !
I returned to my HQ UNEF assignment in Gaza on 5 October 1962. Our tenure with the UNEF was normally for one year, but as a result of the aftermath consequent to the Indo-China Conflict in 1962, it was extended by another 6 months, thereby giving me an opportunity to also avail of a visit to Europe. On return to New York, Brig Rikhye had addressed a DO letter to Lt Gen Gyani in appreciation of the services rendered by me. When Brig Rikhye happened to visit Gaza a few months later, he directed the Indian Contingent Commander to send his DO letter to the MS Branch.
After returning to India on 25 November 1963 at the end of my UNEF tenure, I was posted to HQ MEG & Centre in Bangalore. In those days the postings of Captains within an Engineer Group and Majors within the Corps were issued by the Centre and the E-in-Cs Branch respectively. As such, they were generally privy to happenings in these ranks. The impression conveyed to me on arrival in the Centre was that there were expectations of my posting to the UN in New York. I then surmised that Brig Rikhye may possibly have requested the MS Branch for seconding me to his set up in the UN, which was not to be. Whether this is true or false, destiny would have had its say and I have no regrets. What better exposure could a Captain have had serving in the UNEF and UNTEA assignments, which I had the good fortune to have experienced at so early a stage in my Army career?  I was awarded  UNEF  and UNTEA  Medals for serving in Gaza and West Irian, in recognition of the services rendered in respective areas "In The Service Of Peace".
Lt Gen C A Barretto Commanded an Independent Field Company in 1965  War in Sialkot Sector, served as GSO1 in MO Dte. during 1971 War. He also held appointments as Commandant MEG & Centre; Chief Engineer Southern Command with role in IPKF; DG (D & CW) in AG's Branch and Commandant, College of Military Engineering. The views in  this article are his. He can be contacted at editor.adu@gmail.com.