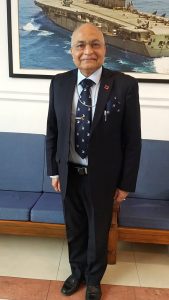 By Lt. General VK Saxena (Retd.)
New Delhi. 13 January 2021. While the Almighty has made all humans the same, he has made one specie 'a class apart'…
'CADET…' their one razor-sharp, crisp, cut-to-size and no nonsense shrilling command (almost bark-like….) is good enough to send that 'bone-chilling' and 'numbing' feeling in the spine of the cadet ( trainee) in the Drill Square be it the National Defence Academy ;NDA  or the Indian Military Academy; IMA or for that matter, any other training establishment of the Defence forces of India (my first-hand experience is of the NDA and IMA).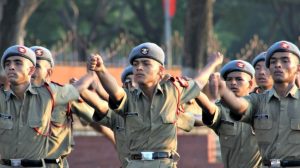 Yes, the reference is to the 'drill ustads' at these famed institutions of the forces. Ram-rod straight, welding a 'pace-stick' and executing sharp drill-movements with 'machine-like' precision, accuracy and repeatability, the awe-inspiring and terror-exuding drill ustads are the icons who have enforced over the ages, the battle-winning virtues of 'strict discipline' 'soldierly mind-set, and an 'lightening response to orders' in the hearts and minds of the Cadets.
Actually, they have so deeply engraved these values on our DNAs, that the same have not only lasted a service span of 40 years, they do so till date and will accompany me to my grave. I remember the tag line – 'Drill is the 'bedrock' of discipline'- the bedrock mentioned here is personified in DRILL USTADS.
I write these lines to remember with awe and respect my Drill Ustad –Waryam Singh Saab- that towering soldier, always immaculately turned out; his signature handle-bar moustaches with their ends pointing sky-wards echoing the state of his morale; his iron clamp like grip on the cadets under training; his perfect drill movements, his no-nonsense attitude enforcing his dominating presence and his earth-shattering word-of-command…. that was Waryam Singh Saab ; our drill ustad.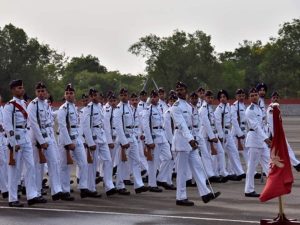 Let me cut now to the summer of 1974 when our NDA course ( 46th NDA) was due to pass out after three years of front-rolling, back-rolling, making our cycles ride on us, hanging on seventh heaven or doing bend-stretches on scorching bazri/iron plates and the likes ( as also doing gruelling training).
We were in our final VI term. Unlike several of my course-mates, who held big 'appointments' (positions of power and authority awarded to the final term cadets for doing well on the training), my appointment was the lowest of all the appointments- a humble sergeant ( a mere three stripper).
That being so (and partly owing to my non-bully nature as well), I had not 'crossed' (read punished/ragged/sorted out) many of my NDA juniors as their boss in the VI term.
It was our farewell party from the Squadron on the eve of our passing out. There is this time-honoured tradition in the NDA that during this farewell party, the juniors get a chance to 'square-up'. While that sounds a nice English cliché, the so called 'square-up' actually includes certain 'not so nice' things as well. These could range from ragging to giving 'punishment' to seniors by giving a few punches as bashing up. At the end of it all, the residual thought is –NO ILL WILLS HEREAFTER as all accounts stand 'squared-up'. That is the spirit of this tradition. I believe this tradition has now been scrapped after certain a 'square-up' turned really 'ugly' (not taken further).
Back to our farewell party on the night of 14 Jun 1974. The 'square-up' was in full swing. All my course mates were playing up to the tradition in great spirits. All was well till I suddenly realised that some iron-like stuff had hit my upper back in a blunt thud-like sound. There was a sudden shooting and excruciating pain….
There was this guy who was going around squaring-up by hitting the seniors with his wet towel. In that towel, he had mischievously hidden a padlock. Unfortunately for me, as he swung the towel, the padlock came out of the knot and landed on my back with a big thump. For a second, the pain was indeed unbearable. But since, the wound was warm, this 20 something just let it pass as the initial pain subsided and became a bit manageable.
The party carried on with all its sugar-n-spice. During the night, the pain became very palpable, and I could hardly sleep. All this and more however could not douse the spirit of the youngster looking towards his Passing out parade; then just a few hours away.
Cut to next morning on parade. We passed out wearing the White Patrols – a snow-white outfit with glowing accoutrements, brassoed with utmost care for hours on end. I being a small appointment was standing in front of my squadron contingent in one corner.
Our drill ustad Waryam Singh Saab, had made us practice our drills to such a perfection that the intricacies of drill movements like 'dahine dekh', 'samne dekh', salute up, salute down, word-of-command etc. etc., had become 'muscle memory'. There he stood in front of our squadron contingent dressed to perfection and bathed in pride of having successfully produced yet another triumphant batch of killers ready to pass out (I am from Kilo 'K' squadron. Our squadron-mates proudly carry the name – killers).
We were to stand still and erect for long hours without an activity (as the commentary was being read as we waited for the chief guest to arrive). It was around his time, I started to feel a kind of uneasy and uncomfortable in the back. I knew it was last night's event. I actually gave a damn to it and looked up.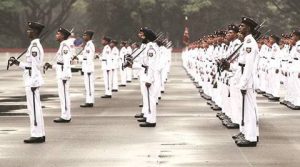 I then saw our drill ustad going past me to the rear. He probably listened to the cadet behind me who whispered something. Just one of those things, I thought. The discomfort in my back was increasing gradually and I was feeling a little wet on my back.
Next moment, I saw, Waryam Singh Saab walking up to my side. Even his whisper was as loud and as authoritative as his thundering word-of-command we were so used to.
His words still resound in my ears. 'Cadet, thodi aapke peeth mein chot laga hai aur khoon nikala hai, par fikar nahi, josh rakhna hai aur badhiya drill karni hai; GIRNA NAHI HAI-SQAUDRON KI IZZAT RAKHNI HAI. His command (read his expectation from me) had a magical effect…
What had actually happened that a lot of blood had oozed out from my wound and after wetting my vest and mess-shirt was now showing as a red patch on my back over my white patrol. This is what the cadet behind me had noticed in dismay and had called the ustad to show.
The salutes to the visiting dignitaries were getting over turn-by-turn. I was just about beginning to see the stars in broad daylight. The discomfort was increasing heavily but the young blood had a promise to keep, I suppose.
I went through the entire drill in debilitating pain and an uncomfortable sense of giddiness. But somehow, I could manage. May be the words of Waryam Saab had carried me through, I believe.
After the parade, when took I off of my White Patrol tunic, and saw the huge red patch covering a large portion of the upper back, I realised the scale of injury and quantum of blood loss.
My pride now riding at a much higher level than the pain seem to be telling Waryam Saab; my magical Drill Ustad – IZZAT RAKHI WARYAM SAAB.
Such were the drill ustads and such was their IMPACT on impressionable minds. Like I said – Almighty has made them 'a class apart'. Remembering you today Waryam Saab – Happy Army Day
(Lt. Gen.VK Saxena (Retd.) is a Delhi-based former Director General Army Air Defence. He is presently an Advisor to a leading Defence PSU . The views in the article are solely the author's. He can be contacted at [email protected]).