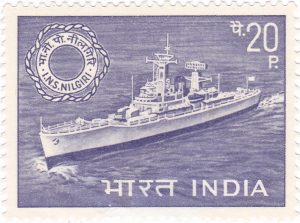 By Cmde Ranjit B Rai(Retd.)
New Delhi. 22 June 2020. The story of a historical path setting ship INS Nilgiri needs to be told. It is the building of the ship in India and operational performance of the 3,000 ton modern Leander frigate(F33) that inspired confidence for the Executive and Technical officers of India's Navy to dream of becoming a builder's Navy. She served from 1972 to 1996.
The Indian Navy selected the proven Leander design from Yarrow Shipyard Ltd in Scotland and Vickers Ltd to build Nilgiri at Mazagon Docks Ltd (MDL) Bombay. On 23rd October, 1968 the then Prime Minister Mrs Indira Gandhi applied 'Kum Kum' on Nilgiri's stern and launched her at Mazagon Docks Limited, and on 3rd June 1972, she commissioned Nilgiri into the Indian Navy to make history. Equipment was selected by Capt DS Paintal as DCPT in NHQ. He was appointed Captain by Chief of Naval Staff Admiral SM Nanda over others.  Vice Admiral BA Samson was CMD MDL and  VC Shukla was Deputy Deputy Defence Minister for Defence Production at the ceremony. Cdr SBN Singh was CDR(L), Cdr S Dasgupta was CDR(E) LCDR Monty Chaterjee was SO, LTCDRS Ranjit Rai XO, G Kumar TASO, Madhvendra Singh GO,  Rajnish NO and Iyer SCO and Billy Dhillion Flight Commander of the first ship borne  Allouttee flight  in the Navy trained in UK.
The Leander Project at NHQ and its team in Yarrow Shipyard Ltd Glasgow under Commodore Kapadia and Lt Cdr Rishwadkar (E) worked out scheduling of supplies. That is when Navy's indigenisation started in earnest to cut costs. Valves came from Leader in Jullundur, SRE from Motwani and pumps from companies in Pune and hull fittings from merchant ship suppliers in Bombay. Officers took initiative to locate suppliers.
Nilgiri's performance at sea gave Indian Navy's rank and file, shipyards and dockyards a spurt to imbibe the world's latest naval technology and ship building practices, which has been taken to heights by today's Navy with self help, and a will to 'Make in India'.
Whilst on a visit to India First Sea Lord Admiral Sir Micheal Pollock was in Bombay and asked Flag Officer Commanding Western Naval Command, Vadm Manohar Awati whether instead of a two hour tour of INS Niligiri and lunch, he could go to sea. He wanted to test if Indian Navy was up to building and running a Leander. Awati sent for yours truly at midday, as Captain was away in Nainital and asked if Nilgiri could comply. "Of course Sir, just give the sailing order". Awati then said, he would sent a senior Captain to supervise a LTCDR. I replied, " Sir then I may be given a day's casual leave if you have no confidence in me and the fine team on board." Harsh words followed but no senior Captain came. At sea 35 nm from Mumbai, FSL seemed impressed and asked Cdr E, " What speed did you achieve with Indian boilers and turbines?" Answer 27.6 knots (35mph).
That is when CDR E and L said ……" Ranjit Gore ko dikkha do", and I ordered 228 max revolutions normally allowed in war or emergency ! Nilgiri leaped forward with bow rising and vibrating a little but stable and log showed 27.7 and we ordered half ahead back to Bombay. FSL Pollock said to Dasgupta, " Not bad, our Leanders have touched over 28." CDR(E) whose son is VADM Biswajit Dasgupta appointed Chief of Staff ENC quipped , "Sir, that must be in cold UK waters." That is what Navy is made off, to give a point of view.
Nilgiri gave Government confidence to appoint CMDs to DPSU shipyards from the Navy itself which has paid dividends with their domain knowledge. Navy set up a Naval Design Directorate and the Weapons Electronics Engineering Systems Establishment(WEESE) in private premises in New Delhi. Some officers from Nilgiri joined WEESE which has done yeoman R&D work for the Navy.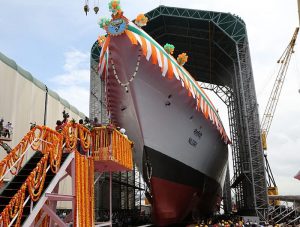 Nilgiri was manned by selected 18 officers and 276 sailors. The radars on Nilgiri included a Dutch Sierra band DA-05 surface search radar, a Lima band LW-04 long range air search radar, an Xray band Signaal Z-06 navigational radar and MRS-3 long range and MRS-8 CRBFD close range fire control system inputted into the operations and sonar control room which heralded analogue computerization into the Indian Navy for war fighting, with switchable communications consoles and the ARL plotting table. The sonars were the Graesby Type 750 for underwater submarine search and a Type 170 attack sonar and an underwater telephone to prosecute submarines with the Italian Whitehead A244S torpedoes fired from the triple ILAS 3-324 mm torpedo tubes, now being made in India by Larsen & Toubro Ltd and are exported.
It is these sonars that were studied by Lt Cdr(L) Arogyaswami Paulraj, who developed an improved trans-receiver-display for the 170B, and the APSOH sonars at NPOL in Cochin which are now the panoramic HUMSA series of sonars. Paulraj migrated to USA for greener pastures and taught at Stanford with laurels and in 2010 was awarded the Bharat Ratna.
Nilgiri's Seacat gunnery team was sent to Devlali to train on the Army Tigercat system. That gave the crew immense confidence at sea. It will be appropriate to recall that chain smoking Leading Seaman Milap Chand shot down three PTA aerial targets provided off Singapore by the RN Seacat trials team from the two directors, and the 4.5 inch gun shot down the third PTA. It was a record set by then Lt Cdr Madhvendra Singh the Gunnery officer later CNS.
The first of class trials were supervised by Indian technical officers under then late Captain Sukul and Cdr JJ Baxi with guarantee specialists from abroad. It set a bench mark standard to leave no pending item in the Form D448 and clear timely bills to the builder Mazagon Docks Ltd and suppliers and credit must go to the Navy's Warship Overseeing Team(WOT), Machinery Trials Unit(MTU) and Warship Production Superintendent(WPS) late Cmde Bhalla.
India's present strength of the MDSL built three 6,200 ton Type 15A Delhi and three Type 17 4,600 ton Shivalik class Brahmos and Barak firing platforms can trace their lineage to the Nilgiri class which was followed by the 3,500 ton Taragiri and Godavari classes when Indian Navy designers extended the hulls and broadened the beam and made sure the same propulsion boiler-turbine system from BHEL gave the same speed. The ships were fitted with the Agouti system to minimize propeller cavitations noise and a ship stabilizer system more for the gunnery system but we used it at sea to avoid sea sickness ! Gen SM Manekshaw visited INS Niligiri in 1972 and spoke to the ship's company and admired the ship.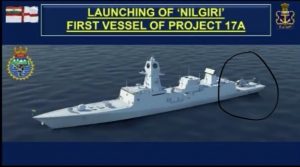 New successor Nilgiri was born as the first lead ship of the Nilgiri-class stealth guided missile Shivalik Type 17A frigates built by Mazagon Shipyard Dock Limited(MSDL). The 6,800 ton ship with maximum speed of 28 knots is powered by 2 MAN 12V28/33D 6,000kw STC Diesels and 2General Electric LM-2500 gas turbines supplied by Hindustan Aeronautics Ltd(HAL) with a range of 5,000 miles at 18 knots. The new Nilgiri is fitted with BEL HUMSA-NG bow sonar, the IAI EL/M-2248 Elta MF-STAR, S band AESA radar from Indira-Tata and a BEL Ajanta EW suite 4 Kavach chaff decoy launchers. The armament includes a BAE–5 inch 62-calibre Mk 45 naval gun and 8 VLS BrahMos supersonic and 32 Barak-8 AA missiles, and the RBU-6000 ASW rocket launchers and triple torpedo tubes from L&T. Two Sikrosky 60R multi role ASW Sirkosky MH60R helicopters are planned to be embarked on this world class missile frigate. Shan No Varuna the Navy's motto.
(The author Cmde Ranjit B Rai(Retd.) is a defence expert and author of WARRING NUCLEAR NATIONS-INDIA AND PAKISTAN (ISBN 978-93-5158-638-0). The views in the article are solely the author's. He can be contacted at editor.adu@gmail.com)