Indian Start Up NewSpace Research and Technologies has developed these swarm drones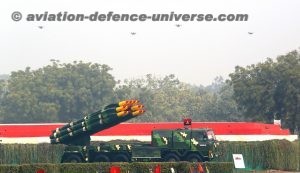 New Delhi. 15 January 2021. The Indian Army carried out a live demonstration of Drone Swarming capability using 75 indigenously designed and developed drones which executed an array of Artificial Intelligence (AI) enabled simulated offensive missions and close support tasks during the Army Day Parade.
These drones have been made by a NCR- Bangalore based start-up NewSpace Research and Technologies Pvt Ltd. and is part of the first Indo-US technology collaboration project in the aerospace sector and is working with the US Air Force Research labs to develop future air launched drones for the armed forces.
It may be recalled that Hindustan Aeronautics Limited (HAL) and New Space Research & Technologies Pvt. Ltd. had signed a Non Disclosure Agreement (NDA) to explore cooperation for joint development and manufacturing of various products and systems in the area of unmanned systems, swarm technology and space systems at Lucknow during DefExpo 2020 . The NDA was signed by D Maiti, General Manager (Planning) for HAL and Sameer Joshi, Director, New Space Research & Technologies Pvt. Ltd.
This demonstration is a recognition of the Indian Army's steady embrace of emerging and disruptive technologies to transform itself from a manpower intensive to a technology enabled force to meet future security challenges. The Indian Army is investing heavily into Artificial Intelligence (AI), Autonomous Weapon Systems, Quantum Technologies, Robotics, Cloud Computing and Algorithm Warfare in order to achieve a convergence between the Army's warfighting philosophies and military attributes of these technologies.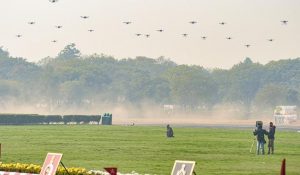 The Indian Army has undertaken a wide array of technology initiatives in coordination with Dreamers, Startups, MSMEs, Private Sector, Academia, Defence Research and Development Organisation (DRDO) and Defence Public Sector Undertakings (DPSUs).
One such project is the Artificial Intelligence (AI) Offensive Drone Operations which has been incubated with an Indian Start Up. This project symbolises the beginning of the Indian Army's tryst with autonomy in weapon platforms and showcases the Army's commitment towards merging the cutting edge of digital technologies with its human resource.
NewSpace Research & Technologies Private Limited (NRT) is a start-up company based out of Delhi NCR and Bengaluru and is engaged in development of next generation missions and technologies (NGM&T) towards future warfare needs of the Indian Defence forces. It is undertaking research towards enhancing persistence and autonomy for unmanned vehicles and robotic swarms. NRT's product development portfolio includes a solar power stratospheric high altitude pseudo satellite (HAPS) unmanned platform; and an air/ground launched stand-off ISR/hard kill autonomous system. NRT is also developing initial capability towards Manned Unmanned Teaming (MUT) and design of an unmanned wingman UCAV vehicle.