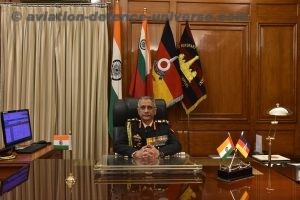 "The grievance and redressal system of the army is robust and time tested which is strengthened by the command and control set up. We have laid utmost focus on the moral health of the Services, adherence to formal codes of conduct and finally setting of personal example, upright and soldierly way of life. In our profession, we are required to make difficult choices and the decision is always guided by the motto of 'Service Before Self' and the 'Harder Right than the Easier Wrong'," said Indian Army Chief General Manoj Mukund Naravane PVSM, AVSM, SM, VSM, ADC in an exclusive interview to Aviation & Defence Universe (ADU),on the occasion of Army Day, 2021.
ADU. What is the progress on constituting Integrated Battle Groups (IBGs)? Will the concept of IBG be successful both on the Northern as well as the Western Front?
COAS. The IBG-isation initiative of the Indian Army is progressing well. IBGs, as you are aware, are agile and tailor-made organisational structures that will play a fundamental role in achieving our future war objectives successfully. Due to the dynamic structure and wide-ranging abilities, the IBG concept is in consonance with our operational philosophies on both Fronts. So, the concept is definitely valid both on the Northern and Western Fronts and would result in enhancing our operational efficiency. I want to assure you that IBG-isation of the Indian Army is a priority and it will be executed in due course of time.
ADU. Is there a changed policy on managing the Line of Control post repeated ceasefire violations by Pakistan at the border?
COAS. The situation along the LC has remained tense. The primary reason is mistrust owing to continued support to terror and unrelenting attempts of infiltration by terrorists. The mistrust leads to tense environment and therefore exchange of firing from both sides. We certainly desire peace along the LC. The onus is on our Western neighbours.
ADU. Has the split of J&K into two union territories of J&K and Ladakh created the need of more deployment in the two UTs? If so, what is the increase in strength there and if not, have you removed excess deployment?
COAS. The security situation in Jammu and Kashmir has witnessed progressive improvement since Abrogation of Art 370. Aim of Security Forces has been to provide a secure environment to the Awaam which has suffered a lot for last three decades due to terrorist violence. Attempts of inimical elements to mislead people by running disinformation campaign have been defeated by proactive monitoring of the situation and engaging with the local population. The deployment of force in both UTs is commensurate with the prevailing security scenario and is dynamically adjusted based on periodic reviews.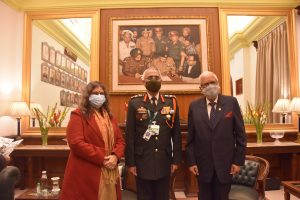 ADU. What are the major issues of preparedness that concern you as the Chief of the Indian Army and how do you plan to encounter them?
COAS. Our operational preparedness needs primarily focus on India's desire to ensure stability & dominance along our borders and to effectively counter Proxy War. To retain operational readiness & combat edge, we constantly monitor and review the emerging & future threats to our national security. Our operational requirements continue to guide our procurement of emerging technologies, which act as force multipliers, providing us much needed combat edge over the adversaries.
Capability Development & Modernisation of the Indian Army is aimed at ensuring and enhancing operational preparedness – a continuous & dynamic process. With the promulgation of Defence Acquisition Council (DAC) 2020 and the focus given by the Hon'ble Prime Minister towards Atmanirbhar Bharat, Indian Army is endeavouring that bulk of our equipment is manufactured in India. With the assistance of DRDO, DPSUs and OFBs, we are continuously working to ensure higher domestic content in all our equipment procurements.
ADU. Is the Indian Army failing on the modernisation front? What is your immediate wish list to the Ministry?
COAS. Indian Army is on the desired path of modernisation. We are procuring the best available weapons & equipment. Modernisation is a dynamic process based on operational realities, latest available tech, budgetary envelope, etc. Our over dependence on imports has made the situation difficult but with the 'Make in India' endeavours & thrust on indigenisation, we are on the right path to address our capability requirements in a holistic manner. The Capital Procurement pattern of Indian Army is inherently aligned to "Make in India" initiative of Government of India in letter and spirit. 99.98% contracts for FY 2020-21 have been concluded with Indian Vendors.
ADU. What is your view on a recent debate on repealing AFSPA from J&K? Will any such decision not affect the morale of the soldiers deployed in the state?
COAS. Post removal of special status to J&K, the government has promulgated notification making AFSPA applicable to the Union Territory of Jammu and Kashmir. The said action has been taken after due consideration of all ground situations. Hence the issue of revocation of AFSPA is premature at this stage. Deployment of troops, who are trained and equipped to conduct operations is in accordance with law. Imposition or otherwise of the AFSPA by the government will not affect the morale of troops, since operations can only be conducted under the mandate of AFSPA which is a pre-requisite for deployment of troops in notified areas.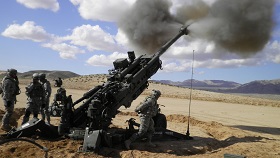 ADU. Now that M777 guns have started coming, is your artillery world class or are their still requirements left ?
COAS. Concerted efforts towards modernisation are now manifesting in induction of the state of art heli-portable 155 mm/ 39 cal ULH and SP guns like 155 mm/ 52 cal K-9 Vajra into the Arty inventory. Similarly, induction of 155 mm Towed Gun Sys and 155 mm Upgunned is in advance stages. Induction of new 155 mm gun system will enable gradual de-induction of the vintage 120 mm Mortar, 105 mm IFG, 130 mm & 130 mm Catapult regiments. 30% of the Arty inventory would have converted to a 155 mm Medium profile in the next few years. Induction of additional indigenously produced Pinaka Rocket System will further strengthen our arsenal of Long Range Vectors.
ADU. The Chiefs are responsible for training the armed forces for the future. What is your strategy for developing skills and strategic thought in the soldiers at all levels, apart from the already existing training programmes?
COAS.The security challenges being faced by India are complex. Future conflicts are likely to be in multi domain. Remaining an operationally effective and responsive force capable of safeguarding and furthering our national interests, we need to develop Indian Army into an integrated network centric force, capable of successfully undertaking joint operations across the entire spectrum of conflict. Conceptual focus shall adhere to mission oriented training with effective linkages between the field formations and training institutes, creation and optimal exploitation of training infrastructure at field formations and training establishments and exploring emerging niche tech like Artificial Intelligence, robotics and quantum computing in all training ventures.
ADU. Do you think Territorial Army (TA) should ease it's recruitment procedures to attract more youth into its fold?
COAS. Territorial Army is an integral part of Indian Army and plays a very important role in the defence of the country. All Indian citizens between the age of 18-42 are eligible for recruitment in the Territorial Army. The service conditions and concept of TA is suitable for people from all walks of life in the above age brackets. As on date, TA attracts large number of youth. Recruitment in TA in case of Non-Department units has been handed over to Recruiting Directorate to align with the existing norms of Regular Army recruitment to bring in matching standards and more transparency into the recruiting process. The recruitment of TA by Recruiting Directorate likely to commence wef Feb-Mar 2021. Recruitment will be pan India with percentage laid down as per recruitable male population (RMP) of the area. For border and mountainous areas of J&K and Ladakh and North East, there are 10 Home and Hearth battalions wherein the candidate of these areas alone are recruited.
ADU. ESM are facing problem in ECHS medicines, attitude of empanelled hospitals etc. This is attributed to paucity of funds. What action is being taken by Army headquarters to solve this problem?
COAS. ECHS presently has 433 Polyclinics including six in Nepal and 28 Regional Centres. In addition, Regional Centre at Yol and Bhuvaneshwar are under raising. Referral System has been simplified to facilitate patients of Chronic Diseases like Cancer, Kidney Diseases etc. Members above 75 years of age can go to empanelled hospitals for Out Patient Department (OPD) without referral from Polyclinics. COVID related treatment is regarded as emergency and may be availed without a referral from Polyclinics. Beneficiaries are permitted to purchase the medicine from any pharmacy and claim re-imbursement. ESM and dependents can resort to tele consultancy through SEHAT application and use the prescription to buy medicines and claim re-imbursement. Helplines have been established to facilitate and address problems of admission in empanelled hospitals.
ADU. The shortage of Officers in our Army still continues. Besides the normal publicity what perks & motivators are being planned by the Government so that the youth is attracted to join the Army?
COAS. There is approximately 15% shortage of officers in Indian Army and efforts are being made to mitigate this. The prevailing shortage in officers cadre is primarily due to reduced intake in Support Cadre (Short Service and In-Service Cadre). In order to make SSC entry a more lucrative option for the youth, a proposal for 'Making SSC entry more Attractive' is at advanced stage of deliberation at the Tri-Service level. Young Leaders Training Wing has been established at OTA Chennai to identify and train the potential candidates amongst the In-service aspirants so that the In-Service entries are adequately subscribed.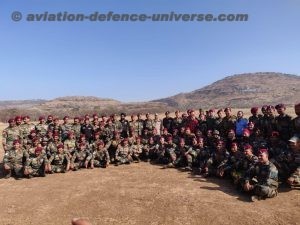 ADU. Are you satisfied with the budget allocated to the Army, keeping in mind its strength and needs?
COAS. Adequate budget is available for carrying out necessary capital procurements. Procedural bottlenecks affecting timely fructification of schemes have been addressed to a large extent by promulgation of DAP -2020. The DAP-2020 envisages a slew of conceptual, structural and procedural reforms in the capital acquisition procedure, focusing on simplification, delegation, reduced timelines and making the process as industry friendly as possible for 'Atmanirbhar Bharat'.
ADU. Internal health of the Army has been a matter of concern for some time now. What is your strategy to improve the morale of the force?
COAS. The members of the military profession are distinguished from other professionals by a number of factors. The prime amongst them is the concept of what can be termed as 'unlimited liability in defence of the nation's interests'. As a result of its distinctive mandate and the need to instill organizational loyalty and obedience, military organizations develop a culture unto themselves and function on the basis of an Honour Code. There can be no latitude as far as honour code is concerned.
The issue regarding isolated incidents which in the perception of the environment raise concern about the internal health of the army are bereft of any substance. We are the second largest Army in the world. Accordingly, having a view or belief that there would be no incidents of different nature in such a huge organisation may be erroneous. Few events which have come to light are undesirable but do not indicate any erosion in moral fiber. We are alive to the reality that news related to military gets enormous attention and sensitivity which creates distorted perceptions regarding the moral uprightness of Army.