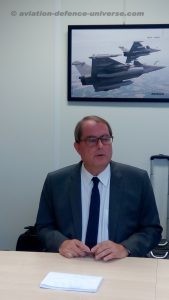 By Sangeeta Saxena
Paris/ Orleans/Bolton. 04 October 2017. "We show a strong sense of commitment and consistency for Indian Defence Forces requirement. India should be able to appreciate MBDA's commitment towards growth of Indian defence ecosystem. We are fully compliant with the processes and systems and are happy to abide by them," reiterated Antoine Bouvier the Chief Executive Officer (CEO) of MBDA. He was speaking with a group of Indian journalists on a facilities' visit of MBDA both in France and UK at the MBDA Head Quarters in Paris.
MBDA's ASRAAMs a major part of Indian inventory, some already on the IAF Jaguars and some in the production line at MBDA's new facility in Bolton, getting ready for the integration. ADU was a part of the group of journalists visiting the facility and saw the missile in production. These are replacing the obsolete Matra-produced Magic 550 1 carried on the Jaguar's over-wing rails.
"Challenge is volume of the order itself. Interactions with the authority are great. Stability and clarity of the whole process is important. India is a long term partner in security and defence. We have decided to engage in IDDM and help in Buy & Make India. Our aim is to ensure that India has access to technology and capability. It is also our commitment to respond to the call of India government's Make in India and indigenisation of defence products," he added.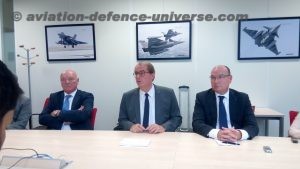 Another feather in MBDA's Indian cap is the MICA missile to be supplied as part of the modernisation programme of the Indian Air Force's (IAF's) fleet of 51 Mirage 2000 aircraft. India purchased 450 MICAs from European missile major MBDA as part of the Mirage 2000 upgrade deal from France in 2012 for $1.23 billion. The MICA will also be mounted on the 36 Rafale combat jets that India is purchasing from France.
A year ago 'Tigers' the first squadron of Indian Air Force, successfully fired the MICA missile on a manoeuvring target from Mirage-2000 Upgrade aircraft. The missile achieved a Direct Hit on a target which was much smaller than an actual aircraft and flying at low altitude. The target was destroyed on missile impact validating the launch envelope of the missile.
With the success of this mission, the IAF has become one of the few Air Forces in the world with the capability of such long range Beyond Visual Range Air-to-Air missile. The operational success of this mission confirms a critical capability of Indian Air Force. The full upgrade is expected to be completed by around 2021 and MBDA has already identified and started to implement work with Indian partners to fulfil the 30 per cent direct offset requirement.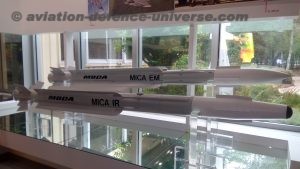 ADU on the facility visit of the MICA production line in Selles-Saint-Denis near Orleans which is a commune in the Loir-et-Cher department of central France, saw the missile for Indian Air Force on the line.
"No export customer or no country is prepared to buy the product from the original location and want to make the product indigenously. We already have a great relationship with HAL and BDL. Our latest partnership with L&T is a great relationship. Both of us are equal partners in the Joint Venture. Percentage is only a number. We co- share and co-own the JV. Both partners will jointly define what has to be the process of Transfer Of Technology. We will be fully consistent with IDDM. Key Skills are to be taught which means right knowledge of the product to be given and capabilities have to be given. JV will help in both the partners to develop the capabilities. No. of Indian partners we have are more than 50 we have a good offset base." said Bouvier.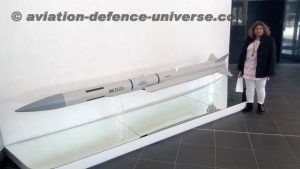 With France all set to deliver 36 French Rafale fighters to Indian from early 2019, MBDA's Meteor Active-Radar which is a Beyond Visual Range Air-To-Air Missile (BVRAAM) with its 80 plus nautical miles range (around 150 kms) will be the fire power of IAF. Its ramjet engine will make Meteor more capable than the others in the same category.
In twin load outs with the SCALP cruise missile that India has opted for, the two weapons give the IAF an unprecedented standoff air-to-air and air-to-surface capability in conflicts on either front with Pakistan and China.
"Our missiles shall be able to fulfil the need of deep strike need of Indian Air Force. MBDA can provide the latest generation of weapons to not only ensure air supremacy but also to carry out precision strikes against a wide variety of static and fast moving surface targets," ended Bouvier on a satisfactory note.