By Dr. Glenn Kelly, Vice President Customer Business – Defence, Rolls-Royce India  
New Delhi. 07 October 2016. In its 85 years, the Indian Air Force (IAF) known as the guardians of the sky have been a source of pride for the entire nation. Since its inception in 1932, the Indian Air Force has had a remarkable history of achievements.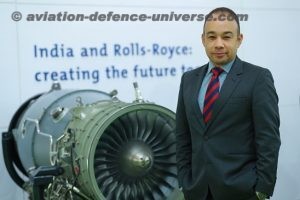 Strong partnership   
We are proud of the long-standing relationship with Indian Air Force which goes back to the time our engines powered their first flight. Since then, we have further built and strengthened this relationship to turn it into one that will stretch far into the future.   
Today, more than 750 Rolls-Royce engines of 10 engine types are powering aircraft of the Indian military. Our engines power a wide variety of aircraft in the inventory of the Indian Air Force – from combat and strike aircraft (the Jaguar, powered by the Adour Mk811) to trainers (Hawk Advanced Jet Trainer, powered by Adour Mk871) to strategic airlift aircraft (C-130J Hercules, powered by AE2100) and even VVIP and Surveillance aircraft (ERJ145, powered by AE3007).   
Apart from this, our field service representatives (FSRs) work in close support with IAF personnel to maximise the availability of engines on wings and provide on-ground technical advice directly to our customers, thereby drastically reducing maintenance and overhaul times. 
Building local capabilities   
We recently opened our Defence Service Delivery Centre in Bengaluru. This is the only one in Asia and is specifically for the Indian Armed Forces and Hindustan Aeronautics Limited. Its principal role is to further improve our responsiveness to the customer, enabling the customer to further improve engine availability.  The SDC will be able to respond to many queries in-country with qualified Indian engineers. 
We have over 500 engineers working at our Engineering Centre in Bengaluru, where we carry out a range of aerospace design and engineering work including development of new tools and technologies; and over 100 at our Engineering Centre in Pune, where we launched an integrated engineering centre which delivers excellent engineering solutions to our Marine and Power Systems businesses. Both these centres, demonstrate of our long-term commitment to strengthen our distinguished legacy and play a major role in helping develop India's capabilities.
With a growing engineering footprint in India, we are looking towards establishing a robust ecosystem that will engage in co-creation across the entire value-chain – from research, design and development to manufacturing, integration, maintenance and repair. This will further enable it to fulfil its vision of Make in India, for India and the world. 
Future aspirations 
Looking at the future, we remain committed to developing the Indian aerospace industry and delivering Indian self-reliance. An excellent example of this is the Adour Mk804/Mk811 (which powers the Jaguar) which was made and continues to be supported by HAL in India, with our support.  
We will continue to support today's fleets, including those that have been in service for many years. Our global experience and best practices that stem from supporting 160 armed forces in 106 countries, give us a unique opportunity to better support the Indian armed forces.  
As the Indian Air force undergoes its modernisation programmes Rolls-Royce is offering its market leading products in support of India's needs, such as the Adour Mk 871 powering the Hawk Trainer. We are committed to providing the Indian Air Force with the best value, and highest quality products possible.
Today, we are focused on developing the future services needed by the armed forces. We are looking at a number of different programmes in India and will continue to realise the country's growth vision and efforts to indigenisation and reaching self-reliance.