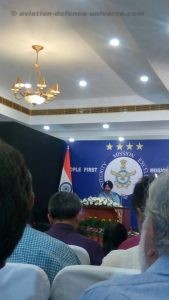 By Sangeeta Saxena
New Delhi. 05 October 2017. "IAF is prepared to fight at a short notice. It is fully prepared to take full spectrum of any challenge. With Pakistan we are adequate and with China the measurement is from what they have in Tibet. So our capability is adequate for China also," reiterated the Chief of Air Staff Air Chief Marshal B S Dhanoa in a press conference, marking the 85th Air Force Day celebrations of the Indian Air Force(IAF).
Responding to the question on fighter jets squadrons being well below the authorised number of strength of 42 squadrons he said, "We need a strength of 42 squadrons to carry out full spectrum of operations in a two-front scenario. It doesn't mean we are not capable of fighting in a two-front scenario as we speak. Possibility of a two front war in the current geo political scenario is low. But intensions can change overnight and  so capability has to be enhanced. Chinese forces are still present in Tibet's Chumbi Valley."
In a candid expression Air Chief Marshal BS Dhanoa today said , "Indian Air Force has the capability of locating, fixing and striking across the border and  any decision on a surgical strike would be the government's. IAF is always prepared for it."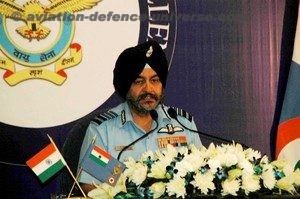 Responding to a question on IAF's preparedness when Indian Army was in a stand off with Chinese Army, Dhanoa said there was no standoff in the air. "During the summer months, the Chinese air force always carries out an exercise in Tibet, in which their two main airfields are full. So they were full during Doklam operations. They will start clearing out once the weather becomes colder," he said.
He stated that India has got the top of the line technologies coming to it. Rafale, S400 and MRSAM are cutting edge technologies.  Su 30 MKIs are high end, Mirages and Jaguaras are medium end and LCA is all set to enter. The first LCA Squdron will have 40 LCA Mk1. RFP is being finalised for 83 LCA 1A. Apache and Chinook will add to the power. But the deficit will finish only once the single engine fighters enter the service.  RFI for these is likely to be issued very soon, he said.