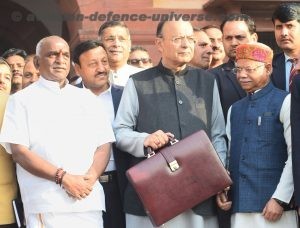 By Sangeeta Saxena
New Delhi. 03 February 2018. When Finance Minister Arun Jaitley in his Budget Speech 2018-19 inter alia announced various steps for promotion of Defence Production, Make in India remained in focus with  measures  to  develop  two  Defence Industrial  Corridors in  the  country and  bringing out an industry friendly Defence Production Policy 2018 to promote domestic production by public sector, private sector and MSMEs. But how will this fill the immediate need of the forces, is the million dollar question?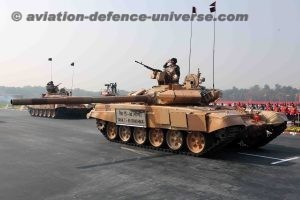 Out of the total  outlay  of  Rs. 24,42,213  crore, Ministry of Defence has got Rs 2,95,511.41 crore earmarked for it.  This accounts for 12.10 percent of the total Central Government expenditure for the year 2018-19.This represents a growth of 7.81 percent over Budget Estimates (Rs. 2,74,114.12 crore) and 5.91 percent over Revised Estimates (Rs. 2,79,003.85 crore), respectively for the financial year 2017-18. Out of the allocation for the financial year 2018-19, Rs. 1,95,947.55 crore has been allocated for Revenue (Net) expenditure and Rs. 99,563.86 crore for Capital expenditure for the Defence Services and the Organizations/ Departments under Ministry of Defence. The amount of Rs. 99,563.86 crore, allocated for Capital expenditure, includes modernization related expenditure. The Capital allocation for Ministry of Defence under BE 2018-19 is 33.1 percent of the total Central Government Expenditure on Capital Account, which is Rs 3,00,441 crore.
For Defence Pension, which is over and above the outlay mentioned above, an amount of Rs. 1,08,853.30 crore has been provided in BE 2018-19. This is 26.60 percent above the BE 2017-18 of Rs. 85,740 crore and 14.26 percent over RE 2017-18 of Rs. 95,000 crore. The Defence Pension, which is over and above the defence budget, was pegged at Rs 1.08 lakh crore. This is the first time India will spend more on pensions than it will on capital expenditure. Moreover, this is also the first time the pension amount has breached the Rs 1 lakh crore mark meaning that it is a  rise of 26.6% from the Rs 85,740 crore allocated for Defence Pensions in 2017-18 budget.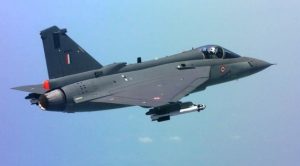 All these are impressive figures but with all the three services looking forward to major procurements keeping in mind not only the existing gaps in arms, ammunition, equipment and platforms  to be filled but also the volatile borders both on Pakistan and China fronts. So the 7.7 per cent increase in the defence budget, which itself is less than 1.5 per cent of GDP is not sufficient to meet the growing demand of the armed forces in acquisition mode. Share of defence budget in GDP is lowest in this budget since 1962 have commented a lot of experts.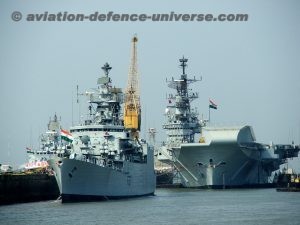 Indian armed forces are still battling with insufficient arsenal. From rifles, ammunition, bulletproof jackets, hand-held thermal imagers, night vision devices, sandbags to fresh communication lines,  the list of the Army's needs is long. It is no well kept secret that Indian Air Force is well short of the fighter planes required to mount an effective offensive if war is imminent. The IAF is faced with a  severe shortfall in its squadron strength. Indian Navy is also in turbulent waters keeping in mind that Project 75 (India) submarines project is still to be signed, 12 mine countermeasures vessels (MCMVs) being constructed at snail speed at Goa Shipyard Ltd. , decisions on NUH and LUH still pending and government authorisation for indigenous construction of six nuclear attack submarines (SSNs) not even creating a murmur. In such a scenario the budget does seem a disappointment.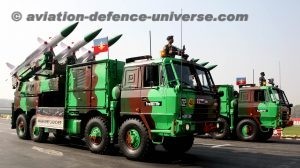 The silver lining in the cloud is the approval for the construction of Sela pass . "Rohtang tunnel has been completed to provide all weather connectivity to the Ladakh region. Contract for construction of Zozila Pass tunnel of more than 14 kilometres is progressing well. I now propose to take up construction of tunnel under Sela Pass," Arun Jaitley said. Sela Pass, also known as Se La, is a high mountain pass at an elevation of 4,170 m (13,700 ft) above the sea level, located in Tawang District of Arunachal Pradesh.
Defence Minister Nirmala Sitharaman very happy about the announcement of the defence production corridor said that these are the first ever Defence Production Corridors being formed in the country and will give a big boost to defence production. The Department of Defence Production had recently conducted a major Defence Industries Development Meet in Chennai in January 2018 with huge participation from defence industries, including MSME from Chennai, Mysore, Coimbatore, Salem, Tiruchirappalli and from other states as well. The meet highlighted the prevailing ecosystem, albeit scattered, conducive for Defence Production in Tamil Nadu.
The total capital expenditure is 93982.13 Crores and is insufficient. With Army getting 26688.4 Crores, Navy 20848.16 Crores,  IAF- 35755.6 crores, Ordnance and research 10548 Crores and miscellaneous expenses – 141 Crores is sufficient for the functioning of the three forces and the institutions and organisations under Ministry of Defence but procurement seems to be far fetched in these allocations.