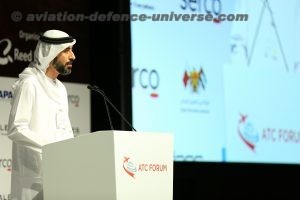 Dubai, May 9, 2018: Air Traffic Control is the cornerstone of the aviation sector and Dubai has implemented the most advanced procedure, keeping the safety of passengers and their timely travel as their ultimate priority and goal.
This was stated by Abdulla Al Hashmi, Executive Vice President for Operations at Dubai Air Navigation Services (dans) in his keynote address at the ATC Forum, running along the Airport Show.
dans has significantly transformed and developed its operations to cater to the ever-growing expansion in the aviation sector. "Operating closely with larger-than-life corporations such as Dubai Airports and Emirates airline and that has enabled us to become the leading air navigation services provider of the MENA region that we are today," Al Hashmi said.
Over the last eight years, aircraft movements have increased by 50 per cent, he said, adding: "This has necessitated upgrading of our airspace."
He said, "We have successfully redesigned the current airspace, introducing 90 new procedures and 150 new way points in efforts to enhance airspace capacity, enable fuel savings and continuously support green aviation under the 'Airspace Restructuring Project' in Dubai."
He added, "Today, we manage a daily average of 1,500 air traffic movements in Dubai's airspace, enabling it to be the leading and renowned travel and trade hub."
To consolidate safe, efficient and expeditious ATC operations in a seamless manner, dans' research and development arm has developed APO (Approach Peak Offload) procedures that are unique because of Dubai's operational environment.
"This has enabled dans to reduce peak arrival delay by 40%, as well as reduce CO2 emissions by up to 447 tonnes on a daily basis, while continuing to enhance air traffic movement's capacity further," he said.
With the Middle East opening up privatisation opportunities, now is the perfect time for Air Navigation Service Providers (ANSP) to change their business model to thrive, the ATC forum was told.
Systems are being integrated with simplified Human Machine Interfaces (HMI) for air traffic controllers to create additional safety nets and UTM (Unmanned Traffic Management) Systems will soon become mandatory. The increasing air traffic volumes have enlarged the role and responsibilities of ATCs to increase efficiency and improve performance and safety.
Commenting on the ANSP business model in the Middle East, Pete Mohring, Managing Director-Aviation and Defence, Serco Middle East, said: "There are privatisation initiatives, and we've particularly seen that in Saudi Arabia and other parts of the Middle East, there's an opportunity for ANSPs to actively lobby to break away from constraints and build a business case for part self-sufficiency."
Peter Harbison, Executive Chairman of CAPA- Centre for Aviation, talked about CAPA Global Air Traffic Forecast.
Giving insight about the global fleet by region, he mentioned that Asia Pacific and North America will lead with 9,160 aircraft and 9,736 aircraft respectively in 2018. The forecast for the Middle East fleet size is 1,671 in 2018.
Talking about the projected global aircraft deliveries, he said narrow body aircraft will lead the list of deliveries in 2018. Informing about the Asia Pacific deliveries, he said it will be more than 500 aircraft and mostly narrow body.
George Rhodes, Assistant Director, Safety and Flight Operations, Infrastructure, Middle East and North Africa at IATA, discussed IATA position on drones and ways to work together to integrate manned and unmanned aircraft in controlled airspace to ensure safe skies for everyone.
He said Unmanned Aircraft Systems (drones) market will keep growing, as new uses for drone technology are developed, such as air taxis. Dubai has already done its testing. He emphasized that secure and reliable communication with the drone is needed at all times.
Unmanned Air Traffic Management (UTM) is an essential tool to allow for the same integration of drone operations in today's complex airspace and is a mandatory element for the drone industry to emerge, according to a UTM software solution provider.