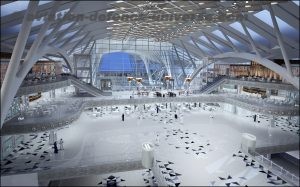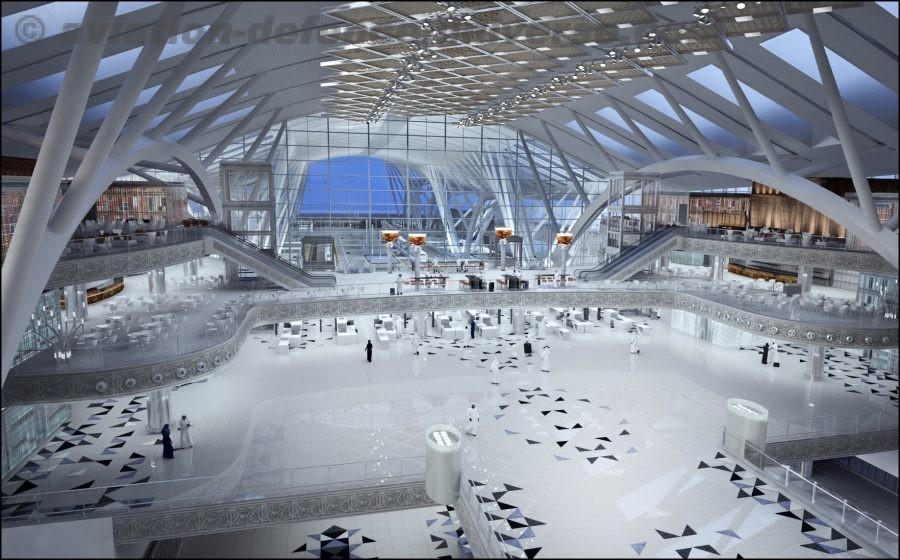 Dubai, May 08, 2018:  If there is one thing which is constant, it is new airports construction. In fast-growing economic and populous regions such as Asia-Pacific, Middle East and Africa, investments in new airports construction remain strong. The total value of the global airport construction projects pipeline stands at US$721.7 billion, with the US and China accounting for the largest shares, with project pipelines valued at US$90.4 billion and US$76.7 billion, respectively. Asia-Pacific has the highest value pipeline, at US$291.2 billion, followed by the Middle East and Africa (MEA) with US$163.5 billion.
A report says the total value of 152 active aviation-related projects in the Middle East reached US$57.7 billion. Saudi Arabia accounted for the largest share of project value, followed by the UAE and Kuwait. According to the Centre for Aviation (CAPA) data, up to US$1.1 trillion is to be spent on airport construction globally – this is broken down by US$255 billion being invested in new (Greenfield) airport projects around the world and US$845 billion in projects such as new runways and terminal buildings, runway and terminal extensions.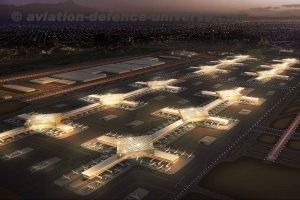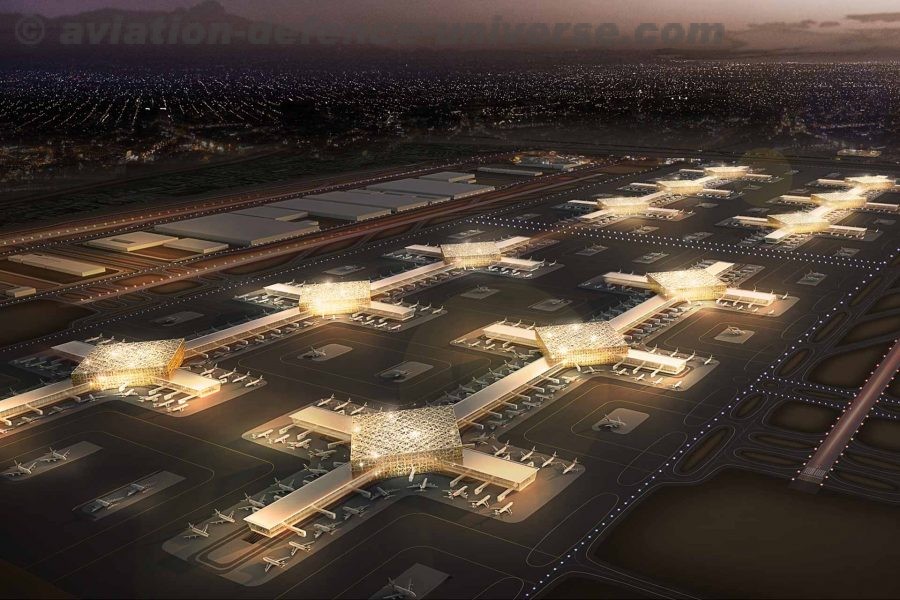 Topping the list is Beijing's new US$12.6 billion airport, one of the world's largest when it opens in October 2019. It will have an eventual capacity of 100 million. The airport will have 7 runways. An international airport under construction in Chengdu will boast six runways and handle 90 passengers each year. By 2036, China's domestic air-travel traffic will quadruple to 1.6 billion passengers. The world's most populous country already had 207 civil airports, which they hope to increase to 260 by 2020.
India is looking to boost its connectivity by establishing 100 airports at a cost of US$62.2 billion to handle one billion travellers by 2035. India's aviation industry will be the third largest for departures by 2019. One of the flagship new airports will be the Greater Noida airport, about 60 km from Delhi. The expansion of Delhi's Indira Gandhi International Airport – India's busiest airport by passenger traffic will be completed by 2021 with the overall handling capacity increasing to 85 million passengers per year.
Navi Mumbai international airport is expected to be completed by December 2019. It will be capable of handling 10 million passengers a year upon completion of the first phase, 25 million passengers a year in the second phase, and finally, 60 million passengers a year by 2032.
In the Arab world, Tunisia will build a new airport that meets international standards by 2030. With an estimated cost of US$840 million, the new civilian airport will be the 10th in the North African country.  Egypt is spending US$18.5 billion through building three new airports, including the New Administrative Capital Airport which is expected to be completed in 2019.  The Sphinx International Airport is slated to open in summer 2018.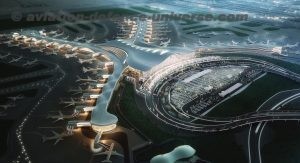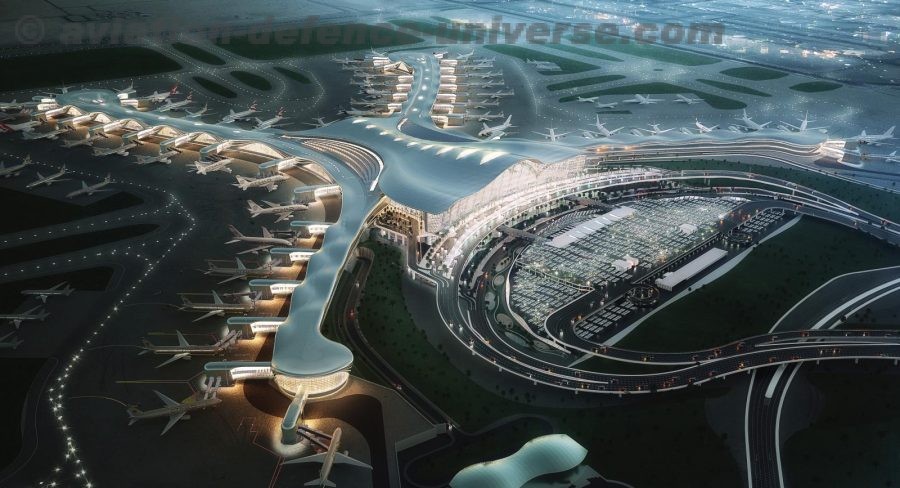 In Saudi Arabia, the new Taif International Airport is expected to open in December 2020. The biggest Arabian Gulf state has 27 airports and the government plans the development of four new airports. Riyadh's King Khalid International Airport, by 2019, plans to increase the total capacity to handle 24 million international passengers yearly. Sultanate of Oman, which earlier this year opened an US$1.8 billion 'silent terminal' with robots directing passengers, hopes it will be among the top 20 airports in the world by 2020.Three development phases are expected to boost the number of passengers at the airport to 24 million, 36 million and finally 48 million.  Three regional airports are also under development in Ad Duqm, Sohar and Ras Al Hadd.
Bahrain is building its second international airport on an artificial island at a cost of US$1.1billion, with the project's first phase expected to be completed in the third quarter of 2019. The terminal will quadruple the capacity from four million passengers per year to 14 million. Kuwait is constructing a new US$4.3billion airport terminal to handle 25 million passengers per year. Spread across 708,000 square meters, it will be able to accommodate all aircraft types, with the ability to serve 21 A380s. According to forecasts, passenger traffic is expected to exceed 23 million in 2027. Terminal 4 and the Al-Jazeera passenger terminal are expected to be completed by mid- 2018, while the new Kuwait International Airport will be ready by 2020.
Construction of airport-related projects in the UAE is progressing at a brisk pace. Fujairah International Airport is undergoing a US$180 million expansion programme. Sharjah International Airport will also be put through a US$410 million revamp programme to help it serve increased passenger traffic.  It plans the construction of new terminal in 2019, with first phase to open in 2021in a move that will increase the airport's capacity to 25 million passengers. The full project is expected to be ready by 2025. It is part of an AED1.5 billion expansion plan.
Abu Dhabi is constructing a mega midfield terminal costing AED10 billion to handle up to 84 million passengers per year when it opens in late 2019. Dubai is going ahead to complete its second airport which will be the world's largest global gateway with capacity for more than 160 million passengers per year.
Part of the 140 square kilometre site, it will also serve as a multi-modal logistics hub for 12 million tonnes of freight. Dubai had secured US$3 billion in long-term financing for the expansion of its airports, which are forecast to serve 146.3 million passengers by 2025.
Bangkok's Suvarnabhumi Airport is set for US$3.5 billion of upgrades through 2021 including a third runway. South Korea's Incheon International Airport is spending US$4.5 billion on a second terminal. Singapore's Changi Airport unveiled an US$950 million fourth terminal which is due to open by the year-end. It will be the first airport in the world to use tomography scanners, which means passengers don't need to take laptops out of their bags for screening. The new terminal will increase total capacity from 66 million to 82 million. The island-nation is already working on a third runway and a fifth terminal due to be completed in the late 2020s.
Hong Kong plans to fill in part of the South China Sea to make room for a third runway — at a cost of US$18 billion. Hong Kong International Airport has been almost maxed out as it handled 71 million passengers. In Vietnam, a project has taken off for the construction of new mega international airport to address chronic capacity shortages in one of the world's fastest-growing aviation markets. Long Thanh will take up the overflow from Tan Son Nhat, the country's largest which currently receives 32 million passengers a year, far beyond its designed capacity of 25 million. The government plans to have 28 operational airports by 2030.
In Cambodia, building of two new international airports in Phnom Penh and Siem Reap is taking off. Phnom Penh's new airport will actually be located in Kandal province's Takhmao city. It will cost US$1.5 billion. In Indonesia, the government is planning to build 57 new airports. Malaysia is looking to develop a new terminal within the next five years as the Kuala Lumpur International Airport (KLIA) and the adjacent KLIA2 are running at maximum capacity. The Philippines is building an international airport in Bulacan, a facility that once completed should help ease congestion at the Ninoy Aquino International Airport (NAIA).  The 50-year airport project will entail building six parallel runways with an initial annual capacity of 100 million passengers, or over triple the NAIA.
Europe will not be seeing any new airport plans in the nearest future except for two huge projects. The New Istanbul Airport- the biggest infrastructure project in the history of Turkey at US$10 billion – is to become a reality this year. Istanbul's third airport will initially have two runways, expanding to six by 2028. At 67.6 million square metres, the airport would be the largest by size in the world is targeting capacity of 90 million passengers per year.
Heathrow's new terminal is expected to witness 17 million passengers by 2019. Manchester Airport is spendingUS$1.4billion to increase the size of Terminal 2 by 140 per cent which will allow 30 million passengers to pass each year by 2020. Berlin's new airport is likely to open in October 2020. The €5.3 billion building will be, by 2040, capable of processing up to 55 million passengers a year. Berlin's two existing airports, Tegel and Schönefeld, are bursting at the seams.
Poland's major new airport will be complete by 2019, with construction to finish by 2027. Poland needs a new airport as soaring passenger numbers are expected to see Warsaw's Chopin international airport reach maximum capacity within a few years. It is expected to initially service some 45 million passengers annually with possible expansion to accommodate 100 million. Polish airports would handle 94 million passengers in 2035.In Norway; two, possibly three, new airports are in the works at and north of the Arctic Circle. Planned spending of US$963 million has been announced for the new airports in Bodø and Moi Rana, with discussions ongoing about a major airport for Lofoten.
The Mexico City International Airport, designed to accommodate 68 million passengers per year by 2020, will be housed in a single X-shaped glass-and-steel structure that will collect and recycle rainwater. It will replace Benito Juárez International Airport which almost 50 per cent over its design capacity of 32 million. Costa Rica's new international airport is expected to open in 2027.  A consulting firm projects a demand of 7.8 million passengers for the first year of operation and of 50 million by the end of the century. The Metropolitan International Airport's first stage will be fully operational by 2027. The US$3.5 billion project is being financed through a public-private alliance. The fourth and final stage should be completed by 2047.
In Africa, majority of airports are undergoing expansion in a bid to cater for rapidly growing passenger and cargo traffic volumes.  Four years ago, Africa initiated 40 new airport projects in a bid to expand its airport infrastructure. Angola spent US$2.1 billion on airport construction. Nigeria on the other hand, is planning to spend US$1.07 billion. Tripoli has set aside US$2.1 billion for airport construction projects while Algiers has set aside US$952 million. Kigali is set to spend US$650 million.
Lusaka is planning to spend US$500 million in airport construction projects. Tanzania's new US$300 million terminal is due to open in June 2019 at the country's main airport to boost government plans to transform the country into a regional transport hub. The new terminal will handle six million passengers each year. Blaise Diagne International Airport in Dakar, the capital city of Senegal, is being developed two phases and will cost an estimated US$560 million. It will be able to accommodate up to three million passengers per year in the first phase, while the second phase will increase the site's capacity to ten million per year. Rwanda is constructing the US$818 million Bugesera International Airport to handle the rising air traffic in the country, as well as bolster intra-African travel, investment and business. Slated for completion by December 2018, the first phase of the construction will increase the airport's annual passenger handling capacity to 1.8 million.