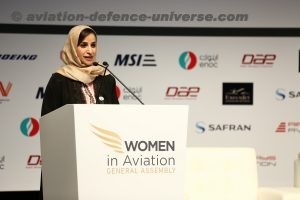 Dubai, May 9, 2018 – UAE women will continue to be the future capital and long-term contributor to the success of the UAE.
This was stated by Her Excellency Jameela bint Salem Al Muhairi, the first-ever woman Minister of State for Public Education in her keynote address at the 3rd Women in Aviation General Assembly on Wednesday on the side lines of the 18th edition of the Airport Show.
The conference was held under the patronage of His Highness Sheikh Ahmed Bin Saeed Al Maktoum, President of Dubai Civil Aviation Authority, Chairman of Dubai Airports and Chairman and Chief Executive of Emirates Airline and Group.
The conference was addressed by more than 20 industry experts. It was attended by over 350 participants. Its sponsors include Boeing, Honeywell, ExecuJet, MSI Aircraft Maintenance Services International, LFV, the air navigation services of Sweden, Dubai Aerospace Enterprise (DAE) and ENOC (Emirates National Oil Company).
Jameela bint Salem Al Muhairi said, "Young Emirati girls and boys have strong potential and I want to see more Emirati students applying for pilots and engineers and learn about aerospace and aviation."
She said, "Globally women are still not in the right number we want to see in the field of aviation. For example, in engineering, science and technology women make up less than 25% across the world in the same profession. Female pilots make up only 3-5% of the total number of pilots in the world. However, in the UAE, we have a different picture because of our leaders. Since the first day of our union, our leaders stood besides women and encouraged them and empower them to be active in all fields.
She said, "Women in the UAE are also entering into the aerospace. Six years ago, there were only two women engineers at the Mohammed bin Rashid Space Centre. Today, women make up 50% of 180 engineers and 80% of new applications. Emirate's Mars mission is another success story of women in space."
Compared with other countries in the Middle East and North Africa (MENA) region, the UAE has more women pilots, captains, aircraft engineers, mechanics, aircraft maintenance and air traffic controllers, among others.
Emirates currently employs nearly 27,000 women, making up 42 per cent of the group's workforce, including women pilots who includes the youngest Emirati female pilot operating the world's biggest aircraft, A380, of which it is the world's largest operator. Over 60 of more than 4000 pilots employed by Emirates are females.
Etihad Airways currently employs over 2,850 Emirati women covering various roles, including 50 female pilots and also the first Emirati woman registered as a specialist in aviation medicine.  Over 50 per cent of the airline's 13,000 strong workforces are women and the airline is keen to narrow the gender gap further.
Air Arabia employs women staff, including the first female Emirati holder of a multi-crew pilots (MPL) license. Two years ago, the UAE became the first country in the world to launch an all-woman operated airline services company.
Earlier in her address, Mervat Sultan, President of the Middle East chapter of Women in Aviation International said that most roles in aviation are still dominated by men around the world. "We are focussing on spreading awareness about aviation as a career of choice in the region and also helping aviation companies that are keen on hiring women," she added.
She said, "The aviation industry in the Arab world generally is showing a double-digit number, which confirms that we will have an increasing demand of employees that will be required to fill in the demand to keep this industry running."
She said, "Women have always been a great contributor to the success of our young nation. We know there is a lot of potential in our women and they are well capable of contributing to our society further. Our premier goal for women in aviation in Middle East Chapter is to enable and support women in our industry through education, monitoring and networking."
Sonja Strand, vice president & general manager for Honeywell's Global Airports Business, at the Women in Aviation General Assembly, said: "As a global leader in aviation and airport solutions, Honeywell believes diversity and inclusion within its teams are crucial to generating superior ideas that can better serve customers and drive growth."
"As an engineer and business leader in the traditionally male-dominated aviation industry, I believe we now have an outstanding opportunity to inspire the next generation of female engineering talent seeking careers in the science, technology, engineering and mathematics (STEM) fields, and it is one that the industry as a whole must capitalize on. Our sponsorship of this event reflects our commitment to doing exactly that, by encouraging women who have a passion for technology and aviation to pursue their interests and experience long, challenging and highly rewarding careers in this important and dynamic industry," Strand added