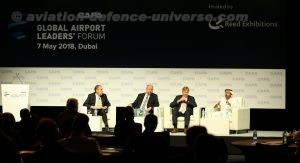 Dubai – 08 May, 2018:  Immigration counter process has been reduced to six seconds compared to 40 seconds before and it is achieved through data intelligence as 90 per cent of the passengers at Dubai International are pre-cleared, according to Director General & Board Member of emaratech Thani Al Zaffin.
Participating in a panel discussion "Airport Collaborative Decision Making (A-CDM)" at the Global Airport Leaders' Forum (GALF) running parallel to the Airport Show, Al Zaffin said:  "Our goal is to make the customer happy with the enjoyable experience."
He also talked about the smart trolleys. "We have invested on intelligent trolleys. You can start shopping with smart trolley and it will guide you everything and all the way to the boarding gate. This is what we have done."
Industry experts said smart airports will improve passengers' experience and it will help diversify the airports' income streams significantly with the implementation of new technologies.
They said non-aeronautical revenue sources – car parking, land rents, terminal concession, and advertising – contributes significantly to global airport revenues. Airport Council International (ACI) in its latest report mentioned that non-aeronautical revenues of airports account for around 40 per cent of the total revenues. In 2016 global airports generated $152 billion total revenues, according to ACI.
A three-member panel moderated by PA Consulting Partner David Huttner debated ways to diversify airports' income streams as new technology comes in.
Responding to the moderator question, Airport International Group Chief Executive Officer Kjeld Binger said, "Size and region matter for digital transformation." Giving examples of Asia Pacific and America, Kjeld said, "It's all about knowing your customer. You need to know your customer and customer's needs in order to try to target your efforts in advertising. But even then, it's not just a straight forward situation. The level of technical expertise in various regions is different."
Another panelist PS Nair, Chief Executive Officer of GMR Group, said, "When we took over Delhi's Indira Gandhi International Airport the commercial revenue was negligible. Today, the same airport is ranked number 1 in the world in service quality." BMR Group operates Rajiv Gandhi International Airport, Hyderabad and Mactan Cebu International Airport in the Philippines.
Panelists at the Airport Privatisation and Infrastructure Financing put the spot light on airport privatization, especially Saudi Arabia where the GCC region's largest country is privatizing its airports by way of concession process.
The moderator of the panel Dr Fethi Chebil, Director General   of Private Air Saudi Arabia, said that KSA is trying three main models for the privatization of its airports in the country. The first method is to corporatize the management of the airport and it was done for Dammam and Riyadh airports, he said, adding that the second model is public-private-partnership (P3) and the third one is management contract, which was done in Jeddah recently. He mentioned that there are two ways of financing models – government and private.