Le Bourget, June 21, 2017. A Memorandum of Understanding to collaborate on the production of aerostructures parts and assemblies was signed at the Paris Air Show, between Elbit Systems–Cyclone ("Cyclone") of Israel and Mahindra Aerostructures ("Mahindra") of India.
Under this arrangement, Cyclone will source content for their existing work packages from Mahindra, and the two companies will also team up on new work opportunities, leveraging each other's strengths, capacities and capabilities.
Mahindra currently operates a large aerostructures manufacturing facility near Bengaluru.  The plant produces parts for its global customer base, which includes reputed OEMs and Tier 1s, and is also exporting primary structural assemblies for the Mahindra Airvan 8 aircraft.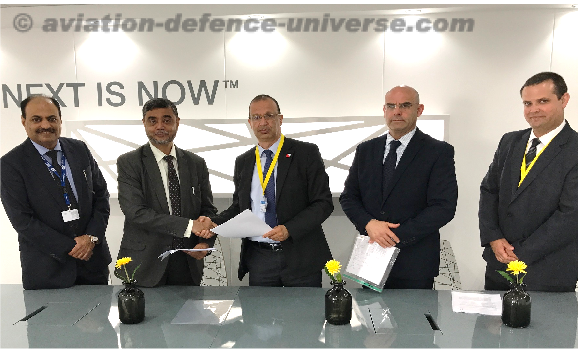 Cyclone, a wholly-owned subsidiary of Elbit Systems Ltd., serves as Elbit Systems' design and manufacturing centre for composite and metal structural aircraft assemblies and parts for leading aerospace companies and OEMs. Cyclone's prestigious customer base includes Boeing (commercial and military), Bombardier, Lockheed Martin, Northrop Grumman, Spirit Aerosystems, Sikorsky, Textron Aviation, Triumph and others. Over the last five decades, Cyclone has designed and produced unique assemblies for civil and military aircraft.
S P Shukla, Chairman, Mahindra Aerospace and Group President-Aerospace & Defence, Mahindra Group, observed that "Both entities are part of large business houses with diversified yet complementary interests in Aerospace & Defence. With this first step of collaboration, we expect to offer robust and cost-effective options for global customers, and also address the Make in India initiatives of the Indian Government."
"Mahindra Aerospace has always believed in the power of collaboration within the industry to provide our customers with best-cost solutions that creatively combine our capabilities and technical strengths," said Arvind Mehra, Executive Director & CEO of Mahindra Aerospace (parent of Mahindra Aerostructures). "Cyclone and Mahindra have a lot to offer to each other, and we are bullish on the potential of our journey together" he added.
Yoram Shmuely, Executive Vice President and General Manager of the Aerospace Division, Elbit Systems, commented: "We are focused on satisfying our customers, and we strongly believe that this cooperation will provide solutions of optimal affordability".
"Cyclone has worked continuously to expand its foot print in new markets to meet its growth goals. The agreement with Mahindra is a step forward in that direction, and we are eager to build upon this partnership to provide more value to our combined customer-base. With this collaboration, we anticipate expanding our activity in India" explained  David Vidan, General Manager of Elbit Systems-Cyclone.
Caption : At the signing of the MoU (Left to Right): Mr. Arvind Mehra – Executive Director & CEO, Mahindra Aerospace; Mr. S P Shukla – Chairman, Mahindra Aerospace, and Group President-Aerospace & Defence, Mahindra Group; Mr. Yoram Shmuely – Executive Vice President & GM, Aerospace Division, Elbit Systems; Mr. David Vidan – General Manager, Elbit Systems-Cyclone; Mr. Eitan Cohen – VP, Business Development & Programs, Elbit Systems-Cyclone