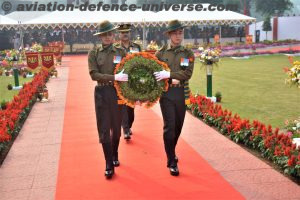 Kolkata, West Bengal. 15 January 2023. A Country without soldiers would be like God without his angels Army Day is an important occasion for the people of India to honour the soldiers of the armed forces.
Army Day is celebrated every year on 15 January to commemorate the day when General (Later Field Marshal) KM Cariappa was appointed as the first Indian Commander – in – Chief of the Indian Army.
The Indian Army is one of the most respected and professional military forces in the world. It
has been proudly shouldering the responsibility of defending the borders and protecting its
citizens, as well as providing aid and assistance during natural disasters and otherwise. On
this day the Army reaffirms its commitment towards the Nation and assurance of peace and
security.
On this magnific occasion, Maj Gen DS Kushwah, VSM, SM, officiating COS on behalf of
Army Commander Eastern Command as he is visiting the forward areas; laid a wreath at
Vijay Smarak, Fort William and paid homage to the brave hearts who made supreme sacrifice
for the honour and protection of this country. Similar ceremonies were organised in all
military stations across the Eastern Theatre.
To mark this occasion six units from Eastern Command were conferred with the Chief of the
Army Staff Unit Citation. In accordance, a number of units & regiments have been awarded
Army Commander's citation. The poignant event avouched the commitment of the Army
towards the Nation.