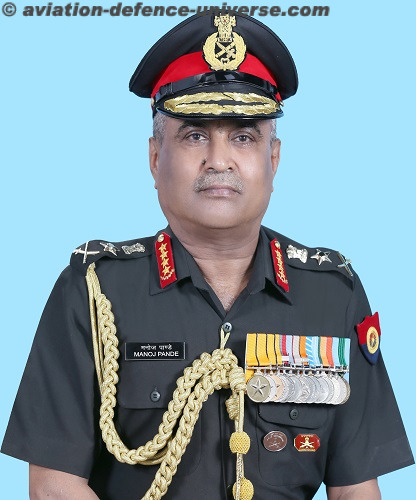 New Delhi. 25 January 2023. "The challenges of the future cannot be handled with yesterday's thinking. We are working towards developing technological threshold in niche domains to include AI, Robotics, Unmanned Systems, Quantum computing and simultaneously evolve our doctrines and strategy to leverage these emerging and yet to emerge disruptive technologies for winning future wars. Our operational preparedness continues to remain of a very high order. At the same time, a thorough analysis of evolving threat dynamics, capability voids and future needs, in light of the threats posed by our adversaries and dictated by changing character of war, guides the Indian Army's deployments, force structuring and capability development plans,"said Indian Army Chief General Manoj Pande  PVSM, AVSM, VSM, ADC in an exclusive interview to Aviation & Defence Universe (ADU),on the occasion of Army Day, 2023.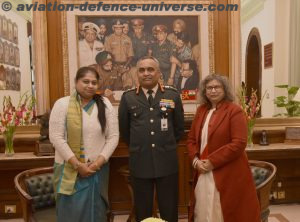 ADU. As the Chief of the Indian Army, do you see new combat requirements which have arisen and need new formations and more deployments cropping up? Does operational preparedness need a fresh look?
COAS. The Indian Army will continue to face, operational challenges across the entire spectrum of conflict, whether in the conventional or unconventional domains. While the environment in which we exist and operate continues to evolve; the character of war itself has witnessed transformative changes, riding on new concepts and innovative application of disruptive technologies. The Indo – Pacific region, fallout of the Russia – Ukraine War, developments in our neighbourhood and the need for strategic orientation on the Northern Borders, bring to fore relevant pointers for us.
Besides, we have the limitless potential of disruptive technologies and the changing character of war, wherein battle spaces are getting more complex, contested and increasingly lethal. In addition, we are also witnessing threats manifesting in the Grey Zone, with a high deniability factor. This mandates a response, not only in the Kinetic domain, but also in the non-Kinetic domain.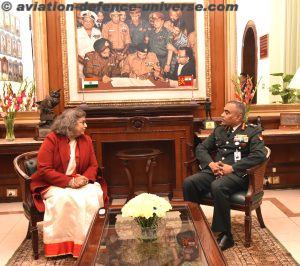 Autonomous fighting platforms, cyber warfare, and UAVs have already begun impacting warfighting. Directed Energy Weapons, Big Data Analysis, Internet of Things, and Artificial Intelligence nearing their operationalisation will have a major impact on warfighting in the future. The future battlefield in 21st century is likely to be very dynamic with the preponderance of technology. Therefore, it is pertinent that new threats and challenges are encountered with new structures, doctrines and strategies, technology, and training methodology.
The challenges of the future cannot be handled with yesterday's thinking. We are working towards developing technological threshold in niche domains to include AI, Robotics, Unmanned Systems, Quantum computing and simultaneously evolve our doctrines and strategy to leverage these emerging and yet to emerge disruptive technologies for winning future wars.
Our operational preparedness continues to remain of a very high order. At the same time, a thorough analysis of evolving threat dynamics, capability voids and future needs, in light of the threats posed by our adversaries and dictated by changing character of war, guides the Indian Army's deployments, force structuring and capability development plans.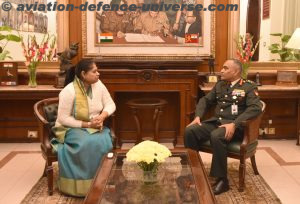 As far as new formations and new deployments are concerned, these are based on dynamic and constantly evolving threat perception. The Indian Army is an extremely flexible, resilient and adaptable force and any redeployments or accretion in forces are carried out based on a periodic and thorough review of a potential adversary's capabilities and our own operational matrix.
The existing force structure of the Indian Army is adequate to cater for the country's security requirements. Re-balancing of forces to the Northern Borders in view of the changed threat perception has already been carried out. Voids if any will be addressed through calibrated raising and procurement of state of the art equipment / platforms. No new raisings are envisaged as of now. Our operational requirements continue to guide our procurement of emerging technologies, which act as force multipliers, providing us the much-needed combat edge over the adversaries.
ADU. Keeping in mind the technology-intensive, electronic and cyber warfare of the modern world, do both equipment and soldier need to get into a modernisation drive at a lightning speed? 
 COAS. I would start by saying that the disruptive and dual use technologies are impacting the changing character of war and making battle spaces more complex, contested and lethal. Grey Zone aggression, characterised by its deniability quotient, is emerging as a strategy of choice. Our adversaries are constantly striving to widen this band of grey zone in the conflict spectrum, by employing kinetic and non-kinetic means. The modern-day battlefield is undergoing a rapid change in the type of military equipment being employed to destroy the enemy, as seen in the recent conflicts. The defence equipment and platforms are getting increasingly digital, unmanned systems based on Artificial Intelligence and networking.
The old age saying "Man behind the Machine is more important than the Machine" is still relevant. The men behind the machines will have to keep pace with the technological advancements to be able to utilise the modern battlefield systems exploiting niche technologies.
We in the Indian Army are fully seized of this new dynamics of modern day warfare. There is definitely a need to increase the thresholds of the ability to understand and employ the equipment to it's optimal capability by using 'Technical ingenuity'. We have started inducting technically savvy soldiers adept at using futuristic technology based equipment through the Agnipath scheme.
The Indian Army is partnering with the robust and agile domestic defence industry to develop niche technology based platforms based. We are also looking at doctrinal and organisational changes to ensure that these technologies and capabilities are put to their optimum use. Additionally, we are also undertaking emergency procurement of essential high technology equipment to meet critical voids. To ensure we are keeping pace with the futuristic technology based platforms, the equipment development and philosophy of employment are progressing simultaneously, rather than sequentially, which was the conventional approach. Thus, a concerted effort to upgrade professional military education aimed at increasing technological threshold is being undertaken at all training institutes.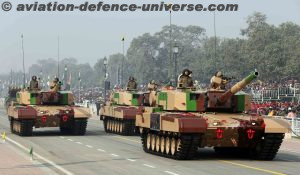 ADU. Will Make in India and Atmanirbhar Bharat slow the Army's procurement process? To meet the challenges on all borders does the Indian Army require urgent imports to fill existing gaps?
 COAS. The ongoing Russia-Ukraine conflict has many operational and tactical lessons for all of us, but the biggest lesson is that we need to be self-reliant in terms of weapons, ammunition, spares and technologies for effective warfighting. The Atmanirbhar vision of the Nation has in fact, further empowered the Indian Army (IA) to procure more diverse equipment & technologies in larger numbers through indigenous sources.
The Capital Procurement pattern of the Indian Army has always been inherently aligned to the 'Make in India' initiative of the Capital Acquisition Contracts worth approximately Rs 90,000 Cr, in last three financial years, out of which approximately 83 % have been signed with Indian industry. In the financial year 2021-22, all capital contracts worth Rs 47,000 Cr were signed with Indian Industry. The Acceptance of Necessity (AoNs), obtained in FY 2021-22, worth approx Rs 40, 000 Cr plus were all with Indian Industry. The quantum of contracts, for the Indian Army has been the largest ever.
Positive Indigenisation Lists have provided the focus areas for the Indian Defence Industry. Each item in these lists has been mapped against a particular embargo year, beyond which that particular item shall not be imported. Indian Defence Industry is rising to the challenge and is investing into the necessary R & D to ensure development of the prototype. Every industry in India has started evolving a dedicated defence vertical.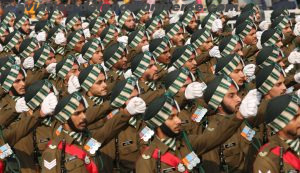 We, in the Indian Army, are fully committed towards enabling our indigenous industry towards achieving their targets. We are more than willing to extend all possible assistance, be it in terms of opening up our field firing facilities or assisting the industry in internal validation of the prototypes in the rugged terrain available in our operational areas. IA has already processed 256 industry licenses and 366 export licenses in last 3 years to further empower the industry.
While I say so, we are more than willing for strategic cooperation with friendly nations and industry particularly in the domains of futuristic technologies. We are cognizant of the requirements of operational readiness being paramount and will ensure that our procurements fulfill that mandate.
 ADU. As the Chief are you satisfied with the budget allocated to the Army, keeping in mind its strengths and needs?
COAS. Budgetary provisions are always made to cater for contingencies and the planned modernisation drive does not undergo major fluctuations due to these events. We have been given assurance by the government that our modernisation attempts will not be affected by lack of budgetary support. We are also trying to the right size and optimise the force structure of the Indian Army, in addition to looking at technologies that can leverage the unique strengths of the Indian industry.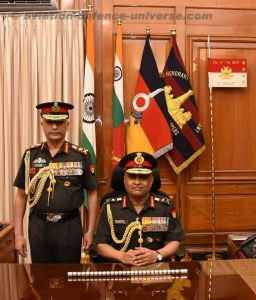 ADU. As a former Commander of a tri-services command do you have a strategic plan for joint operations and close coordination between the three forces? Has the doctrine for joint military operations helped create a synergy between the army and the other forces including paramilitary forces?
COAS. There is no denying that 'jointness and interoperability' will be the key to success in any future war and current endeavours have lead us towards greater understanding of each other's capabilities and constraints. The opportunities of tri-service integration are 'limitless' and the three Services have made good progress towards achieving jointness in various operational, training and administrative domains. The existing Joint structures at the Andaman and Nicobar Command, over the period of time, have adequately demonstrated their capability for integrated operational planning and execution and resulted in greater integration in command and staff functions, while ensuring optimal exploitation of resources.
The Joint Force Commander can apportion optimal efforts to achieving desired end states, without 'overkill'. The force multiplication factors of an integrated force enables disproportionate gains both individually and cumulatively and herein lies our biggest opportunity, that is, 'Force and Asset Optimisation'. We can focus on tailor-made integrated forces which will help shed the flab and simultaneously cut the duplicity of structures, functions and assets.
Parallelly, tri-services integrated capabilities will enable the Armed Forces to synergistically contribute to Nation building by creating cost effective and modern capacities and capabilities.
In creating tri-service functions and structures, the endeavour has to be on understanding uniqueness and therefore focus on blending of cultures by absorbing best practices and never diluting them.
Thus far our experience of tri-services institutions has been extremely encouraging and inspiring us for going 'Purple'. For us Integration is an inescapable 'Way of Life' and slowly but surely we are accomplishing it.
ADU. Does Army see theaterisation as a successful war strategy and a fruitful deterrence plan?
 COAS. The Indian Army remains fully committed to achieving enhanced Jointness and better Integration with the other two Services. We fully support all initiatives that are currently underway and are alive to the fact that, aggregation of tri Services capabilities is the need of the hour.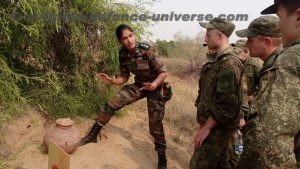 ADU. Now that women are also in NDA, can we expect infantry to open its gates to women officers?
COAS. Women are proudly and confidently serving in all operational theatres of Indian Army. The Indian Army shall continue its pursuit to empower women in 'olive greens'. Opening up feeder institutions to girl students and cadets, grant of Permanent Commission to Women Officers, intake of women Agniveers, enhancing deployment and promotional avenues for Women Officers are some of the key steps that have been taken. We shall continue to strive for providing equal opportunities to everyone in our organisation.
All WOs granted PC are undergoing specialised training courses and challenging military assignments to empower them for higher leadership roles in the Indian Army. Women Officers will be given opportunities at par with their male counterparts subject to meeting laid down eligibility criteria. The process for selection of Women Officers to tenant command assignments in Colonel rank is in progress.
Woman Combat Aviators have joined their counterparts at various Aviation units. Women Officers as part of the Engineers, Army Air Defence and Signals are already making a mark in the forward areas of deployment. Our evolutionary process of increasing role of women in combat will see more significant inductions in the near future. As we go forward, we will bring about more proactive changes, to remain aligned with the future requirements.
ADU. Army has a great role in developing bilateral ties through friendly visits and exercises. As Chief do you feel there are regions in the world and countries to which we need to expand this strategy of creating military partnerships?
COAS. Our defence diplomatic outreach continues to be steadfastly focused on 'Neighbourhood First', in consonance with the broader foreign policy of the Government. We continue to engage with the Friendly Foreign Countries in the region through our high level interactions and laid down structured mechanisms in concert with parallel supporting initiatives of the MoD and MEA. In doing so, we have covered considerable ground and are now counted as a key partner in the region.
In keeping with India's rising global stature in recent years, there has been considerable increase in Defence Diplomacy activities undertaken by the Indian Army.     We carry out a wide spectrum of defence cooperation exchanges with foreign armies including exchange of professional courses, joint exercises, positioning of training teams, subject matter expert exchanges and high level visits.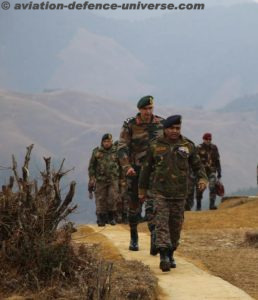 The Indian Army conducts military cooperation activities with more than 100 countries across the world which includes about 30 joint exercises and training to over 3000 military personnel from Friendly Foreign Countries in Indian Army training establishments. Our global footprints also include 16 Training Teams in various countries and presence of 28 Indian Army officers as Defence / Military Attaches in 26 Defence Wings.In keeping with our rising global stature the military cooperation activities have nearly doubled in last seven years with more and more Friendly Foreign Countries seeking to gain from our operational experience & high standards in various fields like Counter Terrorism, High Altitude Warfare, UN Peacekeeping, Military Medicine, Information Technology etc. In recent times we have expanded the scope to include niche areas like Cyber Security, robotics, Counter UAS / UAV, Grey Zone Warfare etc.
Now coming to your question relating to expanding our cooperation to various regions of the world – one can broadly divide the globe into three geographical regions ; Immediate Neighbourhood which include our land and maritime neighbours, extended neighbourhood which generally includes ASEAN, West Asia, Africa, Central Asian Republics and the balance of the world which could be termed as the "Far Abroad". All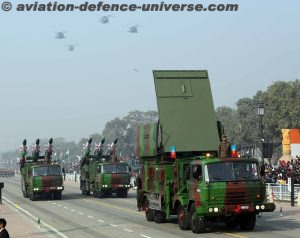 relevant countries are engaged in concert with our national interests.  which are different in different geographical regions. For ex, in a particular region capacity building through training may be important whereas in another it could be defence export promotion. But suffice to say, that it's a dynamic process which is reviewed periodically in concert with the sister services, the MoD and the MEA.
An increasing number of Friendly Foreign Countries have shown keen interest in engaging with the Indian Army. As on date, we are engaged with 110 countries through Defence Cooperation activities to include Joint Exercises, training, visits, structured engagements, professional competitions and medical assistance.
Cooperation with foreign armies is reflective of the advances in military technology and War fighting. Scope of our cooperation activities is being expanded to include contemporary challenges like HADR, Peacekeeping, anti UAV technology etc.
ADU. As the Agniveer recruitment rallies have begun, when can we expect the first batch to join the Army?
 COAS. The "Agnipath Scheme" is a transformational reform for the Army and the Nation and aims to bring paradigm changes in the Human Resource Management of the Indian Army. The scheme, one of the most significant initiatives, aims to make the Army a future-ready fighting force, capable of meeting multiple challenges, across the full spectrum of conflict. This effort complements other ongoing initiatives to transform the Indian Army into a modern, technology driven, Atmanirbhar and battle worthy force.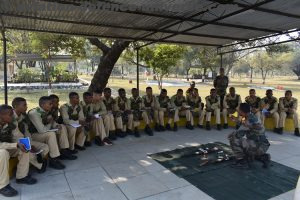 Since the roll out, the scheme has received an overwhelming response from the country's youth. Over 37.5 lakh candidates had registered for 40,000 vacancies. Over 96 recruitment rallies have been conducted for across the length and breadth of the country to select these 40,000 Agniveers.
The first batch of over 19000 Agniveers have already reported to our Training Centres and commenced their training from 02 January 23. Balance 21,000 shall commence their training in March 23.
The Training Centres had been prepared and were fully geared up with appropriate staff and enhanced training infrastructure. The training program has been scientific tailored and adapted. The training schedule now leverages technologies such as Simulation, AR /VR, etc for faster assimilation. The initial feedback from centres and Agniveers has been quite positive.