Indian Navy celebrates 49th Navy day on December 04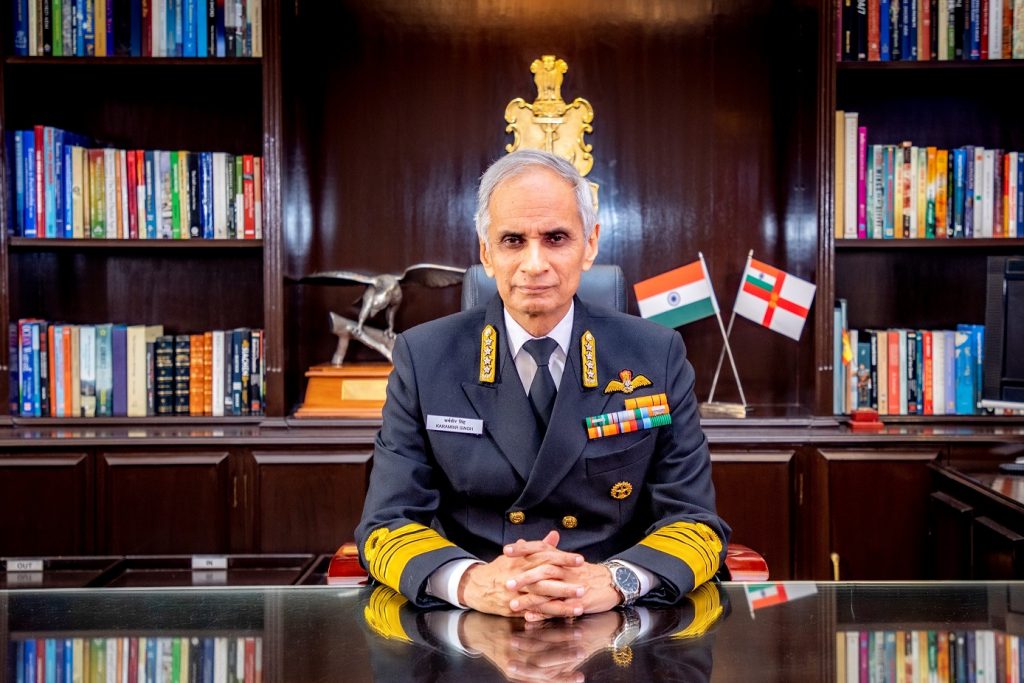 New Delhi. 04 December 2020. "Indian Navy has also undertaken a review and has rationalised Capital Acquisition cases to mitigate immediate critical capability voids. Concurrently, we are in the process of identifying and integrating unmanned solutions and futuristic technologies, which should aid in reducing our Capital & Revenue expenditure apart from enhancing IN's operational capability," stated Admiral Karambir Singh PVSM,AVSM, Chief of Naval Staff, India in an exclusive interview to Aviation & Defence Universe (ADU).
ADU. The Navy has a very focussed plan based on the threat perception and capability enhancement and budgetary allocation. Given the constrained budgets and increasing operational tempo, what are the priority areas you will focus on from a combat and surveillance capability perspective?
CNS. All IN projects are regularly reviewed and prioritised in order to judiciously utilise available budget and ensure optimisation. IN has also realigned its operational philosophy to Mission Based Deployments, which accrue benefits of presence, surveillance and mission preparedness for any eventuality. With incorporation of operational costing in the planning process, all missions are meticulously planned to ensure fiscal prudence, resulting in maximum outcome within the available resources. Further, as part of the IN's maintenance philosophy, Spares and Inventory Management are hinged on scientific processes so as to maximise operational availability. Pre-Budgeting the maintenance of our assets, and instituting of price-matching for indigenous components vis-à-vis imports are additional areas where we are focussed on achieving optimisation in expenditure.
ADU. Reliance Naval Defence currently in bankruptcy has 5 Naval OPV hulls at Pipavav. Has Navy any plans to get them completed?
CNS. The contract for the construction of five NOPVs was awarded to M/s RNEL in May 2011, with delivery scheduled from Nov 2014 to  Nov 2016. However, the project had been delayed inordinately by almost 6 years, primarily due to the financial condition of the Shipyard. The Shipyard is presently in NCLT awaiting financial resolution. Considering the excessive delay in execution of the project, and uncertainty of delivery of ships in the foreseeable future, notice for termination was issued to the Shipyard in Feb 20. Since then, the Shipyard has not been able to submit a viable plan for delivery of the first two vessels to IN, and accordingly, the Contract has been terminated on 21 Sep 20. To mitigate the shortfall in IN force levels, quantity of the 05 NOPVs is planned to be merged with the NGOPV RFP post approval of DAC.
ADU. Has Navy asked to hasten the supply of 24 Sikorsky Lockheed MH60R helicopters and when will they arrive and what is the progress on the Navy's need of helicopters for smaller platforms with Foldable Blades to replace the Alouttes which Navy has operated for years?
CNS.The LOA for procurement of 24 MH-60R multi-role helicopters, under Foreign Military Sales (FMS) route from US, was signed on 25 Feb 2020. The Contract is progressing as per schedule and with delivery commencing Jun 2021. The case for procurement of NUH has been initiated under the SP Model for which AoN was accorded by DAC on 25 Aug 2018. The case is at 2nd Stage DAC requiring approval for shortlisting OEMs and SPs.
ADU. What is the status of P75I and progress in selecting and ordering torpedoes needed for the Scorpene submarines?
CNS. Shortlisting of Indian Strategic Partners and Foreign OEMs has been approved by DAC. RFP for Project P-75(I) is being processed for final approval of MoD and will be issued post requisite approvals by Jan 21. The case for Heavy Weight Torpedo (HWT) for Scorpene submarines is being progressed for Field Evaluation Trials.
ADU. Navy's indigenisation plan has definitely made it the trailblazer in the forces. But the fight component is very heavily dependent on imports. How do you plan to change that? And along with this how do you plan less dependency on PSUs and involve the private sector more?
CNS. 'Self-Reliance' and 'Indigenisation' have been foundational aspects in our force development plans over the last several decades. We have been able to transform ourselves from a 'Buyer's Navy' to a 'Builder's Navy'. A high percentage of indigenisation and self-reliance has been achieved in warship construction, which includes Hull, Machinery, Power Generation and Distribution, Auxiliary systems, Navigational Radars, Data Link, Combat Management Systems, etc. However, some of the defence equipment, particularly hi-tech and advanced weapons, are still being imported. With the renewed focus of the Government on reducing imports, we will have to garner all national resources, both in the public and private sector to achieve greater self-reliance in Fight component. Indigenous development of high-end technologies, their translation into defence hardware, induction and standardisation is no easy task. To deliver greater focus on this aspect, we recently launched the Naval Innovation and Indigenisation Organisation to bridge the technological gap by building partnerships with private industry, PSUs and Academia.
The Indian industry has also matured in terms of engineering skill, availability of technical manpower and its ability to mobilise resources for investment, and is now capable of undertaking manufacture of technologically superior products. With the promulgation of DAP-2020 and Technology Perspective Capability Roadmap (TPCR), which is aimed at synergising efforts of the industry in developing high-end technology applications and futuristic capability requirements for the Navy, the capabilities of domestic industry are poised to rise significantly in the near future.