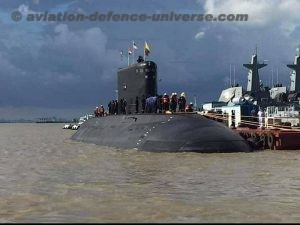 By Commodore Anil Jai Singh, IN ( Retd)
New Delhi. 08 December 2020. Operating hundreds of metres below the surface of the sea with their inherent advantages of concealment and stealth and a potent mix of powerful weapons, submarines constitute the cutting edge of a navy's offensive capability. It is no wonder then that in the challenging maritime security environment of the Indo-Pacific, navies in the region are paying increasing attention to their undersea warfare capability to secure and protect their maritime interests. India's recent lease of a Kilo class submarine to Myanmar is the latest in a series of submarine acquisition programmes that have defined naval force development in this region.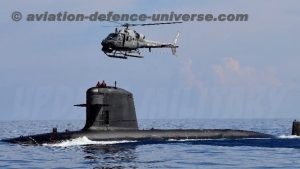 Submarines are of three types. There are the large nuclear-powered ballistic missile submarines (SSBN) which are the most effective delivery platforms in the nuclear triad, whether for delivering a first strike or for deterring the adversary from doing so. It is also the most credible second strike platform because of its concealed location. Presently, both SSBNs and SSNs are the preserve of just six nations ( five permanent members of the Security Council and India ) However, the importance of the undersea domain in the emerging security stakes in the region could lead to the induction of SSNs by countries like South Korea, Japan and Australia is a possibility, their present denial of this intent notwithstanding.
SSNs are nuclear powered but conventionally armed. These are also called attack submarines because of their ability to shape the operational theatre and effect maritime manoeuvre with their high speeds, unlimited endurance and powerful land attack capable anti-ship cruise missiles. China has a force of six indigenously built SSNs whereas India has a single SSN on lease from Russia.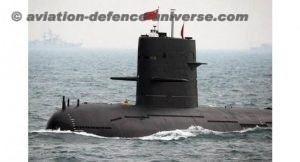 In terms of nuclear submarine capability, China has been making rapid progress and has an impressive SSBN (Type 094) and SSN (Type 093 ) capability which is being further augmented by a new SSBN (Type 096) and SSN ( Type 095) which will soon join the PLA Navy. India too has an indigenous SSBN (INS Arihant) and it is understood that another four will be commissioned.
The third and most common type is the conventional diesel-electric (SSK) submarine which can deliver devastating effect in a limited maritime battlespace and is ideally suited for littoral operations whereas the deployment options in an open ocean environment may be limited due to their speed and endurance constraints. Modern technologies like Air Independent Propulsion (AIP), Lithium-ion (Li-ion) batteries and a networked environment have mitigated these to a considerable extent. These modern technologies coupled with modern precision guided weaponry including smart homing torpedoes, tube launched land-attack capable cruise missiles and emerging developments like submarine-to-air missiles is generating a discussion even amongst all- nuclear submarine forces like the US Navy with a global submarine footprint on the efficacy of re-introducing a SSK capability as a cost-effective option to deliver similar effect vis-a-vis the SSN.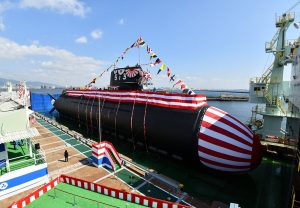 The largest SSK force in the Indo-Pacific region is the PLA Navy's followed by the JMSDF, with the South Korean and Indian navies following in that order. The other submarine operating navies in the region with their force levels in brackets are Singapore (6), Vietnam (6), Australia (6), Indonesia(3), Malaysia (2), Thailand (1), Bangladesh (2), Myanmar (1), Pakistan (3), Iran (2), Taiwan (2), South Africa (2) and North Korea ( around 65). The Philippines has also shown interest in acquiring submarines.
PLA Navy The PLA Navy is expanding its force levels including submarines at an unprecedented pace which is unmatched by any other navy in the world. It has a force level of about 55 SSKs. These include 12 Type 877/636 of Russian design, 18 -19 Yuan class (Type 039A/041) with AIP, 13 Song class (Type 039) and about 12 Ming class which are much older though still operational.
JMSDF. The Japanese Maritime Self Defence Force has the second largest inventory of SSKs which are by far the most modern in the region. The Japanese usually decommission their submarines after 20 years or so , as against 35-40 years by other navies, and therefore have a relatively modern force with all the attendant benefits of contemporary technology. The JMSDF has a force level of 20 SSSKs with one more likely to join in March 2021. Of these, 10 are fitted with AIP systems and the newest submarine, commissioned in 2019 with lithium-ion batteries. It is the first one in the world operationalised with this technology.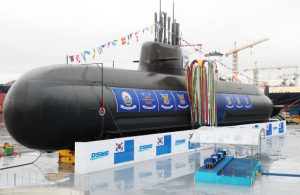 South Korea. South Korea has an ambitious submarine building programme. It has developed its own submarine design based on the German design philosophy derived from the extremely successful German Type 209 design. South Korea is also the only Asian nation, other than China, to build submarines for export, having delivered three of them, based on the Type 209 design, to Indonesia. There are presently 16 submarines in commission , seven of which based on the type 214 are AIP fitted. A new class called the KSS-III has been launched It is expected that nine of these will be built. They will be equipped with an AIP and lithium-ion batteries and also armed with a vertical launch system to fire cruise and ballistic missiles.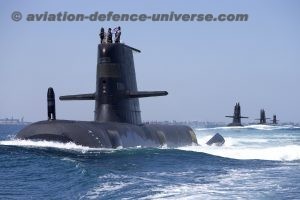 Australia. Australia presently has six Collins class submarines which were built indigenously in collaboration with Kockums of Sweden. These submarines faced numerous design and performance related issues which constrained their operational performance for many years. However. these are now behind them; they have been modernised and are operational. Australia has embarked on a programme for the indigenous construction of 12 Attack class submarines in collaboration with Naval Group of France. This is a very ambitious venture since the design of the Short Fin Barracuda (as this design has been designated) is based on the latest French SSN ( Barracuda class) and is still being developed. There are serious apprehension about cost and tie overruns in this programme. This will probably be the largest conventional submarine in the world and given the developing maritime security scenario in the region, Australia could well decide to exercise a nuclear option.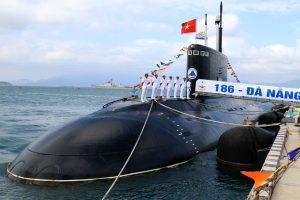 Vietnam. Six Kilo class submarines acquired from Russia in the first decade of this century is an indication of Vietnam's maritime posture in the region and its recognition of the contentious waters around it. Vietnam is likely to play an important role in the evolving geopolitical dynamics of the Indo-Pacific east of the Malacca Straits.
Singapore. The Republic of Singapore Navy is one of the most modern in the region and has a size and capability that belies the country's size. It established its submarine arm with two modernised A26 class submarine from Sweden and followed up with two ore (with AIP). Two Type 218SG submarines are being built in Germany and Singapore may exercise an option for two more.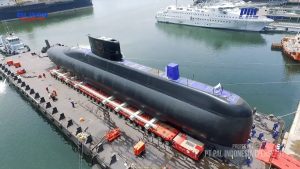 Indonesia. Restricted defence budgets have constrained the expansion and modernisation of the Indonesian Navy and particularly its submarine fleet. After many years it has added three Type 209 submarines, of which the third was assembled totally in Indonesia. There is a proposal for three more.
Malaysia. Malaysia is one of the two navies in the region which is operating the French Scorpene class, the other being India. Neither of the two submarines is AIP fitted. Under its '15 to 5' transformation programme, there were reports that Malaysia may order two more submarines .
Thailand. Thailand placed an order for two Type 039A/041 submarines from China but after the delivery of the first has cancelled the other two due to widespread protests against this acquisition in view of the strained economic circumstances in the country. However, there could be more to that than meets the eye since China has also blocked China's participation in the Kra canal project.
Bangladesh. Bangladesh has a force level of two modernised Ming class submarines which it acquired from China. It is understood that China is also setting up a submarine base for the BN. This acquisition has regional security implications because of the access it provides China into the Bay of Bengal. This dependence will give China a degree of military and political leverage over Bangladesh which could be detrimental to the larger security concerns in the Bay of Bengal region.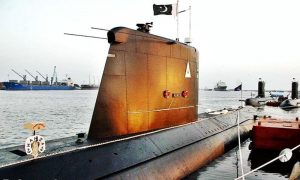 Pakistan. India's bete-noire Pakistan has traditionally operated French submarines and presently has three modern Agosta 90B AIP fitted submarines which are undergoing a mid-life upgrade with Turkish assistance. Another eight Type 039A (Yuan) AIP submarines are being acquired from China, of which four will be built in Pakistan. And should be in service by the end of this decade. A force level of 11 submarines for a country with a 900 km long coastline is indicative of the larger Chinese design in the western Indian Ocean. Arming Pakistan will provide China a proxy to further its own expansionist agenda of maritime dominance and ability to control the international sea lanes that pass through the Arabian Sea in its bid to reshape the rules- based international order.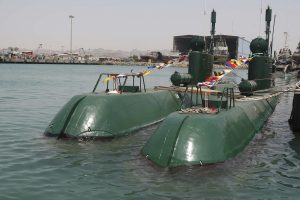 Iran. Iran is the only other navy in the western Indian Ocean operating submarines. It has three Kilo class submarines and has about a fair number of small submarines. This provides Iran the ability to disrupt shipping movement in the Straits od Hormuz and control the movement of warships and tanker traffic through these waters. The presence of Iranian submarines in that area has also led to tensions in the past.
Taiwan. Taiwan is embarking on an indigenous submarine building programme to bolster its maritime defences against the omnipresent Chinese threat. It has been operating two submarines it got from the Netherlands and has been unsuccessful thereafter in procuring submarines form other countries.
North Korea. Despite a force level of over 60 submarines, the North Korean Navy has limited submarine capability except for its one conventional SSK capable of firing ballistic missiles which is an underlying threat.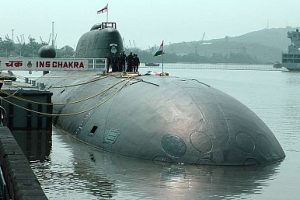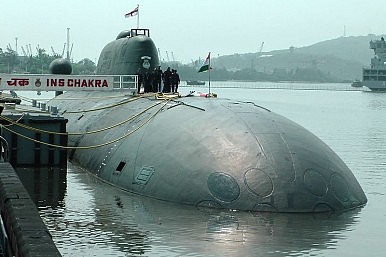 India. A force level of 15 submarines, most of them of considerable vintage is a sub-optimal undersea warfare capability which is not commensurate with India's maritiems security interests and its larger regional role. The ongoing programme of six Project 75 submarines will alleviate this to some extent but the vintage of the current lot will lead to some of them being phased out of service by the end of this decade. The overall force levels will increae only marginally. The Project 75(I) programme currently under discussion for six more SSKs needs to be expedited and construction begun to arrest this decline in numbers which India can ill-afford. A force level of about 18-20 modern SSKs supported by at least six SSNs is required to address the maritime threat in the Indo-Pacific..
A deeper look at these submarine programmes reveals some interesting trends. In the next decade and a half there will be a proliferation of modern submarines incorporating the latest technologies. With the advancements in surveillance technologies and the surface of the sea becoming increasingly transparent, the undersea warfare domain will be the decisive factor in shaping the maritime security outcomes in the region.
China which is central to this maritime security challenge in the region is not only strengthening its own submarine capability but attempting to alter the military balance and exert political and military influence through the export of submarines. India must guard against this and accelerate its submarine building programme to continue retaining the decisive edge. the region.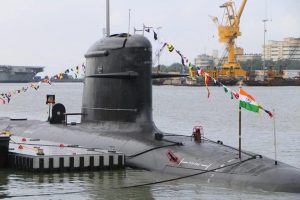 Traditional submarine exporting countries like France, Germany and Sweden which were the main source of submarines for this region are seeming to lose ground to China who will continue to offer military hardware at 'friendship' prices in pursuit of its strategic agenda. While Naval Group of France has stepped up its game in this region with support of its government and perhaps because of its considerable interest in this region. Germany on the other hand, despite articulating its Indo-Pacific strategy has fallen woefully short in supporting its defence exports in a highly competitive price sensitive market. The entry of South Korea as a submarine exporting nation and perhaps Japan at a later date could further reduce their opportunities.
The undersea warfare domain is critical to maritime success in this region. The proliferation of submarines has even led to experts in South-East Asia discussing water space management in the narrow waters of this region to prevent collision between two dived submarines. However, as highlighted in the paragraphs above, maritime security crises have to be averted and the rules-based international order should remain inviolate.
(Commodore Anil Jai Singh (Retd.) is a veteran submariner and the Vice President of the Indian Maritime Foundation. He is keenly interested in matters maritime and speaks and writes on the subject in India and abroad. The views expressed are personal. He can be contacted on [email protected] )