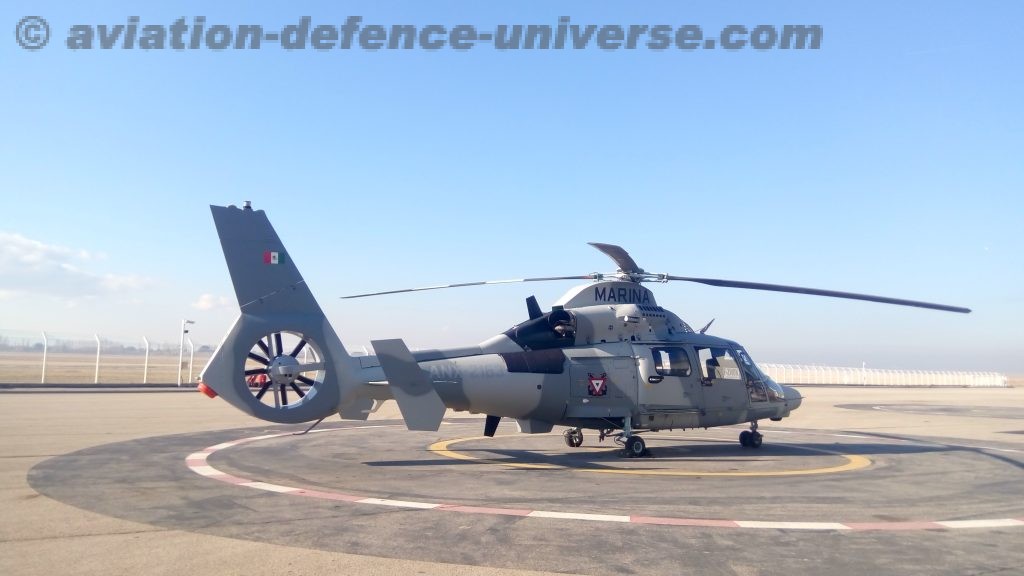 By Sangeeta Saxena
New Delhi. 04 December 2020. The year 2020 is coming to an end and as per the Navy Chief's statement in his annual press conference, " NUH program has been taken under the SP model whose whole philosophy was to encourage the private sector.We are going to the government for shortlisting of companies so should have begun the countdown to taking a call on the NUH decision for Indian Navy." The wait has been long. It may be recalled that the Defence Acquisition Council (DAC) approved the Acceptance of Necessity (AON) for the 111 NUHs in the month of October 2017.
More than 250 helicopters in the Panther/Dauphin family are in operation with more than 20 countries, including the US Coast Guard's fleet of around 100 MH-65s. It is fully qualified to operate from over 100 classes of NATO ships, and complies with NATO standardisation agreements (STANAGs) regarding tie-down fittings, fuel hoses and DC/AC electrical connectors.
OEMs are appreciating the fact that Indian procurement systems are in the process of getting streamlined and that the recent years have seen improvements in the procedures. India is a most exciting market considering the number of opportunities here, with some very ambitious and clearly stated programmes in the pipeline. So India is a top priority for the foreign OEMs. These programmes take a long time to materialise, but these manufacturers are committed to supporting India in the various programmes that are in the pipeline, like the NUH, NMRH, MRH. They are already working with local suppliers and are looking at how they can work with local companies and help them graduate from Tier 2 to Tier 1 Suppliers. And Airbus optimistic about the NUH programme is marching ahead matching steps with Indian government's drives of Make-in-India and Atmanirbhar Bharat.
The helicopter's use of a hydraulically-activated harpoon with deck-lock securing enables the AS565 MBe to land and take off from ship decks regardless of the wind direction and this makes the helicopter just the choice for India's needs keeping in mind the rough seas the Indian Navy has to operate in.
In the current scenario of turbulent political waters, the AS565 MBe is highly effective in anti-surface unit warfare missions (ASuW), including over-the-horizon targeting (OTHT) for ships with long-range anti-ship missiles. By acting as the ship's principal weapon system, it can search, classify, shadow and strike with precision well beyond the horizon. At Best Endurance Speed (VBE) the aircraft has a loiter time in excess of four hours.
Airbus Panther will also be very easy to maintain as the modular mechanical assembly design, fiberglass Starflex rotor heads, composite tail rotor blades and airframe and 100-percent composite Fenestron contribute to significant reductions in maintenance time and costs.
It may be recalled that India is already the largest Single User of the Dauphin, which is the civil variant of the Panther. About a hundred Dauphins in India are flying in a variety of sectors, of which, ofcourse, Pawan Hans Ltd has been a major operator.
Indian Navy which is on its way to become the most potent force in the politically turbulent seas, has a list of urgent requirements and the Naval Utility Helicopter is the most important need to boost its naval aviation.
In Panther Airbus has a helicopter with mission capabilities which include anti-submarine warfare, anti-surface unit warfare, maritime surveillance, search and rescue, special operations , patrol, counter-terrorism, counter-piracy but its unique selling proposition are its two torpedoes. Panther carries two torpedoes with the capability to launch one above and one below the thermocline which is the greatest advantage we have against the competitors in the NUH bid.
Sixteen helicopters will be procured in fly away condition while the remaining 95 will be built in India by an Indian partner via joint ventures and technology transfers. Airbus Helicopters had responded to the Request for Information and has been expecting the Request for Procurement. It may be recalled that Airbus Helicopters has announce a joint venture with Mahindra Defence for manufacturing the Panther in India, provided it gets the contract of the NUH.
Airbus training programme will be a mix of training conducted both in India and France. A group can come to France , get trained and go back to train others. It also plans to do the mid-life upgrades in India itself. Airbus will transfer the know-how so that the helicopters are made in India, so much so, that even upgrades, maintenance and modifications are done here.
The basic operating and maximum take-off weights of AS565 MBe are 2,406kg and 4,500kg respectively. The helicopter has a cargo hook capacity of 907kg, fuel capacity of 1,135l and sling load carrying capacity of 1,600kg. The helicopter features a glass cockpit equipped with a four-axis autopilot with two Rockwell Collins primary flight multi-functional displays, two MFD 255 navigational displays, one large mission display, and one dual vehicle and engine management display to provide flight information to the crew, featuring pilot and co-pilot seats with four-point shoulder harness. It has the capacity to carry 2pilots and 10 soldiers.
The AS565 MBe is used on ships and from land bases, capable of carrying a variety of weapons. In addition to its own intercept and attack capabilities, it will be a "force multiplier" by providing over-the-horizon surface awareness and targeting to surface ships. It has an endurance of more than four hours at loiter speed and the AS565 MBe is an affordable alternative to other light/medium helicopters that are limited in their ability to perform its diverse range of naval missions.
Airbus has been very optimistic that its Panther will be India's choice for the NUH. And why not? The Panther is the right product in the right moment and brings with it an opportunity to develop a facility here and to continue to produce those aircraft for the global market in India. India has an exciting ambition with 'Make-in-India' and Airbus has been and will be a part of it.