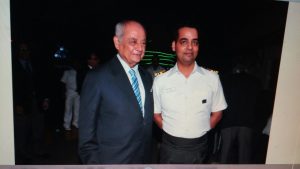 New Delhi. Cdr BN Kavina, VrC, the iconic War Hero and gallant fearless Commanding Officer of the Indian Navy, was one of the chief architects who created history during the 1971 Indo-Pak war!
Lieutenant Commander BN Kavina, VrC, was the Commanding Officer of INS Nipat during the brilliant missile attack against Karachi harbour and Pakistani naval forces in 1971, code named Operation Trident, executed by the glorious 25th Missile Squadron comprising INS Nipat (Lieutenant Commander BN Kavina, VrC), INS Nirghat (Lieutenant Commander IJ Sharma, AVSM, VrC ) and INS Veer (Lieutenant Commander OP Mehta, VrC NM). These Osa-1 class missile boats were each armed with four SS-N-2B Styx anti-ship missiles.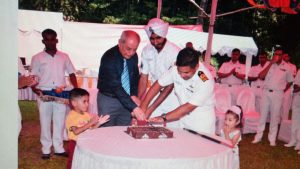 The task force approaching Karachi made contact with the destroyer PNS Khaiber at about 2245 hours Pakistan Time on December 4, 1971, INS Nirghat launching two missiles and sinking her. Thereafter, INS Nipat fired two missiles sinking the merchant vessel Venus Challenger carrying ammunition and crippling her escort the destroyer PNS Shah Jehan. The strike group had sailed to within 50 km of Karachi. INS Veer was ordered to engage a contact on her starboard (right) bow. The Styx missile fired by her struck the minesweeper PNS Muhafiz on the port (left) side disintegrating her. The crew didn't even get time to send off a distress signal!
Apprehending a reaction by the enemy air force, the task force was ordered a withdrawal by the other two boats to the pre-determined rendezvous with the tanker INS Poshak. Cool as a cucumber throughout, Lieutenent Commander BN Kavina, VrC, (with the 25th Missile Squadron Commander embarked) now took Nipat to within 25 km of the shore, firing a Styx at the Keamari oil terminal setting off a spectacular blaze.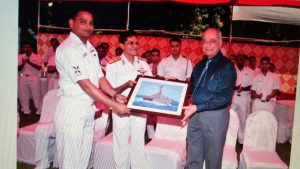 This set the stage for the second missile attack on Karachi after which what was left of the Pakistani fleet never again ventured out to sea. Thereafter, the Indian Navy was in total control of the seas!!!
Cdr. BN Kavina (00416-W) ,VrC, 80 yrs, passed away in Adelaide, Australia where he was staying with his son Karl.
Pictures: Courtesy DPR. Taken during Cdr BN Kavina's visit on the decommissioning of his ship INS Nipat.