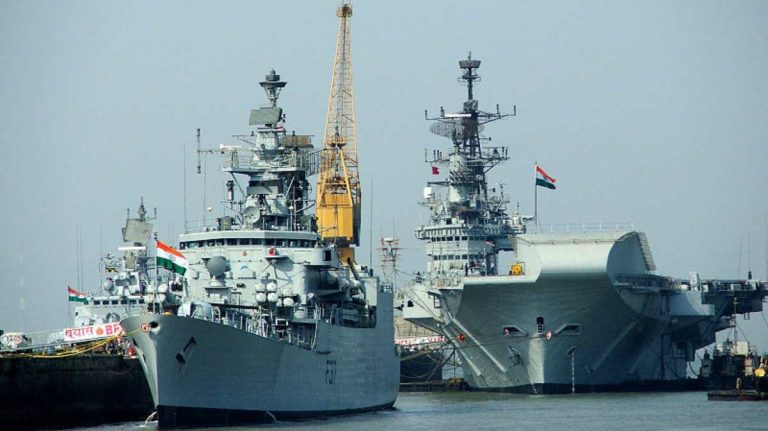 By Cmde Ranjit B Rai(Retd.)
New Delhi. 03 December 2020. The Indian Navy has been on high tempo during the year and a statement stated, "The Indian Navy has remained mission-deployed and combat-ready across the Indian Ocean Region(IOR), even through the rough monsoon period, to maintain the maritime security of the nation," alluding to the Chinese incursion into Ladakh where Marine Commandoes(Marcos) are being inducted. INS Jalashwa, Airavat, Shardul and Magar steamed 23,000 km and repatriated 3992 Indian citizens from Indian Ocean Countries(IOR). With that background, and an unfortunate Mig-29K crash at sea off INS Vikramditya on 26th November, India will celebrate its 48th Navy Day commemorating its attack on Karachi in 1971 in a 'No Contact Mode'. Ships will dress overall with flags and illuminate, but will not be opened to public. How to deal with maritime China will be on most Indian minds The China Pakistan combine is a threat and a challenge for India.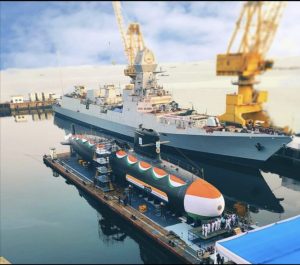 In the columns of Tribune, this writer wrote about the folklore tale of the Chinese Assassin Sha Shou Jian's secret Mace, and how by wielding such a weapon, a more powerful adversary was defeated. India's Navy can be India's mace with a Chakravyuh(multi layered) strategy with the geography of the Andaman Islands on India's western water mass, and meet Chinese ambitions in the Indian Ocean Region(IOR). China's sea trade that passes through the Malacca Straits and eight degree channel between the Andaman's can be held to ransom.
PM Narendra Modi commissioned Navy's BrahMos firing 6,800 ton destroyer INS Kolkata at Mumbai on 16th August and said, "In the world it is not only the military but also 'buddhi bal'(intellectual prowess) which is important and the launch of this destroyer is a proof of our intellectual capability(Self reliance now called Aatam Nirbharta). Fighting a war with a modern military, armed with the state of weaponry alone, is a guarantee against war. When we are capable, nobody dare challenge us or cast an evil eye on our nation." In the recent standoff in Ladakh PM activated Indian Air Force to caution the Chinese. Navy's Mig-29Ks and P8Is lent a hand.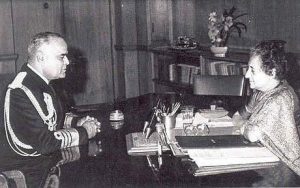 Pakistan with China's support challenges India with terrorism and nuclear threats and China has plans to challenge India in the IOR and become a resident maritime power with bases in Pakistan, Djibouti and the IOR. PM appreciated India's maritime challenges and the Navy's share of the defence budget was increased to 18% with orders. On 15th December, 2015 PM Modi during a Commander's conference on board INS Vikramaditya stated, "India's history has been influenced by the seas. And, the passage to our future prosperity and security also lies on this ocean. It also holds the key to the fortunes of the world."
PM was spot on. To rise on the world stage maritime power and nuclear deterrence are critical. India with its peninsula maritime geography and islands has the attributes to thwart a maritime intruder. Currently the Navy can exercise sea denial in the Indian Ocean Region(IOR), and if ordered, can block choke points which are China's life line for trade and energy. With Air Force support and a joint Sea Air battle strategy and synergy, India can be an even more formidable force at sea. This could become a reality with a Maritime Command, though this writer opines India will need Eastern and Western Maritime Commands. Overall l command of the huge expanse of India's water can only be exercised from the Capital. This debate must begin.
It was China's ambitions to become a super power that drove China to play the 'Great Maritime Game' to gain access to the warm waters of the IOR through Pakistan, which sits astride the Hormuz Straits. The Middle East supplies forty percent of the world's energy and China employs Pakistan's animosity with India to slow India's rise, and to gain from Pakistan's maritime geography in the IOR for itself.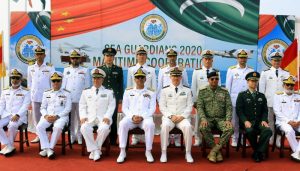 Pakistan is in debt with an umbilical cord of military supplies from China and is planning Gwadar to become a joint naval base, and is building a submarine base at Ormara at PNS Jinnah for Pakistan. China will supply four 054 frigates with C-803 missiles and two of eight 041 class submarines to Pakistan by 2023 and Turkey is building four Milgem corvettes for the Pakistan at friendship prices.
China's is progressing an ambitious $56 billion China Pakistan Economic Corridor (CPEC) through Pakistan Occupied Kashmir(POK) with roads, railways and power projects for an early harvest in 2022. CPEC is President Xi Jinping's flagship Belt and Road Initiative(BRI) to realise the China's Dream', and the CPC and Xi will fight to see it does not fail.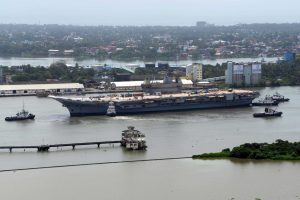 In 2016, MOD inked a 36 Rafale aircraft deal from France worth around Rs 58, 000 crores when the defence budget was at a low 1.3% of GDP. Post Doklam in 2017, India speeded up orders for the Army and road building along the borders, and ordered 24 MIg-29 and 11SU30Mkis. The Navy's budget took the cut. The RFPs for four LPDs and eight minesweepers were withdrawn. The third aircraft carrier was stalled. Three training ships contract with ABG Shipyard and five Naval Offshore Patrol Vessels with Reliance Naval Defence at Pipavav turned sour. Both shipyards have filed for bankruptcy. Out of the FY 2020-21 Defence budget of Rs 4,71,378crores, the armed forces and DRDO have been allocated Rs 3,23,053crores. The Navy's allocation for 2020-21 is a mere Rs 61,890 Cr which is 13.1%, down from 18% that CNS Admiral Karambir Singh has publically lamented.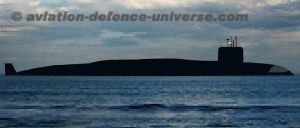 India's Navy operates 114 ships, thirteen aging conventional, and two new Scorpene submarines and two nuclear submarines INS Chakra and Arihant. The aviation fleet has 200 aircraft and helicopters. It takes few years to build a ship with a life expectancy of around twenty five years to remain war worthy with periodic modernizations. Indian Navy will have to decommission five Kilo class and two Shishumar submarines which are passing twenty five years. Fourteen other platforms are twenty five years old, and replacements require advance planning and funding. Navy has fallen way short of Its target of 200 warships by 2027 and the plan has been pruned. Project 75I for six submarines has not moved. The PLA(N) is adding around fifteen platforms a year and Pakistan has announced a 56 platform plan.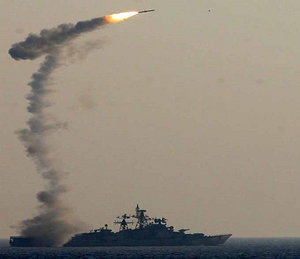 Navy's budget is burdened with annual payments for the second indigenous 38,500ton aircraft carrier Vikrant at Cochin Shipyard Ltd (CSL), four Type 7,600 ton 15B destroyers and four Scorpene submarines at Mazagon Dock Shipbuilders Ltd(MSDL) and seven 4000 ton Type 17A Shivaliks (four at MDSL and three at GRSE) under construction. Two Krivacks are building at Yantar Shipyard at Kallingrad in Russia and two are being constructed by Goa Shipyard (CSL) with Russian help. Four Survey ships have just begun construction at Garden Reach Shipbuilders and Engineers Ltd(GRSE). The cost of all ships have escalated and deliveries delayed further with Covid. Navy's ninth P8I MR plane from Boeing arrived at INS Rajali and three will be delivered in 2021 with 24 MH-60R helicopters. These are Navy's work horses.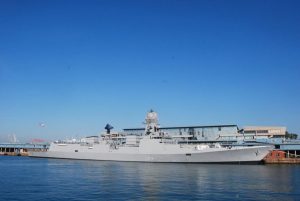 Only twenty frontline ships are on order to meet replacements. The guillotine of reduced allocations should not fall any more on the Navy's budget. India's Navy can be India's mace with the strategy of Chakravyuh to meet the China Pakistan challenge on the waters. Defence and security are seamless like bridges, and errors or weakness in one part (among the three services) can bring down the bridge. War and peace are two sides of a coin that need constant attention for a nation like India seeking world power status. Shan Na Varuna.
(The author Cmde Ranjit B Rai(Retd.) is a defence expert and author of WARRING NUCLEAR NATIONS-INDIA AND PAKISTAN (ISBN 978-93-5158-638-0). The views in the article are solely the author's. He can be contacted at [email protected])