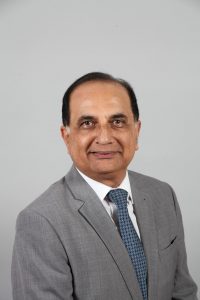 New Delhi. 04 December 2020. "The Indian Navy has an ambitious modernization programme and Naval Group would like to support that vision by helping build modern platforms. Naval Group is interested in supporting the Indigenous Aircraft Carrier (IAC)2,which is at the design stage with Indian Navy and other future naval platforms with high-end military requirements and performances,"stated Rear Admiral Rahul Shrawat ( Retd),Chairman and Managing Director of Naval Group India Pvt Ltd.in an exclusive interview with Aviation & Defence Universe (ADU).
ADU. Have you heard of some development on the P75I front?
RS. For P75(I), the process has been defined already by Indian Navy. The tender will be issued to shortlisted Strategic Partners (SPs) L&T and MDL, who in turn will form a special purpose vehicle with their choice of shortlisted foreign OEM to bid for the tender. We are of course open to this mechanism and shall abide by the process and associated rules and regulations.
ADU. Under the new Strategic Partnership policy, has the Naval Group decided on a company it can partner with?
RS. Given the strategic partnership and the mutual working experience we have developed with Indian industries and shipyards, we would definitely be happy to propose a design fully compliant with the new specifications.
We understand shortlisted SPs will be allowed to consult all shortlisted OEMs to select the best offer, allowing them to be fully compliant and L1. We rely on the experience and industrial capabilities of both L&T and MDL and thus shall be happy to offer our best adapted proposal to any interested party.
ADU. Now that all P28 Corvettes being made at GRSE have been handed over to Indian Navy, what is your alliance with GRSE for future plans?
RS. Naval Group has provided 8 raft mounted gearboxes for 4 anti-submarine corvettes in collaboration with Walchadnagar Industries Limited. These extremely stealth and high performing gearboxes are operational now and we are happy that all the 4 platforms are in service of the Indian Navy.
The in-service support will be undertaken by our Indian collaborator with the assistance of Naval Group, if and when required.
ADU. What is the status of the Mistral LHD The Naval Group will manufacture along with Reliance?
RS. The tender has been cancelled by Indian Navy. As a shipbuilder, with wide experience of designing, building and maintaining large platforms (LHD, aircraft carriers…) we are available to support Indian Navy with solution which will suit any of their future requirements.
ADU. In the overall context of recent pronouncements on 'Make in India' and Skill India where do you see yourself?
RS. Under the P75 program, the TOT to Indian shipyard and industry has been extensive and encompasses transferring manufacturing capabilities and expertise in quality control for several tasks. This has also resulted in qualification of skilled local manpower. Today India is one of few countries which has mastered from A to Z the complete chain of submarine construction and it is at par with most other international shipyards manufacturing submarines.
All these have enriched the indigenous content for the P75 program as a whole. We can proudly say that the P75 program has significantly contributed towards Make in India and Skill India initiatives of the government.
ADU. Have you got Indian MSMEs in the ecosystem for your ship building and do you find them capable of such high technology production?
RS. Naval Group India is working with a range of MSMEs under this program. This has enabled equipment to be locally manufactured in the categories of Float (Hulls, Hatches, Ballast Valves), Move (Steering Consoles) and Fight (Weapon Handling). Naval Group in India has also been instrumental in cementing partnerships with French MSMEs to enter into tie-ups and joint ventures with Indian MSMEs to deliver locally manufactured equipment in India.
Naval Group is so satisfied with the quality standard adhered to, that they have taken a step further and outsourced procurement of certain equipment for the French Navy's latest submarines under construction, from these Indian MSMEs.
ADU. What is the status of construction of the submarines at MDL?
RS. The P75 Kalvari class submarine program is progressing very well, despite the Covid-19 challenges. While 2 submarines of the project is already being operated by Indian Navy satisfactorily, others are at different matured stages of construction and delivery. On November 12th 2020, INS Vagir was launched by Smt Vijaya Shripad Naik, wife of Shri Shripad Naik, Hon'ble Raksha Rajya Mantri. The last submarine – Vagsheer – is in advanced stages of manufacturing on the assembly line at MDL and is scheduled to be launched soon.
ADU. How near are you to getting the Air Independent Propulsion (AIP) technology for submarines to India?
RS. We are closely working with DRDO to integrate the indigenous AIP in the Indian Scorpene® submarines during their future normal refits.
ADU. What are Naval Groups' short term and long term plans for matching steps with India's naval needs?
RS. Taking into account Indian Navy's experience and existing infrastructure at its naval bases, Naval Group is ready to provide some adapted services, if needed, to Indian Navy aiming at optimized availability at sea of P75 submarines. We are also training our local teams under supervision of experts from maintenance domain to perform critical tasks on-board the submarines.
The Indian Navy has an ambitious modernization programme and Naval Group would like to support that vision by helping build modern platforms. Naval Group is interested in supporting the Indigenous Aircraft Carrier (IAC) 2, which is at the design stage with Indian Navy and other future naval platforms with high-end military requirements and performances.
We are proposing to the Navy, in the frame of the HWT RFP, the F21 torpedo, the latest generation HWT developed for the French Navy for its latest SSN submarines and whose characteristics far exceed all other heavy torpedoes currently in service. It has recently passed successfully its latest operational trials through exceptional performance levels and has been recently inducted.
In addition, we are in discussion with Indian shipyards for future surface ship programs and also proposing latest simulators and tools for training and maintenance for P75 submarines. We are engaging with stakeholders at Naval Dockyard to support them in ensuring most optimized service support for operational Kalvari class submarines.
The Group is committed to the Indian Navy and Indian Government for 'Make in India' approach of doing business – hence we see a lot of opportunities in the future.
ADU. What is the status quo on the Naval Group's announcement during Defexpo 2020?
RS. In addition to our F21 torpedo proposal, which is presently under evaluation by the competent authorities of Indian Navy and MOD, Naval Group has been involved with Indian industry for more than 3 years with the sole aim of developing a sustainable ecosystem for the manufacturing, assembling and testing of several complex systems and subsystems of the F21 HWT. These efforts were useful for our seamless response to the offset proposal adjoining the offer to the Indian HWT tender.
In frame of this offset possibility, we have already identified around 30 Indian companies that will be able to carry out the 27 joint industrial activities (production of specifically identified mechanical parts, harnesses, batteries and systems for assembly and then create self-sustainable facility for assembly, integration & tests in India) and tests for this future Indian project and possibly become part of the global supply chain for the F21 product around the world.
Naval Group have signed memorandums of understanding (MOUs) with most of them.