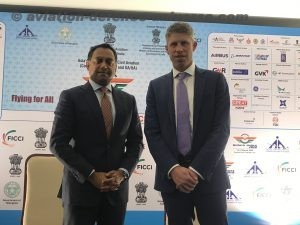 New Delhi. 13 March 2020. Boeing demonstrated its commitment to India and its developing aerospace and defense ecosystem by showcasing innovative commercial platforms, and services, including the 787 Dreamliner and 777X, at Wings India 2020.
The partnership between India and Boeing has grown from strength to strength over the last 75+ years, with 3,500 people in India, and more than 7,000 people working with its over 200 supply chain partners. Boeing India employees serve communities and citizenship programs to inspire change and have made an impact on more than 200,000 lives.
Boeing forecasts India to be the third largest global market for commercial fleet
Aviation market is resilient and the market will grow throughout 2020.
Boeing forecasts air carriers in India will need ~2,500 new commercial aircraft by 2040.
Boeing is supplying the most efficient, advanced aircraft and services to airlines in India to support the exponentially growing Indian commercial aviation sector.
Boeing customers in India include Air India, SpiceJet, Vistara and cargo operator Blue Dart.
Boeing recently delivered the first Dreamliner 787-9 out of an order of six to Vistara.
Its family of commercial airplanes like 787 Dreamliner and 777X are redefining flying experience for passengers.
The longest 10 non-stop routes from India are flown in Boeing aircraft
Committed to India
Boeinghas beena long-term partner contributing to the growth of the Indian aerospace ecosystem, and bringing the 'best of Boeing to India and the best of India to Boeing'
India's Make-In-India initiative is core to its business strategy with six key enablers that are essential to Boeing's success: world-class infrastructure, a thriving Indian supplier base, innovation, support and sustainment, engineering talent development and skills advancement in the country
Boeing investments in India are bolstering aerospace sector, creating jobs and driving innovation.
World Class Supplier Base from India
Boeing's sourcing from India stands at over USD1 billion a year from over 200 suppliers who are manufacturing high-end systems and components for some of Boeing's most advanced products as part of its global supply chain
These include critical components such as aerostructures, wire harness, composites, forgings, avionics mission systems and ground support equipment.
· Key partnerships include:
TAL Manufacturing Solutions delivered the 25,000th Advanced Composite Floor Beam (ACFB) last year for all the Dreamliner airplane variants
Bharat Forge manufactures a range of titanium forged parts such as forgings for the 777X
Hyderabad-based Cyient has supported a number of critical design-engineering projects for Boeing airplanes and currently provides design and stress support on the 747-8 Freighter and the 787
Tata Boeing Aerospace Limited (TBAL) in Hyderabad produces the 777 uplock boxes
Boeing's joint venture with Tata in Hyderabad, TBAL marks a major step towards the co-development of integrated systems in Indian aerospace and defense. TBAL has been producing aero-structures for Boeing's AH-64 Apache helicopter, including fuselages, secondary structures and vertical spar boxes for international customers. TBAL employs over 500 engineers and technicians, and represents the future of India as a global exporter of aerospace products.
Building the future of Aerospace: For India, By India
Through its skilling initiatives, Boeing is training hundreds of pilots, aircraft maintenance engineers, technicians and frontline factory workers across India with their industry partners like Tata, Rossell Techsys, Jaivel and Lakshmi Machine Works
The Accelerated Apprenticeship Program launched in collaboration with Air India Engineering Services Limited and the Ministry of Civil Aviation, aims to increase the employability of aircraft maintenance engineers. The first batch graduated in August 2019 and were all employed with leading Indian carriers. The second batch is currently underway.
The annual Boeing-IIT National Aeromodeling Competition for engineering universities has been designed to inspire the next generation of talent and encourage them to opt for careers in aerospace. The sixth edition, held in 2019, featured over 1,000 students from over 250 institutions across India.
Spearheading Innovation
Boeing is fostering technology and innovation in aerospace from India, for the world through its Boeing India Engineering & Technology Center (BIETC)
BIETC with a strong presence in Bengaluru and Chennai, is leveraging a talented pool of employees to contribute to global aerospace growth.
Boeing engineers in India undertake high-quality, advanced aerospace work that supports areas as diverse as test and evaluation; development of advanced, environmentally friendly coatings; data analytics for next-generation airplane health management; innovation in labs on Internet of Things and Digital Transformation; and development of software tools that enable airlines to improve their operations and work with airports to help with de-congestion and navigation, at reduced costs.
The in-country teams provide engineering design, software development and testing, and technical authoring and learning content development services to support the global fleet of Boeing commercial and defense aircraft.
Boeing is supporting its airline customers and the Government of India to pursue the development of sustainable aviation fuels (aka aviation biofuel). Sustainable aviation fuels are a real opportunity for India to take action on reducing the environmental footprint for its rapidly growing aviation industry.
Boeing is heavily investing in Indian start-ups, working on future aerospace technology like autonomous systems, artificial intelligence, and machine learning.
Modernizing India's Aerospace
Boeing utilizes methods such as machine learning, simulation and modelling, advanced forecasting & predictions, artificial intelligence, statistics, network analysis and pattern recognition.
Boeing's full suite of digital and data management tools, powered by Boeing AnalytX identifies efficiencies that improve operations and mission readiness for commercial and government customers.
In collaboration with Airports Authority of India, airports and airline partners, Boeing is working to create a roadmap to modernize and optimize India's National Airspace System to safely accommodate this traffic growth
Boeing is working with Ministry of Civil Aviation to implement a framework for innovative leasing and financing models that can be used by airlines to scale up operations
Boeing is also working towards optimizing cockpit solutions for Indian airlines that includes crew rostering and pairing
ForeFlight Dispatch was recently added to Boeing's digital toolbox, providing a powerful team flight planning component through its ForeFlight Mobile web application. ForeFlight Dispatch creates a more efficient and productive flight operation environment by delivering multi-user, mobile flight planning capability for operations of any size.
Boeing 787 Dreamliner Family
Boeing designed the 787 family with superior efficiency, which allows airlines to profitably open new routes to fly people directly where they'd like to go in exceptional comfort.
The Boeing 787 Dreamliner is an all-new, super-efficient family of commercial airplanes that brings big-jet ranges and speed to the middle of the market.
The 787 family is delivering unmatched fuel efficiency to our customers, keeping them competitive in this challenging economic environment. With 20 to 25 percent less fuel and 20 to 25 percent fewer emissions than the airplanes they replace, the 787 family has saved 48 billion pounds of fuel since entering service in 2011 (projected savings versus replacement airplanes).
The 787-8 Dreamliner can fly 248 passengers up to 7,305 nautical miles (13,530 km) in a typical two-class configuration. The 787-9, a stretch of the 787-8, can fly 296 passengers 7,530 nautical miles (13,950 km) in addition to more cargo, allowing airlines the ability to grow routes first opened by the 787-8. The third and longest 787, the 787-10, can fly 336 passengers up to 6,345 nautical miles (11,750 km).
The key to the exceptional performance of the 787 family is its suite of new technologies and its revolutionary design.
The largest windows of any jet; air that is cleaner, more humid and at a higher pressure for greater comfort; large overhead bins with room for everyone's bag; soothing LED lighting; and technology that senses and counters turbulence for a smoother ride
Composite materials make up 50 percent of the primary structure of the 787, including the fuselage and wing.
Onboard diagnostics systems allow the airplane to self-monitor and report systems maintenance requirements to ground-based computer systems
The design and build process of the 787 family has added further efficiency gains. Boeing and its supplier partners developed new technologies and processes to enhance efficiency.
More than 50 of the world's most capable top-tier supplier partners bring innovation and expertise to the Boeing 787 Dreamliner family. These suppliers have been involved since the early detailed design phase of the program and are connected virtually at more than 130 sites around the world.