Moscow. The newest short-haul aircraft Embraer E195-E2 will be presented for the first time to the general public in Russia during the International Aviation and Space Salon. The aircraft will be demonstrated at the static display.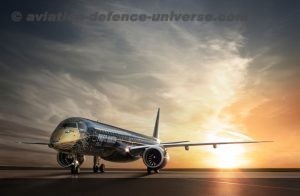 "This aircraft changes the rules of the game in its class, and MAKS-2019 provides us with an excellent opportunity to demonstrate all its advantages to our customers in Russia and the near abroad," said Martin Holmes, Embraer Commercial Aviation Vice President for Europe, Russia and Central Asia.
The aircraft will arrive in Zhukovsky, Moscow Region, after a demonstration tour of China, Japan and other countries of the Asia-Pacific region. The airliner is painted in Tech Lion, which symbolizes the aircraft's manufacturability and innovativeness. This livery continues the earlier tradition of using the theme of predatory animals such as tigers, sharks and eagles, reflecting the positioning of the new Embraer family of planes as "profit hunters".
The E195-E2 is the most spacious airliner in the E2 family and can accommodate 120 to 146 seats in the cabin, depending on the configuration chosen by the carrier.