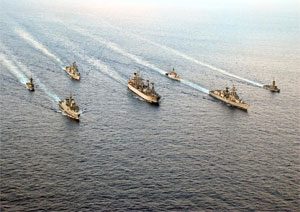 New Delhi. 18 May, 2016. In a demonstration of its operational reach and commitment to India's 'Act East' policy, the Indian Navy's Eastern Fleet, under the command of Rear Admiral SV Bhokare, Flag Officer Commanding Eastern Fleet, sailed out on a 2½ month long operational deployment to the South China and North West Pacific. During this overseas deployment, the ships of Eastern Fleet will make port calls at Cam Rahn Bay (Vietnam), Subic Bay (Philippines), Sasebo (Japan), Busan (South Korea), Vladivostok (Russia) and Port Klang (Malaysia).
Indigenously built guided missile stealth frigates, IN Ships Satpura and Sahyadri, commanded by Captain AN Pramod and Captain KS Rajkumar respectively, INS Shakti, a sophisticated fleet support ship, commanded by Capt Gagan Kaushal and INS Kirch an indigenous guided missile corvette commanded by Commander Sharad Sinsunwal are participating in this deployment.
The visits to each port will last four days and are aimed at strengthening bilateral ties and enhancing inter-operability between the navies. During the stay in harbour, various activities such as official calls and professional interaction between naval personnel of both the nations have been planned. PASSEX has also been planned at sea with the host navies. In addition to showing the Flag in this region of vital strategic importance to India, these ships will also participate in MALABAR-16, a maritime exercise with the US Navy and JMSDF.