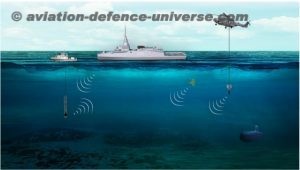 New Dehi. 17 February 2021. RTSYS has been awarded a contract from Bharat Electronics Limited (BEL) for the delivery of 2 SIERA systems allowing the characterization and the calibration of Indian Navy's new generation hull-mounted and variable depth sonars.
SIERA is a lightweight autonomous system towed at variable immersion from a dedicated boat, enabling to measure the performance of both active and passive sonar system (hullmounted sonars, variable depth sonar, dipping sonars, sonobuoys, submarine sonars) in real-time or through a delayed signal processing).
Easy to deploy, SIERA is also very well-known by the most reputable sonar manufacturers and shipyards who use it for their own performance assessment during Sea Acceptance Test thanks to the various acoustic emissions and receptions from 500Hz to 32 kHz.
With this new important success RTSYS strengthen its position as key supplier of Navies worldwide in one of its main sectors of expertise that are ASW, MCM, AUVs and PAM.