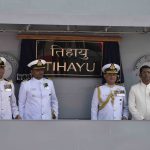 Visakhapatnam. 19 October 2016. The Indian Navy commissioned the highly manoeuvrable fast attack craft INS Tihayu at the Eastern Naval Command . It is the second ship of the four follow-on Water Jet Fast Attack Craft (FO-WJFAC), being built by M/s Garden Reach Shipbuilders and Engineers Ltd (GRSE).
The ship is an improved version of WJFAC, earlier constructed by GRSE. Conceived, designed and built indigenously, the commissioning of this ship completes the addition of another chapter to the nation's 'Make in India' initiative and indigenisation efforts in the field of warship design and construction
Named after Tihayu island (presently known as Katchal island) in the Nicobar group, the 320-tonne INS Tihayu,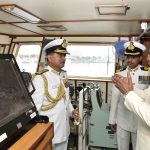 measuring 49 meters can achieve speeds in excess of 35 knots. The ship is manned by a team comprising four officers and 41 sailors with Commander Ajay Kashov appointed as her commissioning Commanding Officer. The ship is capable of operating in shallow waters at high speeds and is equipped with enhanced fire power. Built for extended coastal and offshore surveillance and patrol the warship is fitted with advanced MTU engines, water jet propulsion and the latest communication equipment.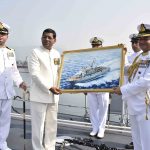 The ship's armament consists of a 30 mm CRN 91 gun manufactured by Ordnance Factory Medak. An electronic day-night fire control system namely Stabilised Optronic Pedestal (SOP) manufactured by Bharat Electronics Limited (BEL) controls the gun. The ship is also equipped with two 12.7 mm heavy machine guns (HMG) and multiple medium machine guns, besides shoulder-launched Igla surface-to-air missiles to combat aerial threats.