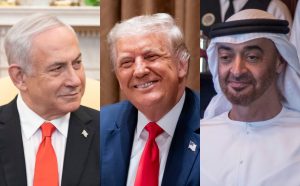 US brokers peace between Israel & UAE
The two have committed embassies & ambassadors
By Jai Kumar Verma
New Delhi. 23 September 2020. It was a dawn of geo-political transformation not only for the Middle East but also for the world. President Trump presided over the signing ceremony at the White House to establish the foundation of the peace agreement between Israel and the United Arab Emirates (U.A.E.) and Bahrain was also invited to the ceremony, following their agreement with Israel last week.
The countries have committed to the exchange of embassies and ambassadors, and to begin cooperation across a broad range of fields including education, healthcare, trade, and security.This deal is only the beginning of normalized relations between Israel and its neighbours, with many more likely to come.
The United Arab Emirates (UAE) Minister for Economy has very rightly stated that whole region would be benefitted because of bilateral agreement between UAE and Israel. In August 2020 UAE became the third country to establish diplomatic relations with Israel. Before UAE, Egypt in 1979 and Jordan in 1994 established diplomatic relations with Israel while Bahrain became the fourth country to establish normal relations with Israel. It is expected that Oman, Sudan and Morocco would soon sign the accord and would inculcate diplomatic relations with Israel. Saudi Arabia which is the most powerful Gulf kingdom remained silent which is an indication that it approves the pacts but does not want to support it openly at this juncture. Bahrain which has close relations with Saudi Arabia would not have signed the agreement without the concurrence of Riyadh. The agreement was condemned by Iran, Turkey and Qatar. The Palestine Liberation Organisation (PLO) was the biggest critic as its veto power over Arab-Israeli relations vanished. The PLO issued a statement after Israel's agreements with UAE and Bahrain that it is "a black day in the history of the people of Palestine."
The critics of PLO mention that the Arab countries were annoyed on the perpetual demands of dishonest PLO leadership. Besides it there are several other important factors for relinquishing PLO. The reasons include the rising hostility between Shia and Sunni, crumbling oil prices, perpetual clashes between Syria, Iraq and Yemen. The gulf states were also viewing the technological progress and growing military power of Israel and wanted to establish diplomatic relations so that they can be benefitted. In fact, Israel had clandestine relations with few Sunni countries including UAE and Bahrain as relations with Iran deteriorated these countries signed the agreement with Israel.
The joint statement issued by USA, Israel and UAE mentioned that the establishment of cordial relations between Israel and UAE would be good for the Middle East as well as for the world. The agreement mentioned that both the parties would adhere to the stipulations of the Charter of the United Nations and would solve their disputes peacefully. Both countries would establish diplomatic relations and increase cooperation and coordination and would stop any terrorist activity from their areas. Both countries would increase cooperation and would sign accords on various fields including healthcare, education science and technology, energy, tourism, water, telecommunication, environment, sport etc. The agreement between UAE and Israel was signed in White House, Washington DC. The treaty would be sent to the Secretary General of the United Nations for the registration under Article 102 of the UN Charter.
Few Arab countries including UAE and Bahrain had clandestinely economic and security relations with Israel while openly these countries were forced to treat it as pariah. After the "Abraham Accords" these countries can maintain cordial relations with Israel openly. US President Trump played an important role in finalising the accord hence his name as well as the name of Israeli Prime Minister Benjamin Netanyahu deserves Nobel Peace Prize. In past Yasir Arafat, Yitzhak Rabin, Shimon Peres, Anwar el-Sadat, Menachem Begin were accorded Nobel Prize for developing peace in Middle East. Although Egyptian President Sadat and Israeli Prime Minister Rabin were assassinated. Both President Trump and Prime Minister Netanyahu would be benefitted politically because of the peace accords.
It is also claimed that Israel threatened to annex large part of West Bank which would have created much resentment in the Arab world hence UAE approached President Trump and agreed to establish relations with Israel. However, threat of takeover of West Bank was not the prime reason behind the accord. Another reason for the accord is that Saudi Arabia, UAE, Israel and United States all have enmity towards Shia Iran. It is also expected that US may allow the sale of advanced F-35 stealth fighter aircraft to UAE after the accord, although it will not be liked by Israel. Trump's son-in-law Jared Kushner who was the chief negotiator for the peace in Middle East could not bring peace between Israel and Palestine but succeeded in finalising the accord between Israel and two Arab States namely UAE and Bahrain.
Nonetheless when peace deal was signed at White House, about 15 rockets were fired from Gaza to southern Israel. The Palestinians also protested in Gaza and the West Bank and burnt the pictures of Trump, Netanyahu, leaders of UAE and Bahrain. The flags of these countries were also crushed by the demonstrators.
The historic diplomatic pacts between Israel and two Arab States namely UAE and Bahrain were inked on 15 September 2020 in the White House in presence of President Trump. President Trump remarked that the agreement is the "dawn of new Middle East." Sheikh Abdullah bin Al Nahyan thanked Israeli Prime Minister for stopping the annexation of West Bank although Israeli Prime Minister made it clear that Israel has only suspended the annexation.
The agreements were vastly welcomed in Israel but the public opinion in UAE and Bahrain is not much in favour of the agreements. Although Israel and US head of state were present at the time of signing but the heads of both Arab States were not attended the ceremony. Al-Wefaq National Islamic Society, which is a banned Shia political party in Bahrain, has issued a statement mentioning that the present agreement between Bahrain and Israel is rejected by the majority of Bahrain.
Trade representation offices were opened by Israel in Oman and Qatar in May 1996. The purpose of the trade office was to advance tourism, agriculture, scientific, commercial and economic relations besides conservation and development of water resources. However, in 2000 Israel had to close its trade office from Oman. Three North African States namely Morocco, Mauritania, and Tunisia also established diplomatic relations with Israel in 1994, 1995 and 1996 respectively.
The biggest critic of these agreements is the Palestine leadership which is feeling deceived and alleged that both UAE and Bahrain betrayed Palestinian cause, al-Aqsa mosque and Jerusalem. The relations between US and Palestine were already tense after US shifted its embassy in Jerusalem. The agreements between Israel and both the gulf states is the handiwork of Jared Kushner hence the relations between US and Palestine further declined.
Iran which is the biggest adversary of Israel called the UAE action as 'shameful' and it is like stabbing on the back of Palestine. Turkey which is close ally of Palestine also mentioned that history will not pardon UAE for this agreement.
These agreements have also impact on Pakistan which was actively considering establishing diplomatic relations with Israel from last two decades but could not muster courage because of the fear of its adverse repercussion in the country. The Imran government cannot establish diplomatic relations with Israel as his first wife Jemima Goldsmith was a Jew hence, he is considered pro-Jew in Pakistan. Imran government is already in trouble as it could not take any drastic action when India defanged Article 370 from Kashmir. The present agreements have weakened Palestine issue and it will also diminish Kashmir issue.
Indian interest lies in the stability in West Asia hence Delhi should oppose the forces of regional destabilisation. India has cordial relations with most of the West Asian countries hence it should try to mediate between Saudi Arabia, Israel, Turkey and Iran. At present several Arab countries fear threat from Iran and Turkey. India should establish strong ties in the region. The region is important as India is dependent for its energy needs and large number of Indians work in the area and they remit valuable foreign currency back home.
The basic need is to sort out the fate of 4.75 million Palestinians residing in West Bank and Gaza. However, it is a beginning and as Israel will get recognition by the Islamic countries and more and more countries establish diplomatic relations, Israel may also relax its rigid stance towards Palestine. In nutshell it is an encouraging beginning and it will benefit the region in reducing the animosity between Israel and other countries however the goal is still far-off.
(Jai Kumar Verma is a Delhi-based strategic analyst and member of United Services Institute of India and Institute for Defence Studies and Analyses. The views in the article are solely the author's. He can be contacted at editor.adu@gmail.com)