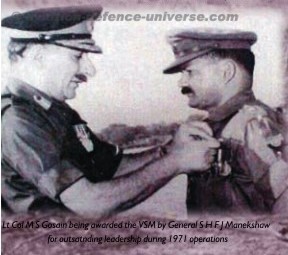 Pune, January 25, 2020, though the 1965 War was largely confined to the West, there was some engineering activity in the East that merits attention. Two Inland Water Transport (IWT) Units were inducted into the Eastern Sector HQ: 457 IWT Company under Lt Col J N Elisha, tasked with the role of operating 6 ferry sites over a distance of 300 miles on the Brahmaputra River from Jogigopa to Sadiya and 257 IWT Company moved from Calcutta to Chakdaba to be deployed under Op 'Ablaze'. This IWT Unit also assisted HQ 457 IWT Company during Op 'Riddle'. Maj N S Narahari's 329 Field Park Company was given the task of manufacturing a number of expedients including the modification of Jeeps and 1 Ton Nissan Trucks as prime movers to haul wagons on metre and broad gauges respectively, common in this sector. They were also given the tasks of manufacturing improvised flexible track ways, long and short pickets for Sommerfeld trackways, and the design and fabrication of Class 9 fittings for wet gaps with variable pier heights.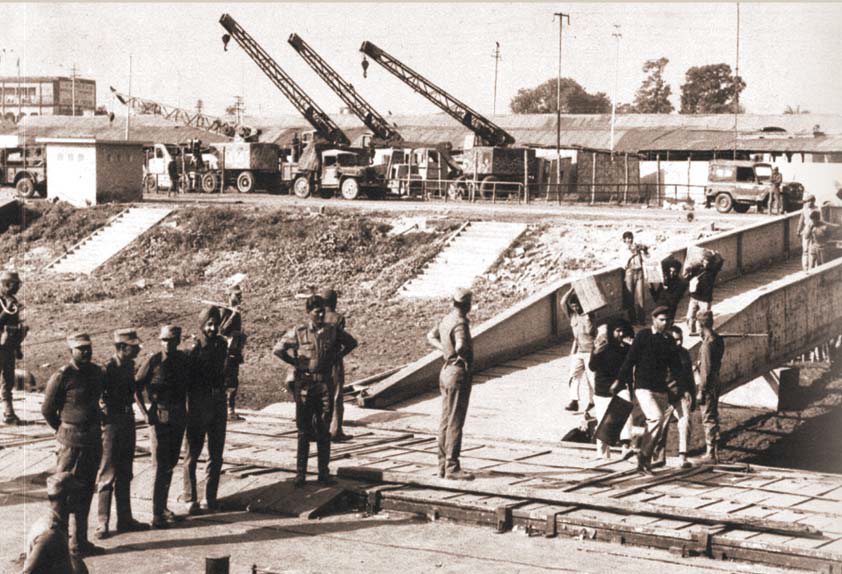 Post Cease Fire Operations
At the time of the Cease-Fire, India was in occupation of 140 square miles of Pakistan territory in the Lahore Sector, 180 square miles in the Sialkot Sector and 270 square miles in the Hajipir Bulge, Tithwal and Kargil Sectors of J&K. On the flip side, Pakistan was in occupation of Munabao in the Barmer Sector of Rajasthan, 20 square miles in Khemkaran and 190 square miles in the Chhamb-Jaurian Sector. In the Post Cease Fire period, 110 Engineer Regiment lifted mines and constructed some roads and tracks in the 16 Infantry Division Sector in the Punjab, and operated a Class 9 ferry over the River Chenab. 102 Engineer Regiment of the Group constructed demolition chambers in sensitive bridges near the border, and temporary bridges over new drains. 105 Engineer Regiment made track diversions and prefabricated shelters in the 25 Infantry Division Sector, South of the Pir Panjal.
The Bombay Sappers thus further enhanced their reputation in the 1965 Operations, and during the cease-fire period. Yahya Khan further aggravated the situation by resorting to military brinkmanship. The first indications of trouble brewing was the Pakistan Army's warlike posture in August 1971 in Poonch. In East Pakistan, Niazi's troops added to the growing confrontation by shelling border villages like Komalpur, and its troops even crossed the border at Tripura. The tense situation had reached a point of no return. Mrs Gandhi summoned the Army Chief to take military action in East Pakistanas soon as possible, as the burden of looking after this sea of refugees was becoming intolerable. General Manekshaw expressed his inability to do so in April 1971, for a number of cogent reasons. The outbreak of the impending monsoons would make movement of troops through the rice paddies and across numerous water obstacles a near impossible task in the resulting quagmire. The movement of troops and warlike stores over the railway system would affect the movement of food grains, creating further problems. The Himalayan Passes would open and it would be extremely difficult to fight effectively on three fronts. He felt the best time to launch operations in the East would be in November, and he would guarantee success. The pragmatic PM that she was, Mrs Gandhi agreed to his suggestions. It was then that preparations commenced.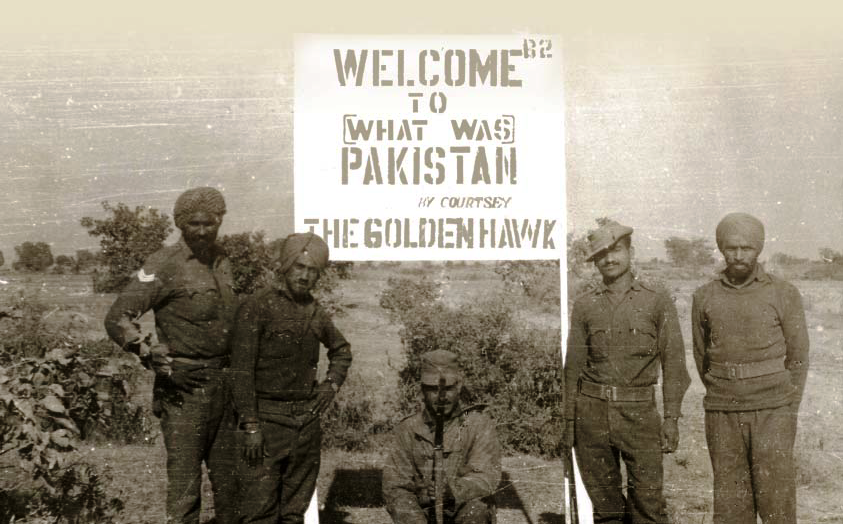 Engineers' War
East Pakistan was not an easy campaigning ground! A maze of rivers measuring a thousand feet wide, numerous marshes and water logged rice paddies presented a herculean challenge for movement of troops, armour and supplies. Crossing of water obstacles both big and small, and bridging rivers like the Meghna, Ganga (Padma) and Brahmaputra and creating surface communication facilities where infrastructure was primitive and limited, were critical Engineer responsibilities. This is what made the war in the East an "Engineers War".
A strategic plan, based on the natural divide of the country into four riverine sectors, was drawn up. Four major thrust lines, independent of each other but all converging in a concentrated thrust towards the country's node at Dacca, the geo political capital of East Pakistan, was put into effect. The plan aimed at bypassing all major nodes of resistance and enemy defensive positions on the main routes. It is a matter of pride that much of this novel plan was based in part on vital inputs provided by the Chief Engineer, Eastern Command, Brig Bhide, a true-blooded Bombay Sapper.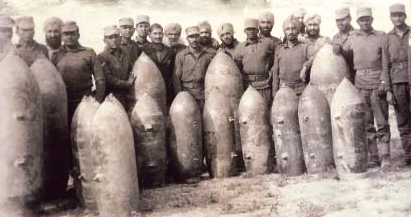 Engineering resources to support this plan included duck boards as the main track expedient and the Kruppmann, Bailey and Bailey Pontoon bridges as the major obstacle gapping equipment. IWT Units and civilian ferries were also planned for deployment. Preliminary Skirmishes In the third week of November, Lt Gen Niazi launched an attack in the Boyra Region. It was at this stage that the first Kruppman Bridge, 200 feet in length, was constructed and launched at Boyra by 102 Engineer Regiment under Lt Col M S Gosain, and 268 Engineer Regiment led by Lt Col K C Taneja, in just 3 hours. On 20 November, Lt Col R R Murthy of 92 Field Company was in support of 14 PUNJAB, deployed in the Garibpur area. The enemy launched a strong attack with armour and artillery, and was threatening the Punjab Battalion HQ. It fell to the lot of Lt Murthy's Engineer platoon to block the enemy assault. During this operation, Lt Murthy displayed great determination and courage regardless of his own safety, to organize the platoon. He himself, occupied a forward trench and personally accounted for two enemy soldiers thereby setting a personal example to his command. This brave act earned this young officer a well merited Sena Medal. On 26 November, 102 Engineer Regiment constructed a four span 270 feet long Bailey Bridge called 'Pine' Bridge at Alambagh to connect our troops at Boyra beyond Alambagh. The tone for future operations of the Bombay Sappers was set. The Outbreak of the War in East Pakistan On 3 December 1971, Pakistan, presumably to reduce pressure in the East, launched air strikes against major IAF airfields in Amritsar, Pathankot, Srinagar, Utterlai, Jodhur, Ambala and Agra. It was felt that Pakistan would resort to a holding action in the East, and capture as much Indian territory in the West as possible, as a bargaining lever. This was so perceived as it was sure that the international community would broker a peace accord. Our planners rightly felt that it was imperative to capture East Pakistan as soon as possible.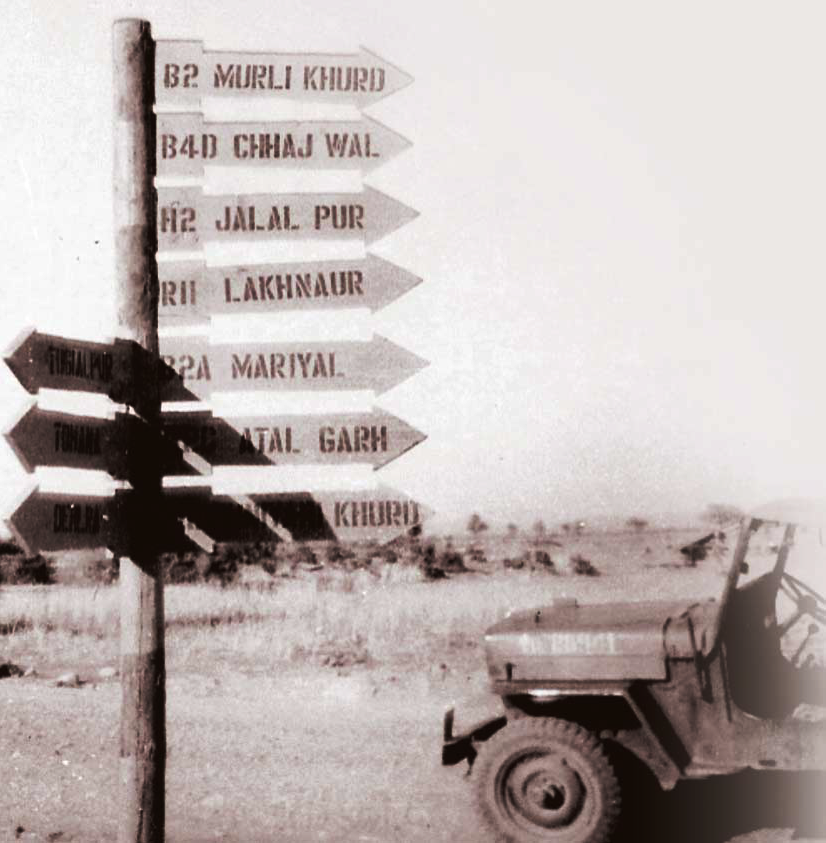 2 Corps, with Col RK Kapoor as its Chief Engineer, was slated to operate in the South-West Sector of East Pakistan, with Magura, Jhenida, Faridpur and Khulna as the main objectives. 9 Infantry Division, with 102 and 268 Engineer Regiments in support, was tasked to break through for the assault on the enemy fortress of Jessore. Because of the wet soil and the area being heavily mined, the going was fraught with difficulties. 21, 97 and 98 Field Companies cleared safe lanes through the 1000-yards deep minefields through intense enemy mortar and artillery fire. The Sappers improved the 'trafficability' of the Bongaon-Jessore axis within 24 hours, despite ten demolition gaps. They then carried out the restoration of electrical and water supply installations within 24 hours, after which they handed over the task to the EME.
It was at this stage of the operations that 2Lt T S Roy proved the Bombay Sappers mettle under fire. He was breaching a lane on the right side of the objective. In doing so, his platoon came under heavy artillery and mortar fire. This did not deter him from carrying on the task of locating and neutralizing mines. When, within 1000-yards of the objective, his command came under heavy machine gun and small arms fire, this brave young officer displaying commendable presence of mind, deployed one section to provide covering fire and with the other section charged the enemy position through the minefield. He did so with such dash, leading from the front, that 7 enemy soldiers were killed, and one RCL jeep, a medium machine gun, two rifles and a huge quantity of ammunition including mines, was captured. Deservedly, 2Lt T S Roy was awarded the Vir Chakra. 268 Army Engineer Regiment launched a number of Bailey Bridges at Chaugacha, Asharu, Afra and Habatpur to ensure the momentum of the thrust on Jessore, and a 240-metre long Kruppman Bridge launched across the River Kabadak at Jhingerghacha. In addition, it constructed tracks, filled-up anti tank ditches, cleared mines on the road Bongaon-Jessore, and operated ferries.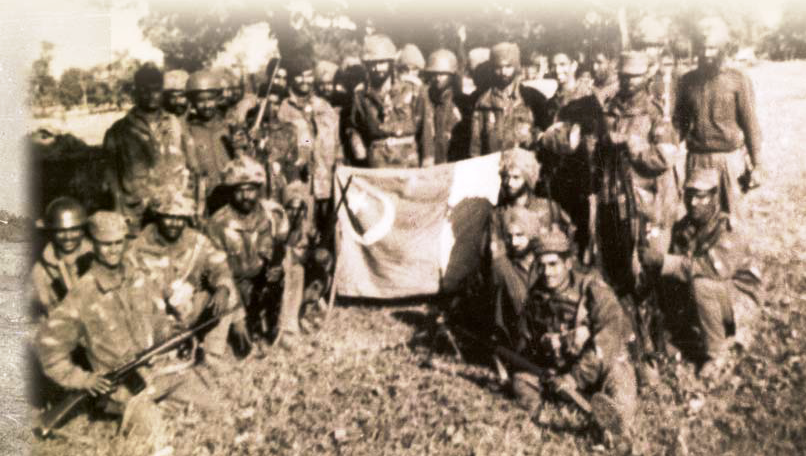 Khulna The advance from Khulna to Jessore was over low lying marshy areas covered with thick vegetation, with mines being used liberally to delay the advance. 21 and 97 Field Companies constructed and operated rafts on the tidal river Bhairab, although under enemy artillery and small arms fire while sister unit 96 Field Company constructed a track through thick jungle enabling own troops to move forward to capture Siramani leading to Khulna. At the conclusion of this operation, Maj Gen Dalbir Singh, GOC 9 Division, had this to say about 102 Engineer Regiment: "This was in my view, the utmost that a Commander could expect from such well trained, devoted and courageous troops. Throughout the operations, 102 Engineer Regiment helped 9 Infantry Division, literally, to move and fight over the riverine and marshy Bangladesh terrain. Military analysts the world over still wonder how the Indian Sappers achieved this miracle using out-dated World War II equipment". Operations of 33 Corps Sappers Lt Col D R Mani with his 111 Engineer Regiment, provided effective engineer support to the operations of 33 Corps, over most challenging terrain. Its tasks included, inter alia, clearing of mines laid along the axis Patiram-Chintaman-Charka, Hilli-Charkai, and at Khanpur Hat andGauripur Canal, Ghughudangia and Mohanpur. This involved very strenuous work over 35 kms of tracks. Extensive use was made of local resources like brickbats, bamboos and ballies. 27 Field Company was assigned the unusual task of converting 16 kms of broad gauge railway track into a road within just 18 hours to enable the quick passage of medium machine guns through other traffic. A 1340 feet Class 9 Bridge was launched over River Dhepa at Khansama by 391 Field Company under Maj D S Alagh, in addition to other tasks of track construction and a 360 feet composite bridge near Kantanagar. In a spectacular Para Operation, at 1600 hours on 11 December, B Platoon of 411 Parachute Field Company under Lt Tejinder Singh provided effective engineer cover to 2 Para (Marathas) when the group was dropped 3 miles from Tangail. This was described as one of the most spectacular operations in this sector. Lt Tejinder's platoon was tasked to capture Poongli Bridge intact, on the road Jamalpur-Tangail-Dacca. It was also required to neutralize the bridge in the event of it being prepared for demolition, to move forward Engineer stores from the dropping zone, and to occupy a defended locality if tactically required. It not only carried out these tasks successfully but, in addition, took part in the infantry battle, and in doing so, inflicted casualties on the enemy. Historically, this was the first ever independent airborne operation post independence, and thus a credit to all those who participated Operations of 4 Corps – The Battle Honour "Sylhet" 4 Corps engineer support was provided by Brig Jagdev Singh, a veteran Bombay Sapper, in the 8, 23 and 57 Mountain Divisional Sectors at Maulvi Bazaar, Chandpur and Akhaura, respectively. Lt Col A L Suri's 108 Engineer Regiment supported 8 Mountain Division, tasked to capture Syhlet. The focal point was the town of Shamsher Nagar on the main highway to Sylhet, important to the enemy, as its airfield was extensively used by the PAF. To do so 108 Engineer Regiment constructed a Class 18 timber pile bridge at Kailashahar over the River Manu, to enable guns to be moved for the capture of Shamsher Nagar. This unit also de-mined and repaired the Shamsher Nagar airfield. On the axis Muktapur-Sylhet, Hav Surinder Das of 108 Engineer Regiment was awarded a Sena Medal for his dedicated work done on ferries and bridges, making speedy movement possible. E Sector was facing problems dislodging the entrenched enemy as it had only one infantry battalion 5/5 Gorkhas. What is more, the East Bengal Units operating with them were 4 hours late in arriving for the operation. 380 Field Company was, therefore required to join the assault led by Maj N M Sharma with two platoons and an infantry company, and this ad hoc force captured a sizeable portion of the built-up area of Karimnagar, for which Maj N M Sharma was awarded the Sena Medal for gallantry. On the GhazipurKhaura-Sylhet axis, 484 Field Company cleared mines laid by the enemy,although two of its vehicles were blown up. 13 Field Company of the Paksitan Sylhet Garrison surrendered to 108 Engineer Regiment,which was awarded the Battle Honour "Sylhet"- yet another plus for the Bombay Sappers.
The War in the West
India's aim in the west was to prevent Pakistan from capturing any Indian territory of consequence in J&K, Punjab, Rajasthan or Gujarat. This was to be achieved by a policy of offensive defence.
Operations of 1 Corps
This strike force comprising 36, 39 and 54 Infantry Divisions was launched in the Shakargarh Sector. 104 Engineer Regiment under Lt Col Gian Sagar operating in support of 36 Infantry Division, breached safe lanes through the minefield, and gallantry awards of a Vir Chakra, two Sena Medals and a Mention in Despatches were awarded to the Regiment in recognition of its work. In the 72 Brigade Sector. On 9 December, 28 Field Company formed part of the brigade deliberate assault force on Harad Khurd and Harad Kalan. In the defensive phase, 104 Engineer Regiment resolutely executed extensive mine laying and in the offensive phase, mine breaching and trail blazing, both under very trying conditions. The unit then constructed a Class 9 causeway over River Ujh at Garhi to ensure the smooth flow of heavy traffic from Mikka Post to Nainakot. An Advance Landing Ground was also constructed here. The tradition of Bombay Sappers gallantry again was highlighted on the night of 9/10 December, 1971 involving Lt Tejinder Singh and L/Hav Harnam Singh of 104 Engineer Regiment. Both these gallant individuals entered a minefield at Lallu Chak to recover a stranded tank under heavy enemy artillery and small arms fire, . The Officer displayed cool courage and presence of mind in extricating his recce party, while locating tank crossings across the river. Lt Tejinder Singh earned a well deserved Vir Chakra and Hav Harnam Singh, a Sena Medal. On yet another night 14/15 December, Nk Kadam and L/Nk Kale, who were leading a recce party from Shakargarh across the Bein River, were trapped and surrounded by enemy armour. Yet, these two intrepid Bombay Sappers eluded capture for 48 long hours and eventually, managed to escape to their own base. Expectedly, Nk Kadam was awarded a Sena Medal for his display of courage and determination against tremendous odds. In the same sector, 113 Engineer Regiment carried out its tasks under fire, with great daring and a sense of duty. The breaching of the Shahbaz minefield was allotted to 358 Field Company. Using unconventional though risky techniques, two breaching parties employed simultaneously breached this minefield in the record time of 2 hours, enabling 7 Light Cavalry to break out South of the obstacle on 13 December. On 14 December, 418 Field Company of 113 Engineer Regiment commenced breaching the Mariyal minefield in broad daylight under expected heavy enemy artillery and small arms fire. These intrepid Bombay Sappers had to crawl to do so, and Capt Balkar Singh was wounded in the shelling. He was awarded the Sena Medal. Lt Col O S Karki's 110 Engineer Regiment was equally involved in these operations. A 220 feet Class 50 Kruppmann Bridge for the induction of armour was constructed over the River Ravi at Dinanagar. It was bombed by the Pakistanis the next day, damaging two floats and part of the superstructure. It was made operational within 2 hours. 371 Independent Assault Field Company breached a lane under effective enemy shelling, enabling the capture of Chak Amru in the Shakargarh Sector. Lt K P Reddy was awarded the Sena Medal in this action for: "Conspicuous bravery of a very high order in the face of the enemy while commanding a Field Platoon of 371 Independent Assault Field Company grouped with 22 Punjab and a Squadron of 7 Light Cavalry. He was assigned the task of breaching an enemy minefield to provide a safe lane for tanks. The enemy brought down artillery and tank fire at the breaching parties. But Lt K P Reddy, skillfully and boldly led the breaching column through the enemy minefield despite heavy enemy fire. His disregard of personal safety inspired his troops and resulted in the preparation of a safe lane, 500 yards long, in a time of 4 ½ hours which enabled a tank squadron to assault through the minefield". The Bombay Sappers contribution to 1 Corps is yet another example of the dedication and bravery of all ranks.
Operations of 11 Corps in the Amritsar-Ferozepur Sector
The responsibility of 11 Corps was the defence of Amritsar and Ferozepur by blocking and destroying any possible Pak offensive in this sector.103 Engineer Regiment under Lt Col B S Sharma carried out the laying of defensive minefields, a flooding scheme and construction of helipads. In the grim battle of Chine Bidi Chand, Lt T P Tyagi rescued a number of wounded Sappers in the face of enemy fire, an action for which he was awarded the Vir Chakra. At the outbreak of hostilities, 11 Corps carried out a limited offensive in the Dera Baba Nanak and Sehjra areas, in addition to implementing some deception plans. In the FerozepurAnupgarh Sector, the Corps had four Engineer Regiments including 109 of the Bombay Sappers, that was deployed in a defensive role for the defence of Abohar. For this holding task, it was allotted MMGs andmortars. In addition, it helped destroy 22 bridges in the Corps Sector. When hostilities ended, the Sehjra Bulge and Dera Baba Nanak enclave were in Indian hands, while Pakistan had gained some ground in the Husseiniwala area and in Fazilka.


Operations of 15 Corps in Jammu and Kashmir
After the surprise attack launched by Pakistan Forces against 10 Infantry Division in the Chhamb Sector, 106 Engineer Regiment under Lt Col Bhuban Singh contributed to the engineer effort to ferry tanks across the River Chenab in total darkness to reinforce our armour. In addition, it was deployed in laying minefields and construction of tracks over slushy areas. In the Poonch Sector, Lt Col S C N Jatar's 105 Engineer Regiment constructed defences and roads/tracks for the successful defence battle of Poonch. 107 Engineer Regiment under Lt Col N S I Narahari operated with 26 Infantry Division, undertaking extensive mine laying, area flooding, and creating diversions at important bridge sites. The Regiment also provided support to the assaulting brigade. It laid over 75,000 mines covering a frontage extending from River Chandra Bhaga to River Basantar, and gave additional depth to minefields in close proximity of the Pakistan border, often under enemy shelling. It also lifted 20,000 Pakistani mines and developed tracks. During these operations the Regiment suffered 14 casualties including Maj S S Sandhu; Nk A K Aurora was awarded a Shaurya Chakra for mine lifting. In the 19 Infantry Division sector in the Valley,112 Engineer Regiment under Lt Col Kanwaljit Singh Gill, ensured that the road and track communication network over difficult terrain, including the Nastachun and Razdan Passes, were kept open, and after the successful attack into the Lipa Valley, constructed a mule track through Tutmari Gali to that area. For an attack in the Uri Sector, 112 Engineer Regiment took over the defended area of a company of 5 Sikh LI in Silicote. This unit responded to all calls made on it in a most efficient manner, including the construction of an underground divisional tactical HQ. During the night of 14/15 December, mine breaching continued in-spite of enemy shelling and small arms fire. The mine prodder of NCO Nk Sarjerao Chavan was hit thrice by enemy machine gun fire. The prodder is now a heritage item and an emblem of pride. Operations under Southern Command Southern Command, with its HQ in Pune, was responsible for 850 miles of border with Pakistan. It was commanded by Lt Gen G G Bewoor (later COAS), with Brig I J S Johar as Chief Engineer. The strategic aim of this Command was to draw Pakistani forces facing Western Command. The Corps had two infantry divisions, 11 in Barmer, and 12 in the Jaisalmer Sector respectively. The terrain was desert, treeless and lacking in potable water. The high, shifting sand dunes made movement difficult, especially that of vehicles, confining them to the few roads and tracks. Once the leading brigades of 11 Infantry Division moved forward to the screen positions at Nayachor on 7 December 1971, it virtually became an engineers battle. 57 Engineer Regiment and 482 (I) Field Company under Maj S K Gandotra were speedily reinforced by 270 Army Engineer Regiment under Lt Col Y P Beotra and two Pioneer Companies. 1033 Railway Engineer Group was rushed forward to help to operate metre gauge trains to Khokrapar. Two awards deserve special mention: Sapper Driver Durga Shankar Paliwal of 1041 Railway Operating Company TA was decorated with the Vir Chakra for conveying to our troops ammunition and supplies inside enemy territory, and Maj S K Sharma of HQ 197 Bomb Disposal Platoon for outstanding work in bomb disposal duties. 270 Army Engineer Regiment contributed to the construction of a 27 km track to Chachro. Water supply was yet another major problem, with wells 80 to 100 metres in depth. Thus, provision of water was a major task for the Engineers in this theatre. Once the Engineers were able to marshal their resources, the provision of water enabled the advance of 60 kms in this waterless terrain, thanks to the Sappers.
In conclusion, there can be little doubt that the Engineers were in the front of the happenings during this 14-day war, both in the East across riverine terrain laced with innumerable water obstacles in which HQ 457 IWT Engineers played a significant role, and the West, and in contrast, in the waterless desert terrain of Rajasthan. The Bombay Sappers were the only group to be awarded the Battle Honour "Sylhet".