Bicentenary Commemoration Parade enthrals all
By Brig Vijay Atray ( Retd .)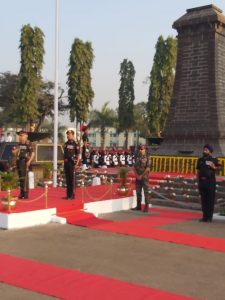 Pune. 01 February 2020. It is a day in the life time of the Bombay Sappers. The Bombay Sappers turned 200 today. The Bicentenary Commemoration Parade was reviewed by General MM Naravane, PVSM, AVSM, SM, VSM, ADC, COAS and the Honorary Colonel Commandant, of the Bombay Sappers. The parade paid tribute to the gallant troops of the Bombay Sappers, Sikh Light Infantry and Maratha Light Infantry Regiments & symbolised the affiliation of Bombay Sappers with INS Magar & 30 Squadron (Rhinos). The parade was attended by large number of senior veterans & serving officers of Southern Command, HQ 21 Corps , HQ Dakshin Maharashtra & Goa Sub Area in addition to Veer Naris & families of BEG & Centre, Kirkee.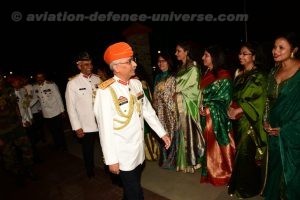 The marching contingents which participated in the Bicentenary Commemoration Parade included the gallant troops of the Bombay Sappers, SIKH Light Infantry, MARATHA Light Infantry Regiments and bands of Indian Navy and Indian Air Force. The Commemoration Parade for the first time witnessed flypast of the Sukhoi aircrafts which was historic. The high standards of march past was appreciated by one and all. The march past was followed up with tea & group photographs of all dignitaries with the Army Chief. The Commemoration Parade is perfect showcasing of the affiliation of the Bombay Sappers with Sikh Light Infantry, Maratha Light Infantry, INS Magar and 30 Squadron of the Air Force.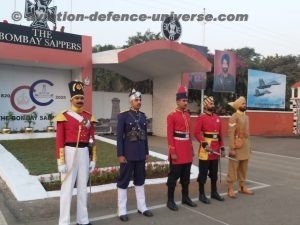 The Army Chief in his speech after reviewing the parade complimented for a high standard , partivcipation of MLI & SLI troops. He also appreciated the contribution of Bombay sappers in the defence of nation. And mentioned that the Bicentenary Commemoration Parade is indeed true tribute to the gallant soldiers of Bombay Sappers who made supreme sacrifice for their nation all over the world over two hundred years selflessly.
The immaculate marching of the parade to the tune of melodious army bands created a special spot inside the minds of every viewer, conveying glory of the Bombay Engineer Group and Centre.
This historical event of the glorious saga of The Bombay Sappers has been captured by Aviation & Defence Universe by uploading 24 articles,17 video interviews, two Bombay Sapper songs & several photos It provides all that which one would like to know about the Bombay Sappers.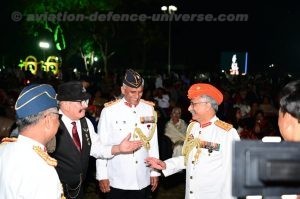 Later The Hony Col Comdt held a Sainik Sammelan where he stressed the need to be combat ready for any eventuality.
The celebration culminated with the Bicentenary Dinner at Bombay Engineer Group & Centre Officers Mess ,which is owned by the officers of Bombay Sappers.
For an exclusive interview of the Chief of Army Staff who is also the Honorary Colonel Commandant of the Bombay Sappers visit the Video Gallery of Aviation & Defence Universe
Aviation & Defence Universe has dug out historical pictures of the Bombay Sappers Band which have been uploaded in the Photo Gallery of Their Bombay Sappers Special.