By Brig Vijay Atray (Retd.)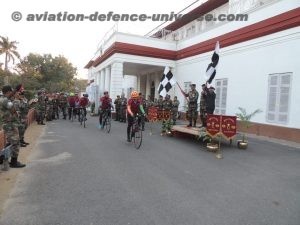 New Delhi. 24 January 2020. Bombay Sappers has organized a relay cycling race from Delhi to Pune to commemorate 200 years of their existence. The event was flagged-off on 24 January from the ramparts of Kashmir House, the Headquarter of the Corps of Engineers by 96 years old Bombay Sapper Lt Gen SN (Tindy) Sharma, PVSM, AVSM (Retd) former Engineer In Chief and a paratrooper , whose last para jump was at the age of 88 . Lt Gen Srivastava ,the Engineer In Chief was also present to flag- off the cyclists.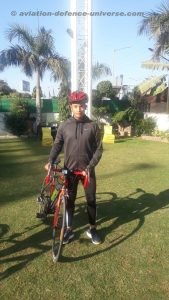 The expedition has twenty riders led by Lt Gen SS Hasabnis, PVSM, VSM, ADC, DCOAS (P&S) the senior most serving Bombay Sapper who would be cycling approximately 350 km. Each of the other riders, some of whom are cyclists of national repute would also cycle same distance. The expedition will pass though Jaipur-Udaipur-Ahmedabad-Thane and finally conclude at the Bombay Sappers War Memorial at Pune on 30 th Jan 2020. Lt Rajesh Singh & two more cyclists would join the expedition at Jaipur. The expedition will traverse a distance of approximately 1650 Km ,thus making it one of the longest organized cycling events in the country.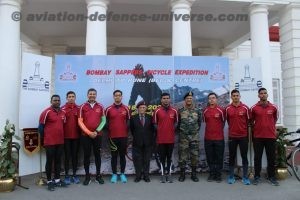 This expedition is in the series of expeditions conducted by BEG & Centre, Pune to mark the historical occasion of 200 years of its raising. The expeditions include Motor Cycle expedition from Dras to Pune planned over a distance of 3687 Kms through eight states over 26 days from 26 July to 21 August 2019, Mountaineering expedition to Mount Baljuri (5922 mtrs) from 29 Aug to 30 Sep 2019, Bicentenary Marathon at Dighi Hills on 05 Jan 2020 & Sailing expedition from Mumbai to Okha & back from 15 to 27 January 2020.
The event aims to spread message for all of us and to the audience enroute to not only inculcate cycling as a habit for adventure but also to keep the environment in sustainable state by reducing air and noise pollution.
For more on legendary Lt Gen Tindy Sharma & the three illustrious brothers ,visit Aviation & Defence Universe & watch their interviews in the Video Gallery of Bombay Sappers Special & Video Gallery of Army Day Special .
Also view the interview of Lt Gen SS Hasabnis on Bombay Sappers Special.