Bangkok. 10 October 2020. Thai Vietjet has commenced its maiden flight from Bangkok (Suvarnabhumi) to Ubon Ratchathani, one of the four major cities of Isan, a region in northeastern Thailand, also known as the "big four of Isan".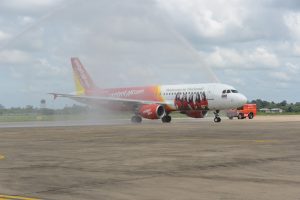 The inaugural flight VZ220 safely landed with the warm welcome of water salute and flowers from Mr. Sarit Witoon, Governor of Ubon Ratchathani Province, Mr. Sathirawat Ponnark, Vice President Operations cum Managing Director of Thai Vietjet, leaders of Ubon Ratchathani International Airport and Tourism Authority of Thailand Ubon Ratchathani Office.
The newest domestic service of Thai Vietjet operates daily return flight starting October 6, 2020 with flight duration of around 1 hour 10 minutes per leg. This is the third route of the airline connecting the capital city of Bangkok to major destinations in Northeast region including Ubon Ratchathani, Khon Kaen and Udon Thani, contributing to the promotion of economy, tourism and trade regionally and nationally.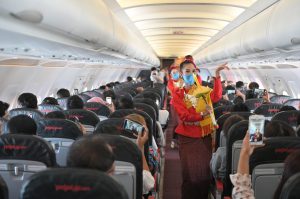 Celebrating the airline's 9th domestic service from Suvarnabhumi hub and 11 routes across Thailand, Thai Vietjet offers super special tickets priced from just THB0 (excluding taxes, fees) to fly on all Thai Vietjet's domestic routes in Thailand from Bangkok (Suvarnabhumi) to Ubon Ratchathani, Chiang Mai, Chiang Rai, Phuket, Krabi, Udon Thani, Hat Yai, Khon Kaen, Nakhon Si Thammarat, Surat Thani (starting from 4 Nov 2020), Chiang Rai to Phuket and Hat Yai (starting from 1 Nov 2020). The tickets are available on all the distribution channels, applicable for booking within golden hours 12:00 – 14:00 during 6 – 10 October, 2020, with travel period from 1 November 2020 – 30 June, 2021 (Excluding public holidays).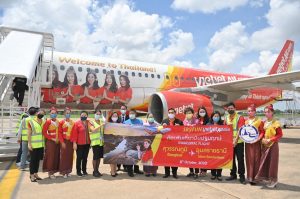 To ensure the health of the community and to prevent the pandemic, Vietjet has been strengthening the coordination of disease prevention, strictly controlling health check procedures for passengers and crews before and after each flight, following required medical regulations, etc. All Vietjet flights are in accordance with all global supreme standards and recommendations from authorities, the World Health Organization (WHO) and the International Air Transport Association (IATA) in order to ensure the health and safety for passengers, flight crews and the community.