East Hartford, Conn. 12 August 2019. The American Society of Mechanical Engineers (ASME) has awarded to Thomas Prete, vice president, Engineering, Pratt & Whitney Military Engines, the 2019 Aircraft Engine Technology Award, and to Dr. Om Sharma, senior technical fellow, Aerodynamics and Gas Turbines, United Technologies Research Center (UTRC), the ASME R. Tom Sawyer Award. Pratt & Whitney and UTRC are divisions of United Technologies Corp..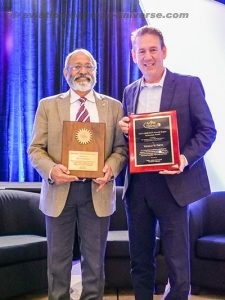 Prete was nominated for his outstanding contribution to air-breathing propulsion through inspiring leadership, education and research, having major impacts on aircraft engine operational capability, performance and design. Throughout his career, Prete has held numerous technical leadership roles on Pratt & Whitney's cutting-edge fighter engine programs including the F100 that powers the F-15 Eagle and F-16 Fighting Falcon, the F119 for the F-22 Raptor and the F135, which powers all three variants of the F-35 Lightning II. Prete also led the Engineering organization through the certification of the first Geared Turbofan family of engines. In addition to leadership roles in engineering, Prete has held leadership roles in operations, aftermarket and customer support during his 30-year tenure at Pratt & Whitney.
"The Aircraft Engine Technology Award not only recognizes the advancement of technologies and capabilities, but also the advancement of people and the next generation of engineers," said Prete. "This award is not about me; it's about the other brilliant engineers who I have been lucky enough to work with and who deserve this every bit as much as I do."
Dr. Sharma was recognized as an individual who has made important contributions to advance the purpose of the gas turbine industry and the ASME International Gas Turbine Institute over a substantial period of time. His accomplishments include contributing to enhancements in design processes used in axial flow turbines and pioneering the use of 3-D airfoils.
"Throughout my 42-year career with United Technologies Corporation, I have been fortunate to work with talented teams who have played integral roles in the development of physics-based models that drive engine innovation today," said Sharma. "The R. Tom Sawyer Award acknowledges the dedication, skills and hard work required to improve and pioneer state-of-the-art turbomachinery capabilities that have enabled people to travel trillions of miles, and I am honored to receive this award on behalf of our collective efforts."
Prete and Sharma received their awards at the ASME Turbo Expo conference in June. In conjunction with the award, Prete delivered a distinguished lecture, "Evolution and Revolution in Fighter Jet Propulsion — Past, Present and Future."
ASME is a not-for-profit organization that promotes the vital role of the engineer in society. It is comprised of more than 100,000 members; more information can be found here.