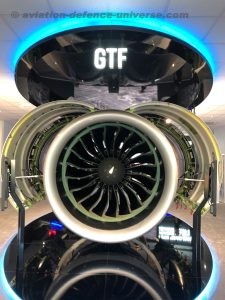 Paris. 21 June 2019. Pratt & Whitney, a division of United Technologies Corp., estimates that its Pratt & Whitney GTF™ engine customers collectively have saved more than 150 million gallons of fuel valued at $270 million USD, while avoiding 1.5 million tonnes of carbon emissions since the engine entered service in 2016. The GTF engine program continues to attract new orders and is ramping up production deliveries, all while supporting a growing in-service fleet.
"The GTF engine is providing incredible value to our customers, enabling them to reduce operating costs while opening new markets," said Tom Pelland, senior vice president, Commercial Engine Programs at Pratt & Whitney. "The geared architecture is delivering fuel savings and environmental benefits that are unmatched in the industry today."
Over the past year, the company welcomed 14 new airlines to the in-service GTF family, and more than doubled the fleet. There are now over 470 GTF-powered aircraft in operation with 36 airlines around the world. Total engine flight hours are over 2.7 million for the combined GTF powered fleet of A320neo family, A220 and E190-E2 aircraft.
Pratt & Whitney production rates are at historic highs as the company continues to ramp up production and remains on track to meet GTF engine delivery commitments for the year. GTF engine shipments in the first quarter of 2019, including those in the spare engine pool, more than doubled those from the first quarter of 2018. Pratt & Whitney developed the world's first horizontal jet engine assembly lines which provide up to 50% more productivity compared to the traditional assembly process.
Pratt & Whitney is investing more than $2.5 billion in 21st century manufacturing and aftermarket technology to transform its global footprint to support the ramp up of the GTF and other engine programs.
Since entering into service in early 2016, the GTF engine family has delivered on its promised ability to reduce fuel burn by 16 to 20 percent, and to dramatically reduce regulated emissions and noise footprint.