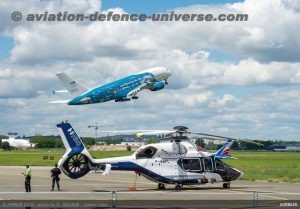 Le Bourget. 21 June 2019. From Airbus' smallest single-aisle jetliner – the A220, to the world's largest passenger airplane –the A380, the company's commercial aircraft family had a high-profile presence at this week's Paris Air Show. An A380 utilised by Portuguese leasing specialist Hi Fly was a crowd-pleaser during today's flying display, while an A220-300 in the colours of Latvian operator airBaltic was included in Airbus' exhibit area at Le Bourget Airport.
The A380's operational numbers are as impressive as its size: approximately 140,000 passengers are transported daily by the 230-plus aircraft in service today, with some 150 routes and 70 destinations serviced by the jetliner. Equally remarkable are the fleet statistics: a daily utilisation of 13-plus hours, average flight durations of more than eight hours, and a 99.1% operational reliability.
This underscores the double-deck jetliner's continuing role in boosting traffic, feeding networks and hubs, as well as helping maximise profitability for airlines and carriers around the world. Its flexibility is demonstrated by the variety of routes flown, as illustrated by the fleet-leader, Emirates (currently operating more than 100 A380s on 550 weekly flights), with trips ranging from the 1-hour, 350-km. trip between Dubai and Muscat to long-haul and ultra-long-haul routes linking Dubai with Los Angeles (13,800 km), Dallas (15,200 km), and Auckland (15,250 km, for a flight duration of 16 hours).
A380 services meet airlines' needs for additional seats
Airbus' tagline for the A380 is: "More seats to meet demand," which is illustrated by such multi-frequency utilisation as Emirates' Dubai to London service (nine daily A380 flights), between London and Singapore (a total of six daily trips, operated by British Airways, Qantas and Singapore Airlines), five daily Singapore-Sydney flights (flown by Qantas and Singapore Airways), and four daily trips linking Abu Dhabi and Paris (Etihad Airways).
Other examples of services that benefit from the A380's size, efficiency and passenger comfort are Malaysia Airline's Amal pilgrim flights to Saudi Arabia for Hajj and Umrah; Tokyo-Honolulu flights by the latest A380 operator – All Nippon Airways – introducing a new level of luxury service for passengers on the no. 1 resort route for Japanese travellers; and missions performed by Hi Fly (the first A380 wet-lessor, using second-hand aircraft) on behalf of Air Austral, Air Senegal, Norwegian, and Thomas Cook.
Although Airbus' production of the A380 is to be phased out by 2021, there's a long future ahead for this jetliner. In addition to the commitment for continued support, services and spares availability by Airbus and its suppliers, the A380 fleet will benefit from operational improvements and optimisation of the A380's maintenance programme.
iflyA380.com makes it easy to find and book A380 flights
To facilitate passengers' search and reservation of A380 flights, the Airbus iflyA380.com booking assistant website and smartphone application remain popular platforms, attracting millions of visitors since their launch in 2016 and 2018, respectively. They provide all information necessary to choose an A380 flight, and also feature Instagram posts by passengers sharing their experience aboard the aircraft.
Today, an A380 takes off or lands every two minutes somewhere in the world, and the iconic jetliner will be proudly flying for decades to come.
Airbus' smallest jetliner A220: the airBaltic experience
In addition to having airBaltic's A220-300 on display at Le Bourget Airport, the airline briefed international journalists on its experience since the service entry in December 2016. The 150-seat two-class jetliner features the quietest cabin in its category, offering wide-body comfort in a single-aisle configuration.
"The aircraft has contributed to a range of changes in airBaltic's business model with its economics and the positive passenger experience," said Martin Gauss, airBaltic's CEO. "Additionally, this 150-seat airplane allows us to enter markets unavailable to competitors."
Gauss expects the A220's new extended range to provide even more opportunities for the operator, opening routes such as Riga, Latvia to Addis Ababa in Ethiopia. The A220's comfort and reliability were reconfirmed when airBaltic was chosen as the Pope's official carrier during his visit to the Baltic states in 2018. "After the trip, Pope Francis told us he was very happy with the aircraft, as it gave him and his delegation the comfort level he expected," said Gauss.
Airbus' vision for autonomous flight
Another topic highlighted at the Paris Air Show was autonomous technology – underscoring Airbus' core goal of connecting and protecting people, embracing autonomous technology to serve its missions. Autonomous flight is changing the aerospace and transportation industry – and Airbus innovation is at the forefront of this transformation. Autonomous systems already exist across the company's product portfolio – from space launch vehicles and satellites to drone systems and commercial aircraft.
Airbus' Silicon Valley outpost, A3, is contributing to the company's vision on autonomy through Wayfinder: a project which is creating scalable, certifiable autonomy-related systems that can power self-piloted aircraft applications throughout Airbus – ranging from small urban air vehicles to large commercial jetliners.
The work began with another Airbus innovation – the Vahana all-electric, self-piloted demonstrator – for which the Wayfinder team developed the on-board detect-and-avoid systems used to safely navigate in high-density urban airspace. As a result of this successful project, Wayfinder was launched to evolve a common set of software and hardware to be used in a scalable way for a range of aircraft – focusing on technology, data-driven development processes and safety.
Technologies developed by the team can provide both near-term and long-term value to Airbus, supporting the company's position as an aerospace industry leader and innovator.
Partnering with start-ups for technological breakthroughs in FCAS
In other developments at the Paris Air Show, Airbus announced plans to cooperate with innovative technology players – including start-ups, small and medium-sized enterprises as well as research institutes particularly in the software domain – with the aim of unlocking new ideas, technologies and research for Europe's Future Combat Air System project. Airbus also has begun seeking suitable partners with the help of such internal initiatives as Airbus BizLab and Airbus Ventures. Bruno Fichefeux, the Head of FCAS at Airbus, believes partnering with innovative industry players will allow Airbus to remain at the cutting edge of development, ensuring the ambitious European FCAS military aviation project will benefit from the industry's latest technological advances.