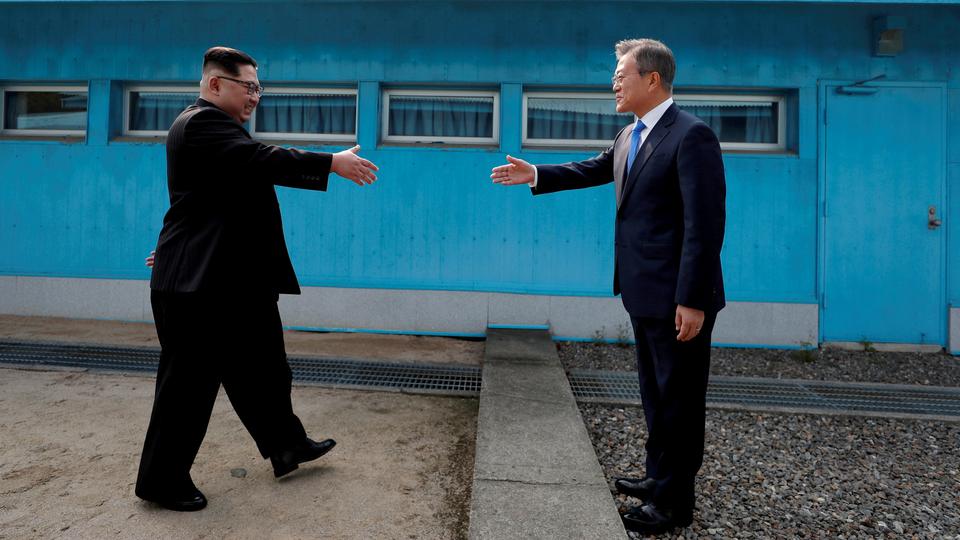 By Suresh Somu
Jakarta. 09 July 2020. TOPSY-TURVY is very seriously the word to describe ongoing talks between North Korea, South Korea with the latest gesture from South Korean President Moon Jae-in, in offering to mediate between Kim and Trump before the U.S. elections in November, literally going to the dogs.
Analysts following the hot-headed past three weeks said that South Korea should stop meddling in others' affairs but it seems there is no cure or prescription for its bad habit.
Seriously, we're heading close to doomsday as gone were the days where one could see North Korean Leader Kim Jong Un with South Korean President Moon Jae-in in broad smiles. From smiles to frown, as North Korea took the position of 'fire and fury' towards the South Korea to the fullest. And North Korea attempts to de-escalate the tension. However, given the recent spate of events, one could surmise ties between North and South Korea is crumbing and it will be an uphill task for Moon to get anywhere close to this.
So when Moon desperately offered to mediate between North Korean leader and the US President, North Korea responded with no, thank you in the nicest possible way. in a statement carried by the official KCNA news agency, North Korea made it clear that they had no intention to sit face to face with the United States. So it appears that the rift has widened at an alarming pace and few want to speculate what would be the end product.
LEADER SISTER
In past weeks, North Korean's leader sister, Ms Kim Yo Long has taken a lead role in new hardline stance against South Korea. Analysts opined that the sibling is just not a mere assistant to the supremo Kim but a substantive policy role. For years, she has worked behind the scenes till she made her first statement with threat towards South Korea. She warned that Seoul will soon witness a "tragic scene of the useless North-South joint liaison office completely be collapsed."
Commenced with a series firing of multiple shorts towards a South Korean guard post at the demilitarised zone to the most recent blow up of inter-Korean liaison office in Kaesong. So yes, she did walk the talk and could well be establishing herself as the unofficial No.2 (after her brother).
South Korea is usually seen as an easy game for Pyongyang to lay blame on with continued provocations, the weakest link in its diplomatic outreach with the Untied States. In fact, President Kim may well believe that he does not have much to lose by increasing the pressure on the South Korean leader. And so North Korea's action could well be construed as raising the ante, by trying to punish, scare and even force Seoul to work harder to meet Pyongyang's demands. With the heighten inter-Korean tension, Pyongyang could well be underway to ditch the past concept of negotiations through Seoul. And push for direct discussion with the United States pertaining to nuclear issues.
AMERICAN ENVOY
The recent American envoy arrival in South Korea is seen as an effort to renew the stalled nuclear talks with North Korea, exhibits United States readiness to re-engage and make substantial progress. But timing is bad for Mr Trump who is bogged down by the Covid-19 pandemic in the US and his re-election campaign.
Mind you, Trump and Kim met for the first time in 2018 in Singapore, raising hopes for a negotiated end to North Korea's nuclear programme. But their second summit, in 2019 in Vietnam, and subsequent working-level negotiations fell apart.
Yang Moo-jin, a professor at the University of North Korean Studies in Seoul, said the North Korean statement reflected lingering inter-Korean tension and North Korea's view that nuclear issues should be discussed only with the United States. "It also suggested that North Koreans would ditch the past concept of negotiations where the South played a broker role, and won't return to the table without major U.S. concessions," Yang said.
The rebellious North Korea patience is seriously wearing thin. And it is not prepared to return to the table without major U.S concessions by hardball. Both ways may well not work with the rest of the world keeping its fingers simply crossed.