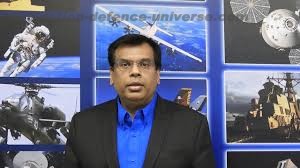 New Delhi. 07 June 2019. Futuristic technologies are going to be game changers in aerospace world for both military and civil applications. At the Paris Air Show 2015 Lockheed Martin had invited journalists to a presentation on its LMH-1 hybrid airship, in 2017 Paris Air Show the company had informed that it had received letters of intent and in 2019 with the airshow at Le Bourget jut ten days away the company is optimistic of the demand for the Hybrid Airship.
As the stage is all set for the Paris Air Show Aviation & Defence Universe(ADU) interviewed Dr. Vivek Lall, Vice President, Lockheed Martin & Member, Federal Advisory Committee, US Government , focusing on Hybrid Airships hoping that this show turns out to be an apt launch pad for this aircraft with a difference.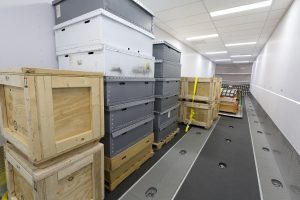 ADU. Why do we need a Hybrid Airship to deliver goods in remote areas when helicopters can do just the same without taking so much of landing space?
VL. Helicopters are well suited for precision vertical operations, but the Hybrid Airship excels in three primary areas. First, Hybrid Airships offer large payload capability (47,000 lbs). Second, the cost of operations is one-tenth that of a helicopter. Third, due to its advanced flight control system, the Hybrid Airship is significantly safer to operate compared to helicopters.
Hybrid Airships allow access virtually anywhere, water or land, in wide range of weather conditions, without forward infrastructure or manpower required. For many projects, the combination of these capabilities makes Hybrid Airships the best economic choice and an environmentally friendly alternative to traditional modes of transportation.
ADU. It has been more than a decade since the technology demonstrator P-791 flew for the first time and LM has still to start the construction of the airship. Why the delay?
VL. Lockheed Martin continues to complete engineering work to support the LMH-1, but we have not yet launched production. Change is always difficult, and the hybrid airship represents not just a change in transport device but also a major change for how users think about remote access projects. The flexibility and cost structure differences are as radical as the change from land line phones to mobile smart phones. Throughout the last decade we have been working with user groups around the world to understand their needs and provide a system that solves their most difficult challenges reliably, affordably, and sustainably.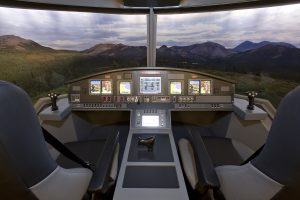 ADU. When will it begin and where will be the manufacturing line?
VL. The Skunk Works team continues to complete engineering work to support the LMH-1. Final assembly of the aircraft will be at the Lockheed Martin facility in Palmdale, California.
ADU. How many countries are in the supply chain of the airship?
VL. There are currently six countries supporting major components of the airship design, but as sub-component and material sources are identified, this number will likely grow.
ADU. How will LM manage the spare parts need?
VL. Lockheed Martin has vast experience in producing, operating and sustaining aviation systems. We anticipate the Hybrid Airship will be supported in a similar manner with the introduction of regional service centres around the globe.
ADU. Keeping in mind the design and material used for the body of the airship how will leaks be managed?
VL. The pressure of helium gas in the envelope is very low, and if punctured, will very slowly let air in and helium out. The envelope will not pop like a balloon. Small holes are repaired in the field with adhesive patches which is typical for airship operations. A small hole in the envelope would not be detectable for at least a week.
Lockheed Martin developed a small autonomous robot that scans the airship and patches tiny pinholes found in the envelope known as SPIDER, or Self-Propelled Instrument for Damage Evaluation and Repair. The pinhole is patched with an adhesive material of the same composite as the envelope. This drives efficiency and cost savings during final assembly and maintenance operations.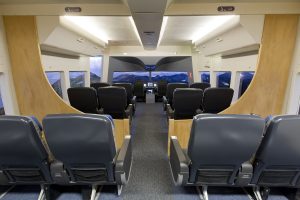 ADU. Won't the huge size of the airship be a hindrance to operations in remote mountainous terrain?
VL. The airship size does not deter operations in remote mountainous terrain. Its design is ideally suited for remote operations around the world and is capable of landing on unprepared, level surfaces. Its primary mission is supporting large cargo operations in remote areas not served by transportation infrastructure such as roads, railways and navigable water ways.
ADU. Who are your rivals in the field of Airship manufacturing and where does your project stand vis-à-vis theirs?
VL. There are other companies pursuing the development of airships which demonstrates the promise of the technology. Our airship design is unique in that it is nonrigid and heavier-than-air, using a combination of buoyant lift and aerodynamic lift to carry payloads.
ADU. Are defence forces prospective customers of the airship?
VL. Our detailed studies show that initially the airship has the highest value in markets and locations that have very little transportation infrastructure. These include mining, oil and gas, and remote cargo operations. In the future, cargo operations for military customers is certainly a possibility.


ADU. Hasn't the post crash hiatus been very long for the Airship programme of LM?
VL. The Airlander crash did not cause a hiatus for the Lockheed Martin Hybrid Airship program. Strong interest for they Hybrid Airship remains for perspective customers around the world.
ADU. What is the speed at which it will fly and what is the fuel capacity expected?
VL. Hybrid Airships would be faster than land and sea transportation systems with a nominal cruise speed is approximately 60 knots at altitudes up to 10,000 feet in an unpressurized system. Lower speeds improve the system efficiency, thus reducing operating costs. Fuel capacity is 5,000 gallons.
ADU. Which companies are doing the interiors of the airship? Can you share some design pictures?
VL. Lockheed Martin is responsible for the entire airship design.
ADU. How much will one airship cost to build?
VL. We will not disclose production costs. Cost to purchase the airship is approximately $40 million for the baseline system.
ADU. Will it also be projected as a hotel in the sky to attract buyers?
VL. Potential buyers have expressed interest in leveraging the airship for tourism, but Lockheed Martin is focused on introducing the technology with cargo operations as the primary mission.
ADU. Will it have defence applications?
VL. The U.S. DoD uses commercial aircraft for multiple transportation missions that keep the assets out of harm's way. With its ability to operate with very little infrastructure, the Hybrid Airship is uniquely suited to support humanitarian assistance and disaster relief.