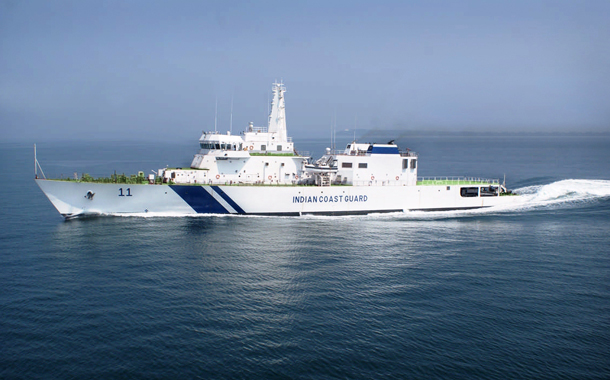 New Delhi. 31 December 2018. Indian Coast Guard is the national coordinating agency for maritime search and rescue in the vast 4.6 million square kilometres of Indian Search and Rescue Region. Director General Indian Coast Guard is the Chairman of National Maritime Search and Rescue Board which is responsible to coordinate M-SAR related matters. But this is not all it does. Lets take a look at all it did in 2018.
Operations
Extended EEZ surveillance: In addition to undertaking maritime surveillance in Maritime Zone of India, ICG ships and aircraft are also deployed for undertaking maritime surveillance of littoral states. In 2018, ICG undertook three extended EEZ deploymentsin the Maldivian EEZ, by ICG ship Sarathi in February-April, 2018 and ICGS Samarth in April-May, 2018 followed by one ICG Dornier Aircraft in July-August 2018.
Coastal Security
Coastal Security Exercises: Indian Coast Guard, in coordination with Navy, has been undertaking patrolling and surveillance of the entire coastline. Since 2009, a total of 180 Coastal Security Exercises have been conducted for ensuring effectiveness of the coordinated patrolling and validation of Standard Operating Procedure.
Coastal Security Operations: With the sustained impetus on Coastal Security total of 351 Coastal Security Operations have been conducted since 2009, in coordination with all stakeholders.
Search and Rescue
Distress Beacon Exercise: In order to enhance efficacy of M-SAR construct, series of Beacon exercises are being conducted. The 14th and 15th exercise was conducted on May, 23-25 and September, 26-28, 2018 respectively. Active participation was witnessed from Defence and Civil and a total of 96 beacons were tested in 2018.
SAR Exercises: With imperatives to validate the National Maritime SAR plan and to exercise the resource agencies for enhanced operability towards collaborative approach for strengthening the maritime SAR mechanism, Maritime Search and Rescue exercises were conducted under the aegis of NMSAR Board. Large scale participation of National Maritime SAR Board Member agencies, stake holders, resource agencies, national and international observers was witnessed during the exercises conducted in 2018 which are as under:-
(a) National Maritime Search and Rescue Workshop & Exercise (SAREX-18) conducted between January 16-17, 2018 off Chennai. The SAR exercise was in series of the biennial exercise conducted by ICG.
(b) Regional Maritime Search and Rescue Exercise Mar 19 & 21, 2018 off Port Blair, Andaman and Nicobar Islands.
Maritime SAR Workshop & Interactive Sessions: Under the aegis of NMSAR Board, ICG took the initiative of conducting Maritime SAR Workshop & interactive session for mariners, fisherman and stake holders. These initiatives were aimed towards building up a collaborative approach for strengthening safety of fisher-folks and mariners and enthusing safety consciousness among coastal communities.
SAR Communication Exercise: With a view to reinforce our operational linkages with leading Maritime SAR service providers in the Indian Ocean Region, MRCC (Mumbai), MRCC (Chennai) and MRCC (Port Blair) conducted Search and Rescue Communication Exercises (SARCOMEX) with friendly countries in the year 2018, that include Oman, Bangladesh, Indonesia, Malaysia, Qatar, South Korea, Vietnam, Sri Lanka, Myanmar, Australia.
XVII National Maritime Search and Rescue (NMSAR) Board Meeting. The XVII National Maritime Search and Rescue (NMSARB) meeting was held at Vigyan Bhawan Annex, New Delhi on Jul 05, 2018 under the chairmanship of Director General, ICG and Chairman, National Maritime Search & Rescue Board, Shri Rajendra Singh.The meeting was attended by all the board members alongwith other special invitees alongwith Fisheries department representatives from five States. Various issues related with safety of fishermen and mariners were reviewed and discussed. During the meeting annual NMSAR awards were also distributed by the Chairman, NMSAR Board. The 'ICG SAR Award for Fisherman' was awarded to Milan Shankar Tare, Owner & Master of fishing boat 'Dharti' for saving 12 lives from sinking fishing boat 'Shivneri' 33 NM off Tarapur, Maharashtra.
Aid to Civil Authority
Ganesh Utsav-2018: During immersion ceremony of idols of Lord Ganesh along the Mumbai coast, CGRHQ (West) conducted 'Operation Utsav' from 13 – 23 Sep 18 to carry out surveillance and provide SAR cover during the ceremony. ICG ships and aircraft provided search and rescue cover to the devotees on September 14, 17, 19 and 23, 2018.
Assistance to Civil Authority : Kerala Flood:In response to the Kerala floods in August 2018, ICG launched a large scale Disaster Response & Relief Operation code named 'Op Rahat'. ICG mobilised eight ships, four Dorniers and three helicopters during the operation. Thirty six Disaster Response Teams, each comprising 7-9 ICG personnel were deployed in the flood affected districts of Kerala.
ICG Efforts Towards cyclone 'LUBAN' in Arabian Sea: Consequent to formation of cyclone Luban in South East Arabian Sea on October 01, 2018, ICG launched a large scale rescue and relief operation. CG Disaster Response teams were formed at Kochi and Gemini, life boats were kept standby for deployment at short notice. On an average 10-12 Ships, 05-06 Dornier aircraft and 01-02 helicopter were deployed for warning/ sensitizing fishermen at sea and guiding them to return harbour.
ICG Efforts Towards cyclone 'Titli' in Bay of Bengal: ICG again launched a large scale rescue and relief operations during the onset of cyclone 'Titli', which formed in the Bay of Bengal on October 08, 2018. Three CG Disaster Response teams were employed at Gopalpur while 04 CGDRTs at Paradip and 06 CGDRTs at Haldia were kept standby. On an average 08 Ships and 03-04 Dornier aircraft were deployed for warning/ sensitizing fishermen at sea and guiding them to return harbour.
ICG Efforts Towards cyclone 'Gaja': Consequent to formation of low pressure in North Andaman sea around November 08-09, 18, Indian Coast Guard initiated series of pre-emptive measures from November 09, 2018 onwards to ensure safety of fishermen operating at sea.
International Cooperation
Memorandum of Understanding (MoUs) : India has acceded to various international conventions dealing with maritime safety and security and marine environment protection. Accordingly, ICG endeavours for making seas safe, secure and clean with its international partners. ICG has signed MoUs with the Bangladesh CG, Japan CG, Korea CG, Royal Oman Police CG, Sri Lanka CGand Vietnam CG for cooperation on CG-relevant maritime issues. In addition ICG and Pakistan Maritime Security Agency have established a communication link as part of MoU between the Ministries of Defence of both Governments. Bilateral Interactions
Signing of MoU between ICG and SLCG: A Memorandum of Understanding between ICG and the Coast Guard of Sri Lanka was signed on May 09, 2018 in Colombo for the establishment of a collaborative relationship to combat transnational illegal activities at sea and develop regional cooperation between the ICG and Sri Lanka Coast Guard.
Joint Exercises
Joint Exercise with Bangladesh Coast Guard: BCG ship Tajuddin visited Chennai between May 25-28, 2018 for joint exercise under the provisions of MoU. The ship also visited Vizag from May 30 to June 02, 2018 for professional interaction with ICG.
Joint Exercise with Japan Coast Guard: ICG-JCG annual joint exercise was conducted off/at Chennai between January 16-17, 2018. The JCG ship Tsugaru ship alongwith integral helicopter participated in the joint exercise.
Marine Environment
Signing of MoU for Cooperation on the response to Oil and Chemical Pollution in the South Asian Seas Region: Director General ICG on behalf of Government of India has deposited instrument of consent to Director General, South Asia Cooperative Environment Programme (SACEP), Colombo, Sri Lanka on May 12, 2018 in respect of MoU for cooperation on the response to oil and chemical pollution in the South Asian Seas Region (comprising of maritime nations – India, Bangladesh, Maldives, Pakistan and Sri Lanka).
International Coastal Cleanup Day – 2018: Towards ongoing efforts of the Government for the 'Swachh Bharat Abhiyan' and Prime Minister's appeal for mass cleanliness and sanitation campaign, through "Swachhta Hi Seva", the Indian Coast Guard conducted International Coastal Cleanup Day-2018 (ICC-2018) in all Coastal States/Union Territories on September 15, 2018. Nationwide, a total of 22,026 volunteers participated in the ICC-2018 campaign, which resulted in collection of 71,220 kilogrammes of marine litter.
Fisheries Protection
Apprehension of Foreign Fishing Vessels: Coast Guard apprehended 04 foreign fishing boats alongwith 26 foreign crew under the provisions of the MZI Act, 1981 since January 2018.
Repatriation of Indian and Foreign Fishing Boats: The repatriation operations are directly coordinated by the Coast Guard Headquarters which involves extensive committed liaison with MEA, the Indian High Commission in the respective countries, State Fisheries departments and District Administration. Coast Guard repatriated 11 Sri Lankan and 26 Pakistani fishermen from India and 155 Indian fishermen from Sri Lanka have been undertaken since January 2018.
Aviation
16 Advanced Light Helicopters (ALH) MKIII: Contract towards supply of 16 ALH MK-III has been concluded with M/s Hindustan Aeronautics Limited (HAL) on March 29, 2017 and successful ground run of first Green aircraft has been carried out in June 2018. Integration and certification of systems is in progress and delivery of first two helicopters is scheduled in March 2020. These helicopters are equipped with state-of-the-art technology and are capable of surveillance, interdiction, standoff support for ship boarding parties and pollution response from ships.