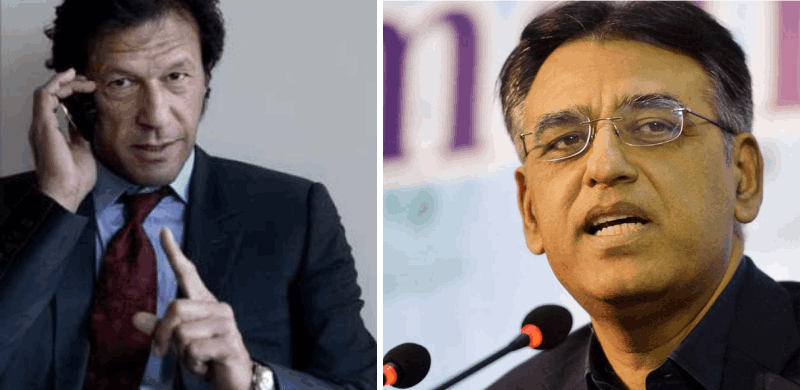 By JK Verma
New Delhi. 21 April 2019. The information about the resignation of the Finance Minister Asad Umar on April 18 came as a jolt, as at present Pakistan is passing through a severe economic crisis, inflation, extreme price rise and precarious law and order situation. Umar first shared the information about his resignation on his twitter handle, and then addressed a press conference at Islamabad.
The informed sources mention that the deep state was not happy with Umar as he was close to Imran Khan while they wanted to put finance minister who is loyal to defence forces. Hence the sinister Inter Services Intelligence (ISI) launched a malicious campaign against Assad. It was alleged that Assad was unsuccessful in taking out Pakistan from deep economic disaster. The financial experts also criticised Umar's policy of taking short-term loans from friendly countries like Saudi Arabia, United Arab Emirates (UAE) and China instead of trying to get a rescue package from International Monetary Fund (IMF).
The business community was also against Assad and in December 2018 they met Punjab Governor Chaudhry Mohammad Sarwar and complained about the faulty economic policies of Finance Minister. Chaudhry Sarwar who is close to Deep State conveyed the complaint of businessmen to prime minister Imran Khan through Jahangir Tareen who is close aide. It was also mentioned that Assad who was Chief Executive Officer of Pakistani company Engro Corp has no idea how to run the economic policy of a country which is passing through a difficult economic crisis. Few journalists close to ISI were continuously writing against the policies of Assad and were projecting him as a failed finance minister and were also speculating that he will be removed soon.
Assad was removed just after his return from USA where he met the officials of IMF and discussed about the bailout package. It is learned that he was able to convince IMF officials to provide multi-billion-dollar IMF bailout package. The IMF team will visit Pakistan in April to finalise the details before sanctioning the bailout package. Removal of finance minster in April is also crucial as in June, budget will also be presented. Dr. Abdul Hafeez Pasha will head the finance ministry as the advisor of Prime Minister after the removal of Assad Umar. Pasha also served as finance minister during the regime of Pakistan Peoples Party from 2010 to 2013. Assad was offered the post of energy minister, but he declined to take energy ministry.
The prime minister changed few more ministers, but the analysts claim that the appointment of Brigadier (R) Ijaz Shah as Interior Minister is crucial. Ijaz Shah was Director General of Intelligence Bureau at the time of President General Pervez Musharraf and there were charges of his involvement in political victimisation. He also served in ISI. It is expected that Ijaz Shah will put more restrictions on press and will be ruthless with the opposition parties especially with Pakistan Muslim League (N). He is close to Pakistan army and will implement their policies in letter and spirit.
The change of portfolio of Fawad Chaudhry from Information Minister to Ministry of Science and Technology was also unanticipated. Besides these changes there were few more alterations in the cabinet and three more new advisors to prime minister were appointed.
Pakistan's grading was downgraded by The Standard & Poor (S&P) one of the top global rating agencies in February 2019 because of the delay in getting the bailout package from IMF. The public resentment is also increasing because government is unable to support welfare schemes due to lack of funds. Although government got some relief because of financial assistance rendered by friendly countries like Saudi Arabia, UAE and China but the economy needs a bailout package from IMF which will be 13th since 1980. Pakistani rupee lost about 35 percent in last few months and the inflation is at a five-year high. The Central Bank of Pakistan's forecast is 3.5 to 4 percent growth while IMF predicted that the growth will be 2.9 percent in 2019 and 2.8 percent next year. However, Pakistan government just to please the masses gave much inflated figure of 6.2 percent growth.
Pakistan needs a bailout package from IMF, and it sent a nine-member team to Islamabad in last week of March to assess the progress. However, the analysts mention that the team was dissatisfied with the performance of Pakistan government and raised several points including the weaknesses in the legal system. The visiting team also pointed out that several NGOs are working as the frontal organisations of terrorist outfits and government has failed to control them. The replies submitted by various government departments were unsatisfactory hence the chances that IMF will remove Pakistan from "grey list" is remote. IMF also wants to ascertain the terms and conditions Pakistan agreed under China Pakistan Economic Corridor (CPEC). IMF apprehends that Pakistan will utilise the bailout package of IMF in servicing the interest of the loan given by China under CPEC.
The deep state should realise the pathetic economic condition of the country and should try to full-fill the conditions laid down by IMF. Pakistan should also stop assisting terrorist outfits so that its image of terrorist country finishes, and IMF removes it from 'grey list'. Pakistan should also analyse terms and conditions of various contracts under CPEC with China. Several countries are revising the terms of contract signed under The Belt and Road Initiative (BRI). The BRI is a debt-trap and Pakistan should also try to come out from it.
(Jai Kumar Verma is a Delhi-based strategic analyst and member of United Services Institute of India and Institute for Defence Studies and Analyses. The views in the article are solely the author's. He can be contacted at [email protected])