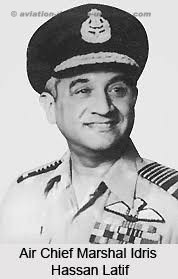 By Team ADU
New Delhi. 30 April 2018. It is a sad day for Indian Air Force as the air warriors and  the whole nation mourns one of its greatest Air Warriors Air Chief Marshal Idris Hasan Latif . Born on 09 June 1923, he was a Chief of Air Staff of the Indian Air Force, having served as such from 1978 to 1981. After retirement, he has also served as the governor of the Indian State of Maharashtra (1982–85) and later as the Indian Ambassador to France till 1988.
Air Chief Marshal Latif was commissioned into the Royal Indian Air Force in 1942, and took part in the Burma Campaign on the Arakan Front during World War II. Later, he was a member of the Indian Advisory Group to Indonesia that helped the Indonesian Air Force induct jet fighters.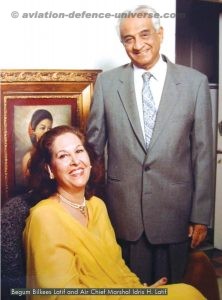 Latif also served as Air Defence commander and Senior Air staff officer in Eastern Air Command. During 1961-65, Latif was the air attaché at the Indian embassy in Washington D.C. During the 1971 Indo-Pakistani war, he was Assistant Chief of Air Staff (plans). In 1971, he was awarded the Param Vishisht Seva Medal. In 1974, Latif was promoted to the rank of Air Marshal and posted as air officer in charge, administration, at Air Headquarters. He led Air Force relief operations during the Patna floods in 1975. In 1977, then he was posted as Vice Chief of Air Staff and took over as Chief of Air Staff on 01 September 1978.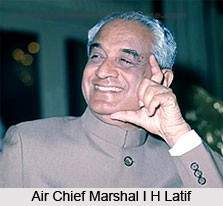 After retirement from active military service, Air Chief Marshal IH Latif was appointed as Governor of the Indian State of Maharashtra, on 6 March 1982, completing his tenure on 16 April 1985. Following this, Air Chief Marshal IH Latif was appointed Ambassador of India to France, a post he held until 1988. Since then he had been residing in Hyderabad.
Latif was born in Hyderabad, Andhra Pradesh into a Sulaimani Bohra family in 1923. His father was  Hasan Latif, Chief Engineer of the erstwhile Hyderabad State. He was educated at the prestigious Nizam College, Hyderabad, and is also a graduate of the Defence Services Staff College. Wellington, and the National Defence College.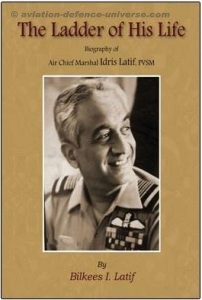 He was married to Bilkees I. Latif, a noted social worker who died at the age of 86 in 2017. Bilkees Latif was born into a royal family her father was Ali Yawar Jung, who served as vice-chancellor to Osmania and Aligarh Muslim universities, and her mother was a French woman, Alys Iffrig. nBilkees Latif was awarded the Padma Shri  in 2009 for her work in the slums of Mumbai. Amongst many of the books she wrote was one on her husband, former Air Chief Marshal I.H. Latif, called The Ladder of His Life.
The Ladder of his Life is about Air Chief Marshal Idris Latif and his varied experiences as a fighter pilot, as Chief of the Indian Air Force, Governor of Maharashtra and Ambassador to France He is a scion of a family from which several members left eminent positions to devote their lives to follow Mahatma Gandhi. Always a topper during his education and as a flyer as recorded in his log book, he was just 18 years old when he joined the Air Force on 1st September 1941. After his training, he was sent to the UK during World War II for a year where he updated his skills on the latest fighters. In 1978, he became Chief of his beloved Indian Air Force. The book gives insights into these years, particularly his assessment of challenges faced their priorities and his approach and actions in their resolution.
All Pix: Courtesy You & I