Boosts weather detection capabilities with minimal impact on existing avionics

Assists with unique C-130H search and rescue missions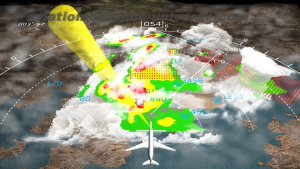 Ottawa. 31 May 2018. Rockwell Collins has been selected by Cascade Aerospace to provide a modern weather radar for the Royal Canadian Air Force (RCAF) C-130H fleet. The solution will include WXR-2100 MultiScan™ as well as new MFD-255 and MFD-268 Multi-Function Displays.
The upgrade will provide an enhanced level of weather threat detection to help RCAF pilots perform unique search and rescue missions using the C-130, assisting with the descent into visual flight conditions in order to define coastal boundaries or areas of rugged terrain.
"The RCAF is getting the latest in weather threat detection, all while gaining weight and reliability improvements compared to legacy systems," said Lee Obst, managing director, Rockwell Collins Canada. "As an off-the-shelf, proven solution, it will have a minimal impact on the existing avionics and is an ideal fit for C-130 operators."
During its role in C-130 missions for the RCAF, the WXR-2100 will use advanced weather radar technology to automatically scan the environment, analyze the hazards, adjust for geographic differences in weather, eliminate ground clutter and provide a simple intuitive presentation of the entire weather threat to the pilots during flight. This hands-off approach reduces overall workload, improves situational awareness and allows for the most efficient operation of the aircraft when deviating flight paths to avoid turbulent weather.