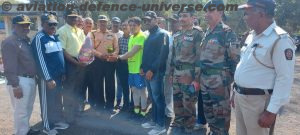 New Delhi. 22 December 2022. The "Unity Flame Run" organised by National Cadet Corps entered Maharashtra today. The Unity Run which started on 20 Nov 22 from Kanyakumari was flagged off today at Mavala near Adilabad and reached Yavatmal enroute to Pandharkawada today. 1600 KM have been covered till today.
Col KS Badhwar, Col DS Malik & Col NA Jha are part of 3000 kms Unity Flame Run 2022-23, which is being organised by DG NCC, New Delhi from Kanyakumari to New Delhi.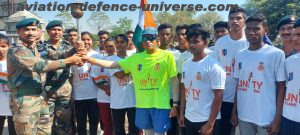 The theme, "Unity and Diversity and slogan Ek Bharat Shreshth Bharat, is going to be the guiding lines for the run and the flame is being carried for 50 kms per day for 60 continuous days. During this unique event, the flame is passing through Tamilnadu, Karnataka, Andhra Pradesh, Telangana, Maharashtra, Madhya Pradesh, Rajasthan, Uttar Pradesh, Haryana and finally at Delhi. During this mega event, a large number of NCC cadets, ex NCC cadets and NCC staffs are going to join enroute for limited distance. The Unity Flame Run will reach Nagpur on 24 Dec 22.