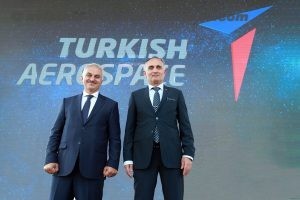 Ankara. 13 July 2018. Turkish Aerospace is getting a fresh look with the new logo and identity. Swallow's unique characteristic, which represents freedom, has played a significant role in logo identification while choosing ''swallow bird'' logo.
The new logo will not only enhance our company's international renown but also, empower our vision and mission to become one of the Most Prominent Aerospace Companies of the industry. Turkish Aerospace which strives to strengthen brand awareness through its developing range of products, aims to "bring a breath of fresh air" and raise its reputation to the highest level through the new logo.
We have changed our logo by bringing "our glorious flag" and the domain of our products "the sky" together. Thus, we started out in the belief that a new logo will improve our company's culture to ensure our employees are ambitious, which can lead to increased profitability. This change will make a significant contribution in bringing our company up to the level of global competitiveness and in creating a brand known throughout the world.
While creating the new logo Temel Kotil, Phd the President and CEO of Turkish Aerospace, carefully followed all the process and reassured his staff: ''We have started a totally new period with our new corporate identity within our activities which will shape the future by our power coming from the past. We are changing along with who we are, and getting transformed by our power. We are happy to reveal our new logo.''