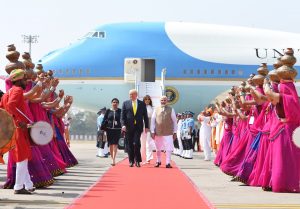 By Sangeeta Saxena
New Delhi. 24 February 2020. It was a day of style not substance for American President Donald Trump and Indian Prime Minister Narendra Modi. It was all about camaraderie and chemistry between the two leaders with a dash of Indian hospitality. Namaste Trump was great reciprocity to Howdy Modi. The day 1 of Trump's maiden but stand alone visit to India ends on a strengthened bond between him and his Indian friend Modi.
Trump reiterated its stand on terrorism He said, " the United States and India are also firmly United in our ironclad resolve to defend our citizens from the threat of radical Islamic terrorism. Both of our countries have been hurt by the pain and turmoil of terrorism. We have also made clear that while our country will always welcome newcomers who share our values and love our people our borders will always be closed to terrorists and terrorism and to any form of extremism. That is why we have taken historic steps to improve screening and vetting of applications for entry and we are working to ensure that anyone who threatens the security of our citizens is denied admission and will pay a very very big costly price. "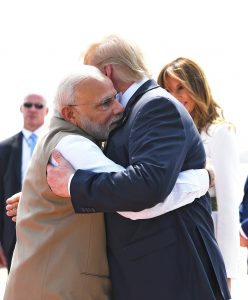 He added, "every nation has the right to secure and controlled borders. The United States and India committed to working together to stop terrorists and to fight their ideology. For this reason since taking office my administration is working in a very positive way with Pakistan to crack down on the terrorist organizations and militants that operate on the Pakistani border. Our relationship with Pakistan is a very good one. Thanks to these efforts we are beginning to see signs of big progress with Pakistan and we are hopeful for reduced tensions greater stability and the future of harmony for all of the nations of South Asia. "
Modi responded with an equally heartfelt note, " America is India's loyal partner. These days Indian army is conducting exercises with American Army. We are together in our fight against terrorism. India-US relations is not just a partnership. It has grown to be much closer."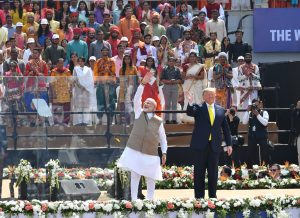 Trump stressing on Indo-US defence ties said, "US is looking forward to providing 'Best, Most Feared Military Equipment' to India. We will provide the Indian Army with $3 billion dollars worth of state of the army military helicopters. We build the best planes, guns, missiles, ships etc. The United States should be India's premier defence partner and we look forward to providing India with the best equipment."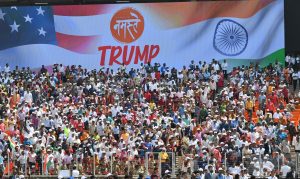 President Trump has hinted there will not be a trade deal during the trip as his administration has been trying to reduce its $25bn trade deficit with India. Bilateral trade between the two countries is worth $142bn. Post the overwhelming welcome at Namaste Trump in Ahmadabad the American President accompanied by his wife, daughter Ivanka and son-in-law Jared Kushner, arrived in Agra to visit Taj Mahal. Trump wrapped up his first day by arriving in Delhi from Agra in a C-32A (Boeing 757) . It is the same aircraft in which he flew from Ahmadabad to Agra.
All pictures Courtesy @narendramodi