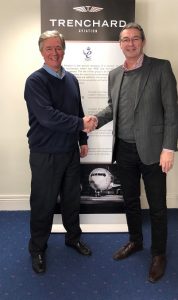 London. 01 April 2019.  Trenchard Aviation Group has renewed its long-term contract to provide aircraft cabin materials management services to Virgin Atlantic.This comprehensive, wide-ranging contract will be fulfilled by the Group's nose-to-tail cabin maintenance and total care management company, Aero Technics. Through its highly trained and flexible workforce, the company will be delivering design services, interior parts development and repair, on-wing cabin maintenance, galley insert repairs, dry cleaning services and soft furnishing repair and replacement. 
Mark Faulkner,CEO of Trenchard Aviation Group, commented, "Trenchard Aviation Group has been working with Virgin Atlantic for over 15 years now and we are delighted to be extending our working relationship from our Gatwick, Heathrow and Manchester facilities with our airside, on-station workforce. Our team of trained cabin technicians will carry out seat maintenance, soft furnishing manufacture, carpet fitting and dry cleaning for Virgin Atlantic's aircraft 24 hours a day, 7 days a week. Through our value-delivery model to drive continuous improvement and the application of our new software, we will maintain Virgin Atlantic cabins to the highest levels."
Working behind the scenes, design teams will be creating approved and cost-efficient repair schemes for high usage parts while turnkey Business and Premium economy trim refresh programmes will ensure that cabin seats and other parts are inspected, repaired and replaced as necessary to ensure that they remain looking perfect throughout their lifecycles.
Through its Gatwick-based dry cleaning facility and comprehensive textile repair and finishing capabilities, Trenchard Aviation Group will manage the complete in-service life cycle of seat covers, from manufacture through to removal from service and replacement. Using state-of-the-art digital profiling and CNC cutting and overlocking machines, the company will also manage the purchasing, storing, logistics and maintenance of aircraft carpets, including removal and fitment of carpet kits and replacement piece parts for hard wearing areas.
Rick Daniels, Head of Cabin Product and Maintenance at Virgin Atlantic, added, "We have been impressed with Trenchard Aviation Group's delivery, quality of work and customer service and we are delighted to be extending our long-term working partnership with them. Trenchard Aviation Group is a leader in the aviation interiors market providing on-wing support with their highly skilled and experienced workforce which operate as an integrated team with Virgin Atlantic."
The EPA part development aspect of the contract will include efficient inventory management and distribution of parts to maintenance areas as well as warranty management on behalf of the airline with OEMs.