Kim – Xi meet disturbs Trump
Peace still a word in Korean Peninsula?
By Suresh Somu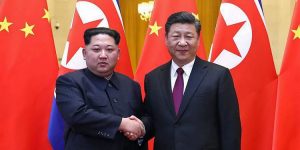 Jakarta. 24 June 2019. WHO now walks the tightrope in pushing for peace in the Korean Peninsula? The United States, North Korea or China?
US President Donald Trump may well be put in a difficult situation in which something bad could happen if he plays his cards wrong, now with China smartly coming to the US-North Korea negotiation fray.
It's so hard to predict or make an assessment from body language. But regardless of intention, what counts in diplomacy is the image that the action projects. In this case, it comes down to how the US government and Trump himself follow-up on the simultaneous events.
Even President Xi Jinping must walk a tightrope between the competing interests of Washington and Beijing to avoid repeating last year's diplomatic stumble.
"President Xi is a world class poker player," Trump said recently, clearly displeased at how North Korea's stance had visibly hardened after the Xi-Kim meeting held in the north-eastern Chinese city of Dalian.
One could also surmise that it was only a matter of time where details of what transpired in the closed-door meeting between China President Xi and North Korea leader Kim Jong-un comes to the fore.
NO SECOND-GUESSES
But no one could second-guess the timing as many were caught by surprise it happened prior to meeting between Chinese President Xi Jinping and US President Donald Trump.
So now, was it rather coincidental? One would say in the political arena, coincidental is suicidal, so perhaps not.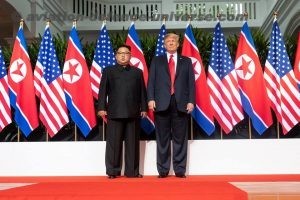 Let's not split hairs over this: The US and China are now on collusion course. And to dial back, a meeting between Trump and Xi could be almost unheard of any sooner given the spate of events between them.
Especially for the Americans where they saw China as a rising power seeking unfairly to undercut America's economic prosperity. And despite these ongoing debacles, China has set it aside and risen up by drawing up a 'grand plan' for regional stability in the Korean peninsula. And so what would really be the agenda?
Xi, being the first Chinese President, visited Pyongyang in 14 years. Being the only ally for North Korea, the trip was to mark the 70th anniversary of diplomatic relations between China and North Korea.
Whilst this could be construed as a pillar of strength for Kim, it went on the note of finding ways to deepen ties and strengthen cooperation. Observers say that if Xi becomes an enabler for talks to be revived between the US and North Korea, this could bode well into the US-China trade, moving forward.
Till date, Kim-Xi meetings had been the fifth, with four meetings in Beijing and first in Pyongyang.
And if Xi does it in the grand way, which eventually leads North Korea in agreeing to a complete nuclear freeze in exchange for limited economic sanctions relief, it could remove a major concern for the US.
NUCLEAR DEVELOPMENT
Which is probably why North Korea will not use the relief to advance its nuclear development. China has stated that it wants to play a "constructive role" in the denuclearisation process.
This clearly depict China's vital position and they will continue to remain indispensable to resolve the most immediate thorny issues between the US and North Korea. Significantly, it definitely underlines China close ties with North Korea.
Most importantly, it will be able to restore peace and confidence amongst other countries in the region too. However, on the contrary, for some analysts, China is perceived to be showing off its great influence over North Korea.
In a tightrope situation, it is capitalising on the stalled talks between US and North Korea for its own desired outcomes. And that would be to negotiate with the US on trade front.
TRADE DISPUTE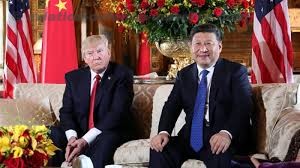 So in essence, China stands to gain too, in some way. But Chinese authorities have downplayed the notion. Instead they're backing North Korea on its security guarantees concerns that it should be immediately addressed.
In the eyes of the observers, nuclear programme has taken the backseat as the trade dispute between US and China is getting fiery day by day.
However, all eyes will be set to see what Xi brings to Trump at the upcoming G-20 meeting. As it would just not be North Korea's position, but would also include China's input.
While trade could be the main subject of focus, any meaningful dialogue with Kim as a result of the meeting could just be a sweetener that will work well for China.
The three-way tightrope tangle continues to intrigue global observers. And President Trump must, in the coming days, carefully play his cards right, now with China closely watching how the US-North Korea negotiations go.