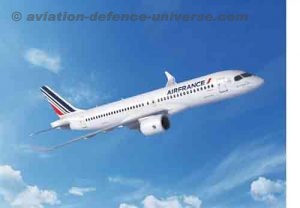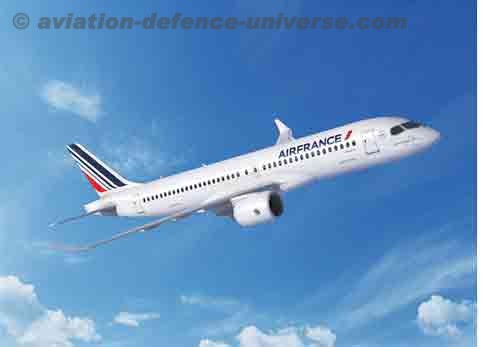 PARIS. 29 September 2021. The Air France-KLM Group today at Paris Charles de Gaulle International Airport celebrated the arrival of Air France's first A220-300 aircraft. The airline finalized an order in February 2021 for more than 120 GTF engines for a fleet of 60 Airbus A220-300 aircraft, powered exclusively by Pratt & Whitney GTF™ engines.
"It is exciting to welcome our first GTF-powered Airbus A220 to our fleet," said Angus Clarke, Air France Chief Commercial Officer, responsible for Fleet Strategy. "These state-of-the-art engines will provide significant economic and operational benefits to our company, while providing far lower noise and carbon emissions to better serve our customers, communities and planet."
Air France and Pratt & Whitney have a long history that dates to the Douglas DC-3 with Wasp engines in the 1940s and the Boeing 707 with JT3D engines in the 1960s. Today the airline operates several aircraft equipped with auxiliary power units (APUs) from Pratt & Whitney, including the Airbus A320ceo family, Boeing 787 Dreamliner, and Embraer E-Jets.
"We'd like to welcome Air France back to the Pratt & Whitney engine family with their new GTF-powered aircraft," said Rick Deurloo, chief commercial officer at Pratt & Whitney. "Pratt & Whitney has powered the growth of Air France in different capacities for the past 75 years, and we can't wait to help Air France write the next successful chapter in quieter, more sustainable aviation."
To date GTF engines have saved European operators nearly half a billion liters of fuel and more than a million metric tonnes of carbon emissions. In Europe alone, GTF-powered aircraft have carried more than 70 million passengers over more than 570,000 flights.
The A220, powered exclusively by GTF engines, offers significantly lower operating costs compared to previous generation aircraft. The engines deliver double-digit improvements in fuel and carbon emissions. They also provide a 75% reduction in noise footprint, based on a 75 dB noise contour, and produce NOx emissions 50% below the International Civil Aviation Organization (ICAO) CAEP/6 regulation.